Follow on Twitter: RTE Elections

| RTENews

Live Updates:
2056 A crowd of around 1,000 people greeted Fine Gael leader, Enda Kenny at the Silver Springs Convention Centre in Cork tonight for a rally of all the Cork candidates running for Fine Gael in the General Election.
1735 The Christian Solidarity Party has said it will campaign on a pro-life and what it calls a 'Euro-Realist' platform and that it will oppose making the poor pay for the economic crisis.
Introducing six of its eight election candidates at a news conference in Dublin, Christian Solidarity's new leader, Richard Greene, said bondholders would have to pay for the bail-out of the banks.

1554 Canvassing in Dublin South East this afternoon Fianna Fáil leader Micheál Martin said his party's recovery plan is the most detailed and credible on offer.
He attacked aspects of Fine Gael's plans, saying they have not said where they will make €6.5bn savings on waste in the general public service.
He also said it is not possible to take 30,000 workers out of the public service without impinging on frontline services.

1547 Fine Gael leader Enda Kenny has again hit out at negative newspaper adverts being run by the Labour party saying they were 'being dishonest with the people'.
Speaking in Macroom Co Cork this afternoon, Mr Kenny said 'I haven't retaliated at all except to say I find it disappointing that at a time when the people clearly want Fianna Fáil removed from Government, the Labour party has descended down to this level.'
Mr Kenny went on to say; 'It's not true what the Labour party are saying and they are being dishonest with the people.'
He said despite claims in the adverts of higher taxes under a Fine Gael government; 'Labour's tax proposals are twice what Fine Gael's are'.
'It is disappointing that Labour have descended to this level of activity, at a time when people are concerned about jobs and job security.
He concluded saying; 'Fine Gael didn't start this bickering and we are not going to get involved in it'.
1512 Micheál Martin meeting voters in Dublin South East a short time ago...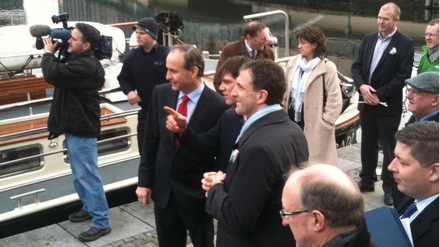 1420 A single-party Fine Gael Government would be worse than the previous coalition, Gerry Adams has claimed.
'If people thought the Fianna Fáil-Green Government was bad they ain't seen nothing yet.'
Mr Adams was speaking at the launch of Sinn Fein 's political reform proposal in Dublin.
The proposals include introducing automatic registration for voters, a reduction in the voting age to 16, introduction of measures to reduce voter fraud and extending the right to vote to Irish citizens living abroad.
He also pledged to abolish ground rents, cut ministers' and TDs' salaries and increase the number of days the Dáil sits.
Sinn Féin also proposed that one third of TDs should be elected from a list system with the remainder being voted in from expanded seven-seat constituencies.

1410 Tánaiste Mary Coughlan has rejected claims that she has not delivered for Donegal.
Speaking on RTÉ's News at One, Ms Coughlan said while she was Minister there has been one of the largest investments in agriculture and the agri-food sector in recent years.
On the same programme, Sinn Féin's Pearse Doherty said his party would reverse the Government decision on the Universal Social Charge, and pay for it by introducing a third tax rate of 48% on incomes above €100,000.
Ms Coughlan said the marginal tax rate was at 52% and under Sinn Fein it would be much more.
She said Sinn Féin could not say where it would find the money to run the country if it throws out the EU-IMF deal for Ireland.

1300 The Immigrant Council of Ireland has called on the next Government to make it easier for new Irish citizens to take part in political life.
Launching its campaign - 'Count Us In' - the council also called for the appointment of a migrant representative to the Seanad.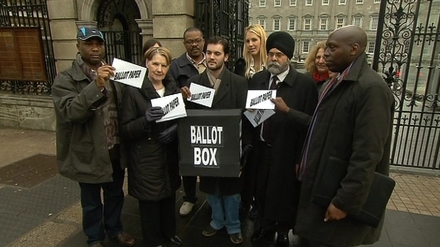 1241 Last night's three-way leaders' debate attracted TG4's highest audience so far this year.
The debate was viewed on average by 132,000 people, peaking at 150,000. In all 408,000 people tuned in for at least some portion of the 7pm broadcast.
The debate was repeated at 10.30pm with 175,000 people tuning in at some stage.
1239 'Leo Varadkar is beginning to sound like the Maggie Thatcher of Irish politics' - Labour's Roisin Shortall view of the Fine Gael TD.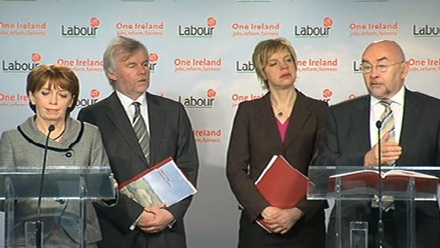 1235 'It is not desirable that any party should be given a monopoly of power' Eamon Gilmore said of Fine Gael.
1234 There is the possiblity of accelerating a 'brain drain' with the introduction of a graduate tax - Fianna Fáil Leader Micheal Martin.
1233 Green Party Leader John Gormley was in Carlow this lunchtime where he launched his party's social plan, 'A Better Ireland'.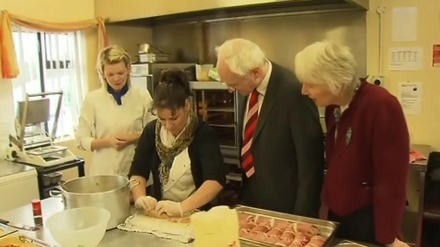 1216 Labour says it would allocate €14m a year on improving literacy, €15m on developing projects to combat youth disadvantage similar to a project in Ballymun in Dublin.
1212 The United Left Alliance has called for a mortgage interest freeze and the outlawing of repossessions.
MEP Joe Higgins said ordinary homes bought at the height of the property bubble should be re-valued and mortgages then based on that new figure.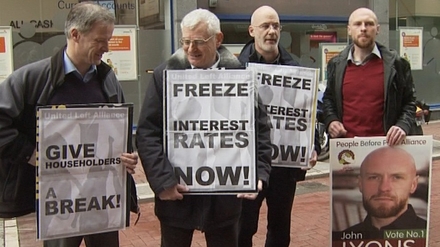 1210 Tánaiste Mary Coughlan has rejected accusations that she was being hidden away during this election campaign.
Asked if she was the 'Dick Roche' of this election, Mary Coughlan said that she certainly didn't look like him.
1202 Watch today's Campaign Daily LIVE
1200 The Irish National Organisation for the Unemployed has called for the reversal of recent cuts to social welfare payments to ensure that unemployed people can meet their basic needs.
1157 Fine Gael's Michael Noonan has said there is no property market at the moment, just a lot of 'fire sales'.
He said NAMA had a dominant position and he said until a floor was reached on the family home side there would be no market.
He said NAMA needed to have a rethink, and that the structures of the Authority will need to be looked at.
He said 'vultures' were coming into the country and buying property at bargain-basement prices.
He said the new Government will need to sit down with NAMA and have a 'serious chat'.

1147 Labour has earmarked €88m per year to re-invest in a small number of strategic educational priorities, the party's education spokesman Ruairi Quinn has said.
In a statement, Mr Quinn said that this figure included €14m to support a literacy strategy, and €3m to reverse the cut in the National Educational Psychological Service imposed in Budget 2011.
'At third-level and post-Leaving Certificate we will reverse the €500 increase in the Student Services Charge and the €200 charge for Post Leaving Certificate courses that were recently introduced by Fianna Fáil,' Mr Quinn said.
He also criticised Fine Gael proposals for a graduate tax, saying: 'This will push (graduates') personal income taxes up even higher, and act as a disincentive to them staying in Ireland or returning home.'

1136 Fine Gael's Michael Noonan has said the Labour party election campaign is failing on the ground.
He said the party's ads attacking Fine Gael were a response to its own failures.
He said that accusations by Labour that there was a hole in Fine Gael's fiscal plans were nonsense.
He said the country was in a dreadful state, the IMF were in and Ireland had lost is sovereignty, he said the next few years would be dreadful and there was no escaping that reality.

1135 The Irish Dental Association has called on the parties' health spokespeople to commit to reversing the cuts to dental services.

1128 Tánaiste and Minister for Education Mary Coughlan said Fianna Fáil would make continuing professional development compulsory for teachers.
She also said Fianna Fáil would retain Irish as a compulsory Leaving Cert subject.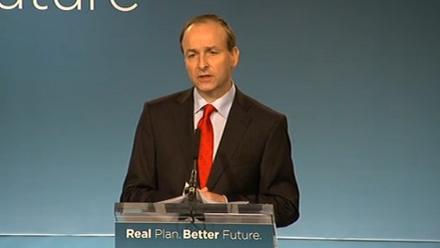 1123 Fianna Fáil leader Micheál Martin has said education remains the party's single most important priority.
Under Fianna Fáil, he said, there will be no reduction in special needs assistants, they will provide for school development and their plans are comprehensive.
He rejected FG attacks on him in relation to education, saying they focus on problems areas only.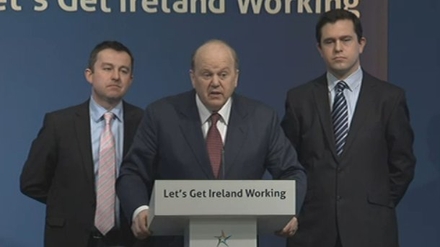 1116 Fine Gael has published plans for how it will deal with mortgage holders in difficulty. The party says it will request any mortgage provider in receipt of state support to present a plan of how it intends to cut wages and other costs by €100m.
The party is also to introduce legislation to stop mortgage lenders imposing penalty rates in instances were mortgage rates have been rescheduled.
Fine Gael is also promising to avoid repossession by requiring banks to defer mortgage repayment in certain cases.
The party is also proposing a new negative equity insurance which it says would prevent negative equity in the future.
Fine Gael is proposing that the insurance be paid by the lenders and would be compulsory for all new borrowers when the loan to value ratio is in excess of certain levels.
Michael Noonan said the campaign was going well for the party, but he said Fine Gael is taking nothing for granted and will stick to its five point plan to get Ireland working again.
He said that the electorate is divided between people interested in national interests and those interested in personal issues, such as social welfare payments or health issues.
He said the election is personal for a lot of people.

1102 'You have no idea how bad it is... It's awful out there.' A Fianna Fáil minister's experience of canvassing is quite a contrast to the calm of Leinster House that David McCullagh describes in his latest blog entry.
1100 Fine Gael is providing further details of its plans to assist families in mortgage distress at news conference in Dublin, while across the city Micheál Martin and Mary Coughlan are launching Fianna Fáil's education policy.
Labour will launch its plan for fairness in education at a press conference at 11.30am.
Watch all three conferences LIVE
1030 'I understand how voters feel' about the Green Party going into coalition with Fianna Fáil, says the party leader. 'Coalition was simply the best way of implementing policies'.
1025 Callers to Today with Pat Kenny ask John Gormley about building regulations and St Luke's cancer hospital in Dublin.
St Luke's will not be sold to developers, says Mr Gormley.
SEAI grant schemes have some 'anomalies' that need to be worked out.
1010 Pat Kenny will be talking to Green Party leader John Gormley on RTÉ Radio One in a few minutes.
1000 'It is beneath the Labour party to be carrying on the way they are', Fine Gael leader Enda Kenny's response to Labour negative ad campaign.
The adverts are a sign of 'panic and desperation' by Labour and claimed 'the Labour party's projections are for twice as much tax increases as Fine Gael'.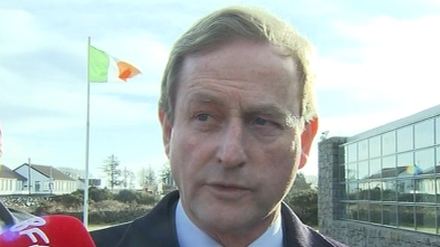 0940 Today's press conferences from Fine Gael, Labour and Fianna Fáil will be live on RTÉ.ie.
0930 Fianna Fáil leader Micheál Martin will be canvassing in Dublin today with some of the party's candidates in the capital.
0910 On 'the Gilmore for Taoiseach' campaign, Eamon Gilmore said no one has yet cast a vote and every single opinion poll has shown the Labour party in second place.
His party has offered the people an alternative and no-one will know until polling day. He said the party was 'in this to win'.
He would not be disappointed if he found himself the leader of the Opposition after the election.
0900 Labour was proposing ways to get down the deficit, to grow the economy and to protect families, says Eamon Gilmore.
He defended his comments in relation to 'Frankfurt's way or Labour's way' and describing Jean Claude Trichet as a civil servant.
0850 Pat McGrath is reporting on Morning Ireland about plans to standardise polling day for the entire electorate, regardless of location.
Voters on the islands will cast the first ballots in the election from Wednesday 23 February.
0845 The decision by the Minister for Finance to defer to injection of €10bn into the banks would give the new government the opportunity to re-negotiate the EU-IMF deal, said Mr Gilmore.
0835 Labour has traditionally not had much support in the west, but has a chance in many areas, RTÉ reporter Micheál Lehane tells Morning Ireland.
0829 Eamon Gilmore says there is a 'real threat' of a single-party Fine Gael Government. 'People want a fair and balanced Government' and Labour must be part of that.
0827 'Strategic Investment Bank is one way to get people back to work', Gilmore. Promises to make changes to Universal Social Charge for those worst hit.
0825 'There are times when you have to be strong … and you simply have to stand up for your country', Gilmore on renegotiating the EU-IMF deal.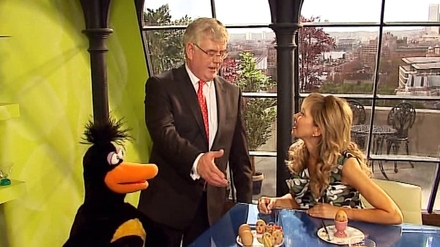 0823 'Fine Gael proposals would hit families badly', Eamon Gilmore tells Aine Lawlor.
0820 Eamon Gilmore also points out the endorsement he received yesterday from the retail sector, and claims Labour support is 'across the board'.
0815 On the SITPU endorsement from Jack O'Connor, Eamon Gilmore denies it means Labour is a 'vested interest' party supporting trade unions.
He denied the 'Tesco-style' ads are negative campaigning and highlights the differences between their policies.
0812 Listen to Morning Ireland, which includes an interview with Labour leader Eamon Gilmore from Sligo.
0810 The General Election campaign continues with Fianna Fáil launching its education policy.
Sinn Féin is launching its proposals for political reform while the Greens will publish their social policies.
Fine Gael leader Enda Kenny will be campaigning in Kerry and Cork.
Labour leader Eamon Gilmore visiting Sligo, Leitrim and Longford.