Opera Night Saturday 16 November 2019
Watch: Wexford Festival Opera presents Vivaldi's Dorilla In Tempe
Paul Herriott presents tonight's opera live from the National Opera House in Wexford at the 2019 Wexford Festival Opera. This fairytale-like story takes place in the valley of Tempe in Greece. The opera tells of the obstacles to the blissful union of Dorilla (a princess) sung by Manuela Custer and Elmiro (a shepherd) sung by Josè Maria Lo Monaco, whose rival Nomio sung by Veronique Valdés turns out to be the disguised god Apollo. The Wexford Festival Opera Orchestra and Chorus is conducted by Andrew Marchiol. (Manuela Custer in title role in Dorilla in Tempe by Vivaldi - Photo by Clive Barda)
---
Saturday November 9th - Wexford Festival Opera presents Stanford's Veiled Prophet
7pm An Oriental Romance : Thomas Moore's Lalla Rookh
200 years after it was published, An Oriental Romance tells the story of Thomas Moore's epic poem Lalla Rookh, a tale of Arabian princesses, adventure and the exotic East, and explores the music it inspired. Most people associate Thomas Moore with his Irish Melodies, some of which are still very well known centuries after they were written, but his work Lalla Rookh has been largely forgotten. At the time, however, it was a cultural phenomenon, repeatedly reprinted, translated into various languages, and a source of inspiration for painters, playwrights and, above all, composers, including Robert Schumann, Charles Villiers Stanford, Félicien David and many others. Contributors include mezzo sopranos Martha O'Brien and Helen Aiken, pianist Aoife O'Sullivan and music students at Queen's University Belfast who perform some rare musical works inspired by Moore's poem.
Presenter/Producer: Claire Cunningham
Sound supervision: David Bird, Sonic Arts Research Centre, Queen's University Belfast
A Rockfinch Production for RTÉ lyric fm made in collaboration with the Horizon 2020-funded project ERIN 'Europe's Reception of the Irish Melodies and National Airs: Thomas Moore in Europe.
8pm Wexford Festival Opera presents Stanford's Veiled Prophet
The 2019 Wexford Opera Festival exclusive concert performance of The Veiled Prophet by the Irish composer Charles Villiers Stanford, presented in association with Heritage Music Productions, headed by international pianist and Irish music specialist, Una Hunt. This performance marks the first time the opera will be sung in English since it's performances in Hanover in 1881 in german. Our cast tonight features Thomas D Hopkinson as Caliph Mahadi, Simon Mechlinski as Mokanna, Sinead Campbell-Wallace as Zelica, Mairead Buicke as Fatima, Gavan Ring (pictured) as Azim, John Molloy as Abdullah and Dominick Felix as a young watchman. David Brophy conducts the Chorus and Orchestra of the Wexford Festival Opera.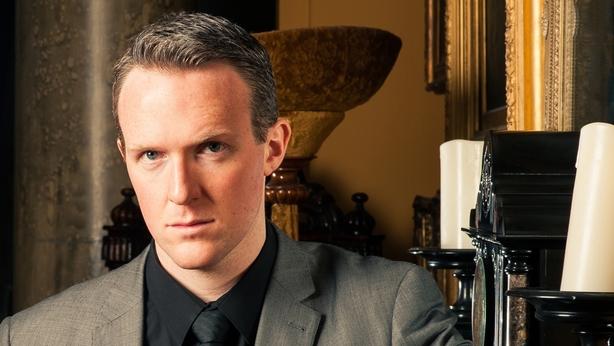 ---
Bianca sung by Maire Flavin is the assistant to world famous chef Alberto (sung by Luca Nucera) is busy baking a cake for a wedding. Camillo (sung by Emmanuel Franco) is eager to learn and assists the chefs in Andrew Synnott's La Cucina. Rossini's Adina celebrates the day that has been set aside to celebrate the wedding of the middle-aged Caliph (sung by Daniele Antonangeli) to the young Adina (sung by Rachel Kelly). In this special double-bill, Michele Spotti conducts the Chorus and Orchestra of Wexford Festival Opera.
(Below - Rachel Kelly & chorus in 'Adina' by Rossini. Photo Clive Barda.)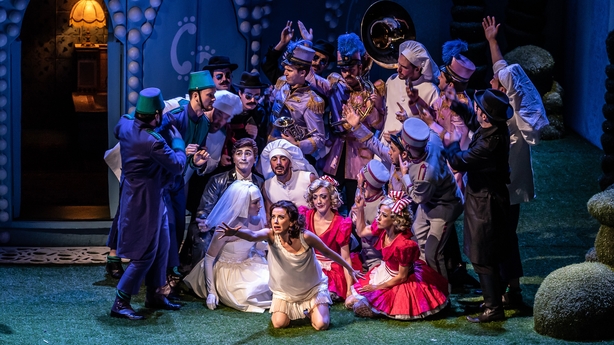 (Below - Sheldon Baxter, Manuel Amati, Maire Flavin & Emmanuel Franco in La Cucina by Andrew Synnott. Photo by Clive Barda.)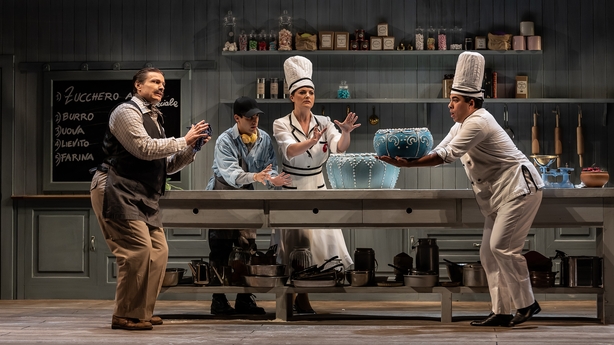 ---
Saturday November 23rd - Wexford Festival Opera presents Massenet's Don Quichotte
Don Quichotte was conceived for Feodor Chaliapin, who possessed a large, deep and expressive bass voice, but Massenet's music asks for understatement and subtlety. Maybe that's why it's so rarely performed. In tonight's performance recorded at the National Opera House in Wexford Goderdzi Janelidze sings the title role with Aigul Akhmetshina as La Belle Dulcinee, Gavan Ring sings Juan and Timothy Myers conducts the Chorus and Orchestra of Wexford Festival Opera. (Olafur Sigurdarson, Goderdzi Janelidze & Aigul Akhmetshina in Don Quichotte by Massenet - Photo by Clive Barda)