Go Outside and Play is back this summer for a brand-new series, Famous Locations, and this time Carl Mullan isn't alone. With a summer of exciting staycation ideas ahead of us, we are thrilled to introduce Carl's new co-presenter, Karl Doyle!
Born with arthrofibrosis, which led to osteoporosis and scoliosis, Karl has been using a wheelchair for all of his life. His need for accessible routes (along with his cracking sense of humour) will bring a whole new element to the travel show as the two navigate travelling around the country's most scenic spots.
These famous locations are home to the big and small screen and ideal to get the perfect Instagram snap. This series is not to be missed ahead of planning some day trips or staycations around Ireland this summer.
We need your consent to load this Instagram contentWe use Instagram to manage extra content that can set cookies on your device and collect data about your activity. Please review their details and accept them to load the content.Manage Preferences
Having searched for FREEEDOOOOM!! in the Wicklow mountains, fought for the Iron Throne in Northern Ireland, enjoyed a religious experience in the West, and tried a spot of fishing in Blessington, Carl and Karl are ready to sit back, relax, and reflect on their scenic adventure.
Speaking on his experience, Karl Doyle told RTÉ LifeStyle that he was pleasantly surprised by just how many things he could do around Ireland as a wheelchair user.
"Doing the show, I actually found that it was better than I expected," he explains. "There are a lot of gravely and bumpy roads but my electric wheelchair was able to manage it all pretty well. It was surprising, the amount of places that were accessible."
"Sometimes Dublin City is more difficult - you would think it would be easier with paved roads - but there were a lot of ways to get around in the small, more rural areas and scenic locations."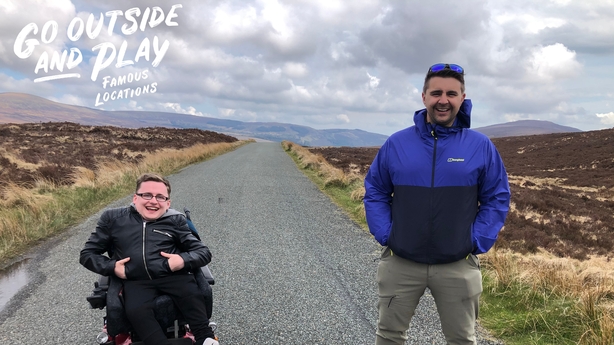 In saying that, Doyle was quick to advise fellow wheelchair users to do their research and plan ahead as something as simple as the tide being out could drastically effect their journey.
"The boat over to Inis Oírr [was a challenge]. When we were going over early in the day, the tide was low so it was a steep drop and getting the electric wheelchair over there was a worry. I could walk in my crutches down the stairs but the people who had to carry the wheelchair – I felt for them."
"Everyone who worked on the boat felt pretty confident until they felt the weight of it. My wheelchair is very heavy and has a car battery, a giant motor, lots of wheels so seeing them carry it was hard. I would recommend going on a higher tide."
"Other than that, my wheelchair got stuck sometimes in long wet grass. I would recommend, if you're going in a wheelchair to have someone there with you to help out or give you a push. Nothing journey-ending though and that's the main thing."
Ultimately though, he says that Inis Oírr stood out as one of his most memorable moments:
"There were two spots that I was just in awe of: Game of Thrones and Father Ted but going to Inis Oírr was probably my favourite place to be. When you go there, the island is so peaceful and quiet and everyone is so relaxed."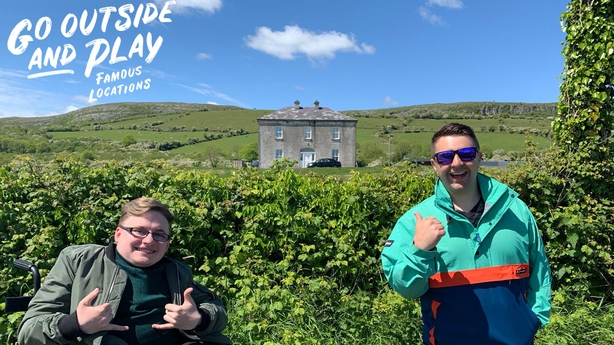 Speaking on the final episode of the show, Carl Mullan said that the island stood out as one of his favourite spots to visit thanks to its tranquil quality.
"Its the closest I think I've ever come to stepping back in time in Ireland," he mused. "It's like stepping on to Ireland in the 50s or the 60s. Its so nice that the island is relatively in tact. Going to see the shipwreck, we just had such a lovely day walking there. It was class."
One of the silver linings of staying at home over the past number of months has been uncovering some of the local gems - especially those we could so easily take for granted. With this in mind, the RTÉ 2FM broadcaster said that the Curragh jumped out as a winner of the week.
"I think the other thing that caught me off guard a little bit - purely because I've driven by it so many times on the motorway and not really paid any attention to it - was the Curragh. The Curragh was absolutely class. It was just so wide and open and vast and green - it was lovely."
Speaking on his experience of traveling with Karl, Mullan said that he couldn't have asked for a better - or more chatty - companion.
"Karl is the first person I've ever known who is a wheelchair user, and because we selected places that were accessible, the wheelchair disappeared," he says. "I was with Karl, he was a great guy and I loved working with him."
1 in 7 people in Ireland have a disability that prohibits them from participating fully in the outdoors. RTÉ Player's Go Outside and Play is proudly sponsored by Rockshore.
To get some travel tips from the hosts, watch Go Outside and Play on RTÉ Player now.