An indulgent dessert that tastes as good as it looks!
Ingredients
Serves: 10
Prep time: 25 minutes
Chill time: Overnight
For the base
320g chocolate digestive biscuits
125g butter, melted
20g chopped hazelnuts
For the filling
700g full fat cream cheese
100g icing sugar
300ml double cream
Dash vanilla essence
6 crushed Ferrero Rochers
For the topping
250ml whipped cream
40g unsweetened cocoa powder
40g icing sugar
100g grated chocolate
10 Ferrero Rochers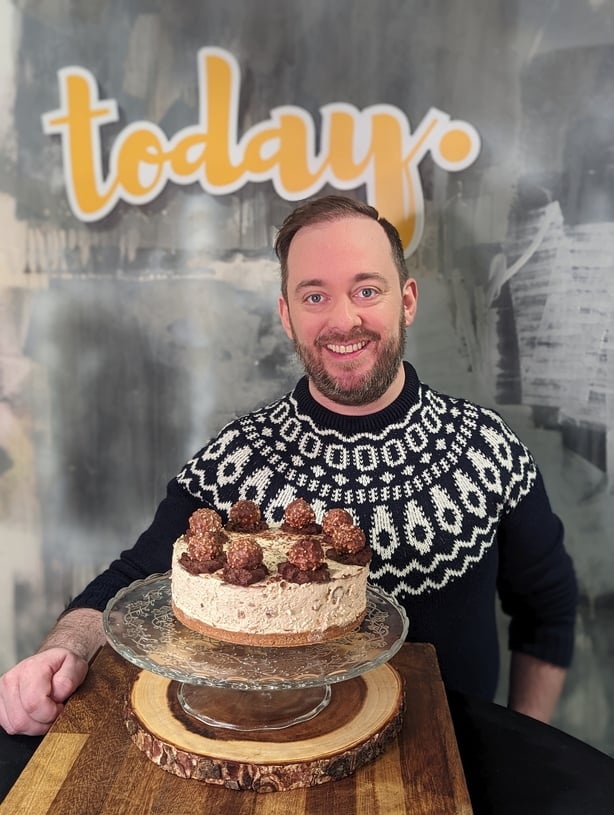 Method
Line the base of a 20cm loose bottom cake tin with parchment paper. For the base, mix the blitzed biscuits with melted butter and chopped hazelnuts and press down on the base of the tin. Chill for 30 minutes.
For the filling, using a hand mixer or stand mixer, whisk the cream cheese, sugar and vanilla for a few seconds until blended.
To this, start slowly pouring in the double cream while mixing. Continue to do this until all the cream is added and mix for about a minute until the cheesecake filling is thick. It's important to whisk until thick but do not over mix and the mixture can split.
Add the chopped Ferrero Rochers and fold through.
Spoon this filling on top of the chilled base and spread with a spoon until level.
Place this in the fridge overnight to firm up.
The following day, run a small knife around the edge to help release the cheesecake from the tin.
For the cream topping, whip the cream, cocoa powder and sugar together until thick and place in a piping bag.
Pipe 10 rosettes of the cream on top of the cheesecake, add a Ferrero Rocher on top of each one and sprinkle with grated chocolate. Enjoy!