A delicious dinner for chilly winter nights.
Ingredients
Serves: 6
1kg beef of your choice (topside, silverside, eye of round, pot roast)
1 onion, finely chopped
1 carrot, finely chopped
1 large parsnip, finely chopped
2 Stick celery washed and diced
2 cloves garlic crushed
6 mushrooms sliced
Drizzle of rapeseed oil
Knob of butter
200ml stout
50g tomatoes puree
500ml beef stock
Fresh ground black pepper
1 bay leaf
40g plain flour
Few sprigs fresh time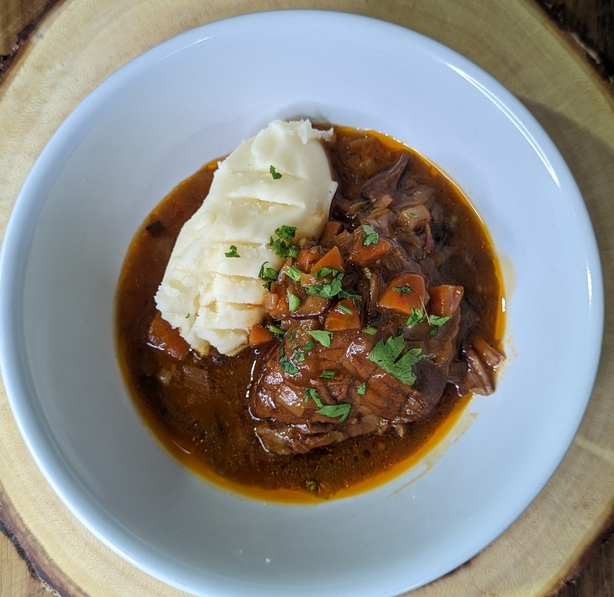 Method
Preheat oven to 160°C. Heat the rapeseed oil in an ovenproof casserole pot. Add the beef and brown the beef on all sides. Add the butter and season the beef with salt and pepper.
Remove the beef and set aside. In the same pot then add the onions, garlic bay leaf and thyme.
Sweat for a few minutes then add the celery, leeks, carrots and parsnips. Sweat for 4-5 minutes stirring all the time then add the stout and allow the stout to reduce by half.
Stir in the flour followed by the tomato puree and combine. Then add the warm stock and simmer for 10 minutes. Add the sliced mushroom and return the beef to the pot.
Transfer to the oven with a lid or use the slow cooker and cook 4 hours or until meat falls apart. The beef will fall apart when cooked and a rich sauce will accompany the beef. Break up the beef in the sauce before serving.
Brian's Tip: Serve with mash or champ. Also great with glazed carrots.