Ingredients
Cooking Time: 30-40 Minutes
Serving 4-6

For the Hot Sauce:
4 Jalapenos
2 onions
1 bulb of garlic
3 tomatoes
1 courgette
1 red pepper
For the Salsa
2 Corn Cobs
½ block of feta
Handful of chopped basil
Handful of chopped mint
1 red onion, finely diced
Juice of 2 limes
Salt and freshly ground black pepper
For the Steak
3 striploin steaks
Sea salt
75g unsalted butter
2-3 sprigs of thyme
To serve: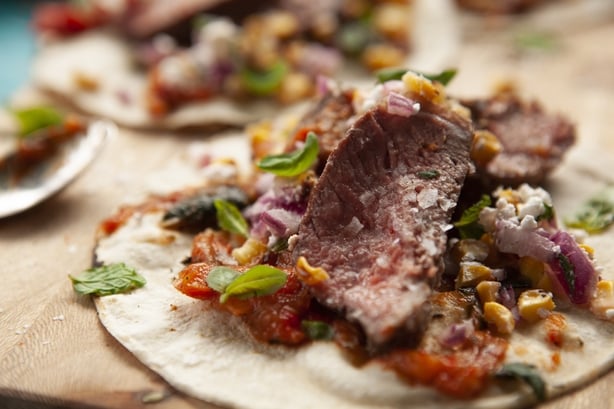 Method
For the Hot Sauce:
Wrap the garlic up in tinfoil with a drizzle of oil and place on the barbecue grill for about 15 mins.
Roast all the veg until soft and slightly charred using the indirect side of your barbecue where the heat is low.
Once charred, remove the stalks from the veggies and seeds from the red pepper. Crush your veggies together in a pestle and mortar to make a nice sauce, making sure to keep some texture.
Season well with salt and pepper.
For the Salsa:
Char the corn over a high heat for approx 10 mins and allow to cool before slicing the kernels from the cob.
Finely dice the onion and combine it in a bowl with the lime juice, leave to sit for 5 minutes.
Crumble the feta into a large bowl and add in the chopped basil, chopped mint and cured red onion and toss to combine.
For the Steak:
Remove the steak from the fridge, season generously with sea salt and pat dry then rub a layer of olive oil over the meat and season with some more salt.
Sear the steak over a high heat for 4-6 minutes on each side. For medium rare, bring the steak to an internal temperature of 52 C, for well done, 71C.
Place the steak in some tin foil, add the butter and thyme, wrap up and leave to rest for ten mins to let the meat relax and the meat juices redistribute throughout the meat.
Once rested, slice the steak against the grain then mix the cut meat in the with the buttery resting juices.
To Assemble:
Toast the corn tortillas for 15 secs each side on the grill.
Spread a layer of the roasted hot sauce over your tortilla then add the meat and top with the corn salsa.