Ingredients
Cooking Time: 40 mins
Serves: 4-6
For the Burger:
500g pork mince (10%-15% fat)
4 sausages, skins removed
1 tsp chilli flakes (more or less depending on your tastes)
1 tbsp yellow mustard seeds
2 tbsps coriander seeds
4 cloves of garlic, grated
A big knob of unsalted butter
A handful of fresh breadcrumbs
6 scallions, separated into white part and green ends
Zest of 1 lime
Salt and freshly ground black pepper
For the Chilli Mayo Slaw:
Hot sauce, to your personal taste
3 tbsp mayo
1 tbsp Dijon mustard
Zest and Juice of 2 limes
2 carrots
1 small head of red cabbage
To Serve:
1 small pineapple or 1 can of tinned pineapple ( Pat the slice dry before seasoning)
Brown sugar
Brioche buns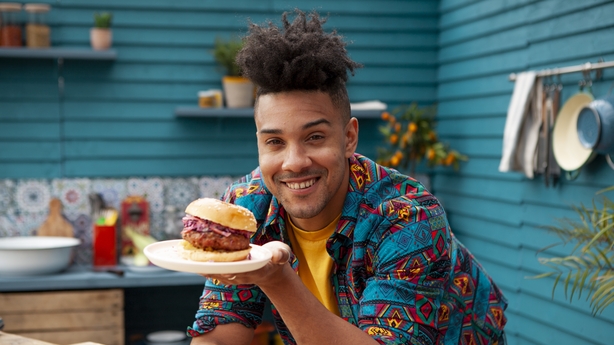 Method
For the Burger:
Toast the chilli flakes, mustard and coriander seeds in a dry pan until fragrant.
Crush in a pestle & mortar.
Finely slice the white part of the spring onion, reserving the greens for your slaw.
Place the pork mince, sausage meat, breadcrumbs, grated garlic, lime zest, butter, sliced spring onion and as much of the spice mix as you like into a large bowl. Season well with salt and pepper and mix to thoroughly combine.
Shape the meat into evenly sized patties about the thickness of your finger to ensure they cook evenly on the grill.
Refrigerate for 30 minutes
When ready, grill over a medium heat for 10- 15 minutes on each side or until cooked through.
For the Chilli Mayo Slaw:
Finely slice the spring onion greens set aside from your burger.
In a small bowl, mix together the hot sauce, mayo, mustard and scallions.
Using a grater, shred the cabbage and carrot into a large bowl
Add the lime juice and a good pinch of salt to the cabbage and carrot and mix to combine - leave to soften for 5 minutes.
Mix in the chilli mayo making sure to reserve some for later.
For the Pineapple:
If using a whole pineapple, cut into quarters and remove the woody core.
Brush the pineapple with some oil and sprinkle with the brown sugar and a crack of black pepper
Grill the pineapple over a high heat until the sugar has caramelised - be careful not to burn it.
Carefully remove the pineapple skin and roughly chop the flesh.
To serve:
Gently toast the bun.
Spread some of your reserved chilli mayo on the bottom bun.
Then add the caramelised pineapple, burger and finally top with the slaw