This pesto is great with other green veggies - you can try it with a mix of frozen broad beans and peas, or swap in half for raw broccoli florets.
Ingredients
Serves: 4
Prep: 10 minutes
Cook: 30 minutes
350g macaroni
300g frozen peas, defrosted (200g for pesto, 100g to stir in)
1 garlic clove
50g basil leaves
15g mint leaves
30g toasted pine nuts
3 tbsp extra virgin olive oil
100g mascarpone
50g Parmesan cheese (or vegetarian alternative), grated, plus extra to scatter
25g unsalted butter
25g plain flour
400ml vegetable stock
75g mozzarella, grated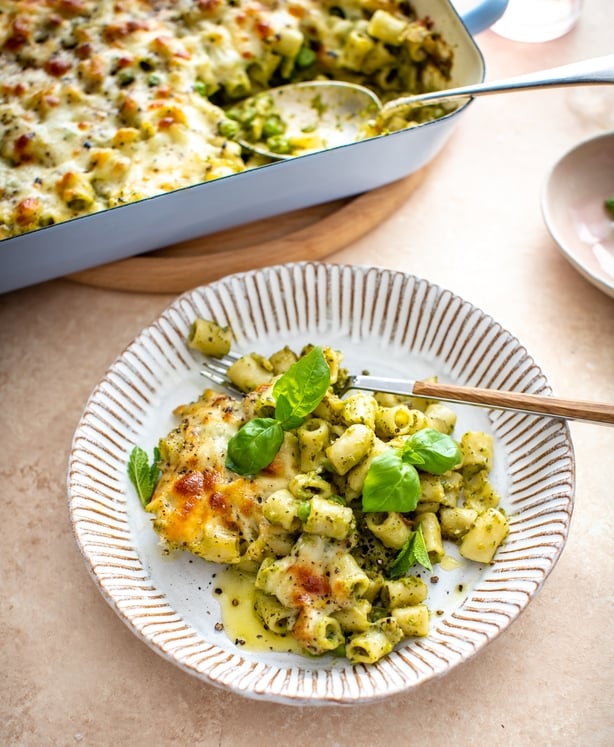 Method
Preheat the oven to 200°C/180°C fan/400°CF/Gas 6. Cook the pasta in boiling salted water for 10 minutes until not quite cooked. Drain and set aside.
Meanwhile, in a small food processor, blitz 200g peas with the garlic, basil, mint, pine nuts, the mascarpone and Parmesan. Loosen it up with a little olive oil and season with salt and pepper.
Melt the butter in a pan, gradually add the flour and cook for 2 minutes, then gradually add the vegetable stock until you have a smooth, thick sauce. Add the pesto and stir until smooth. Season to taste.
Stir the sauce through the pasta, add peas and tip into an ovenproof dish. Scatter with the rest of the Parmesan and the grated mozzarella and bake for 20-25 minutes until bubbling and golden.