An amazing fake-away that reheats very well. I personally use fillet of beef, as it's much more tender and juicy. Avoid stewing beef, as it won't be cooking for long enough to tenderise it. Make sure that you stir your sauce frequently, as it does have a tendency to stick.
Ingredients
Serves 4
olive oil
400g fillet steak, cut into thin strips
5 small or 3 large carrots, grated
4 spring onions, thinly sliced
1 red pepper, thinly sliced
3 garlic cloves, finely chopped
1 small chilli, deseeded and diced
45g 100% nuts peanut butter
1 x 400ml tin of low-fat coconut milk
40ml light soy sauce
fresh coriander leaves, to garnish
roasted peanuts, to garnish
boiled basmati rice or noodles, to serve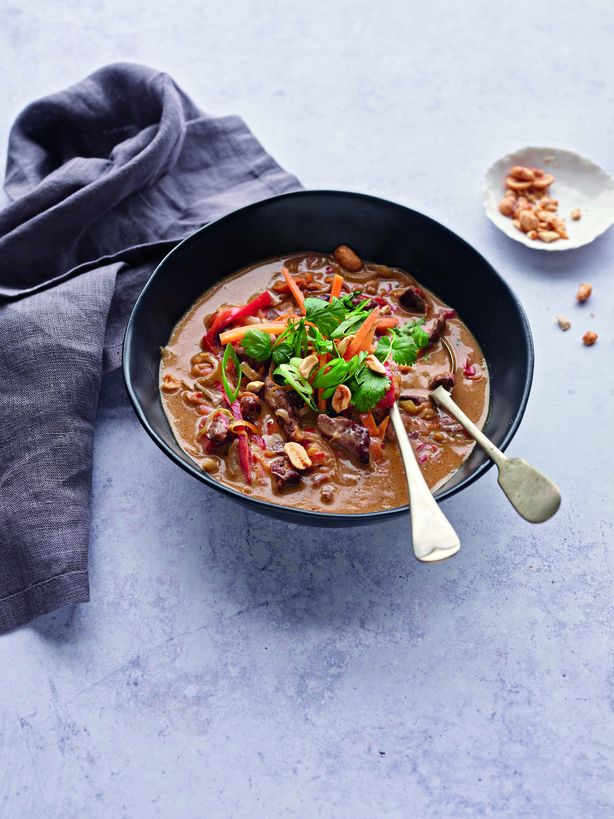 Method
Heat a large saucepan and add some oil. Add your steak, carrots, spring onions, pepper, garlic and chilli and sauté for a few minutes.
Stir in your peanut butter, coconut milk and soy sauce and bring to the boil, then lower the heat and simmer for 15 minutes, until the sauce has reduced and thickened slightly.
Garnish with fresh coriander leaves and a few roasted peanuts and serve with basmati rice or noodles.
Nutritional information
Per serving
Calories 390kcal
Protein 28g
Carbohydrates 19g
Fat 22g
Gluten Free