Hugh Fearnley-Whittingstall says these cakey cookies, made with dark rye flour, are a "brilliant way to use over-ripe bananas, as well as any end-of-the-packet bits and bobs from my nut, seed and dried fruit stash".
Ingredients
Makes 15 or 24 'bite-sized' cookies
125g dark rye flour
150g porridge oats
½tsp baking powder
1tsp ground mixed spice
75g brown sugar
2tsp ground flaxseed
120g raisins or chopped dried apricots
100g roughly chopped nuts or mixed seeds
2 ripe medium bananas, mashed
100g extra virgin olive oil, or coconut oil (melted)
Method
Preheat the oven to 180°C/Fan 160°C/Gas 4. Line 2 baking sheets with baking paper.
Put the flour, oats, baking powder, spice, sugar and ground flaxseed into a large bowl and mix thoroughly. Add the dried fruit and nuts or seeds and mix well again, separating any of the fruit if it's sticking together. Add the mashed bananas and the oil and mix again, really well.
Put tablespoonfuls of the mixture (dessert spoonfuls for bite-sized cookies) onto the prepared baking sheets, shaping them roughly into thick, round cookies. Bake for 12 to 15 minutes, until golden and starting to brown on the bases.
Leave to cool a little and then transfer to a rack to cool completely. Store in an airtight tin for up to five days, or for a few months in the freezer.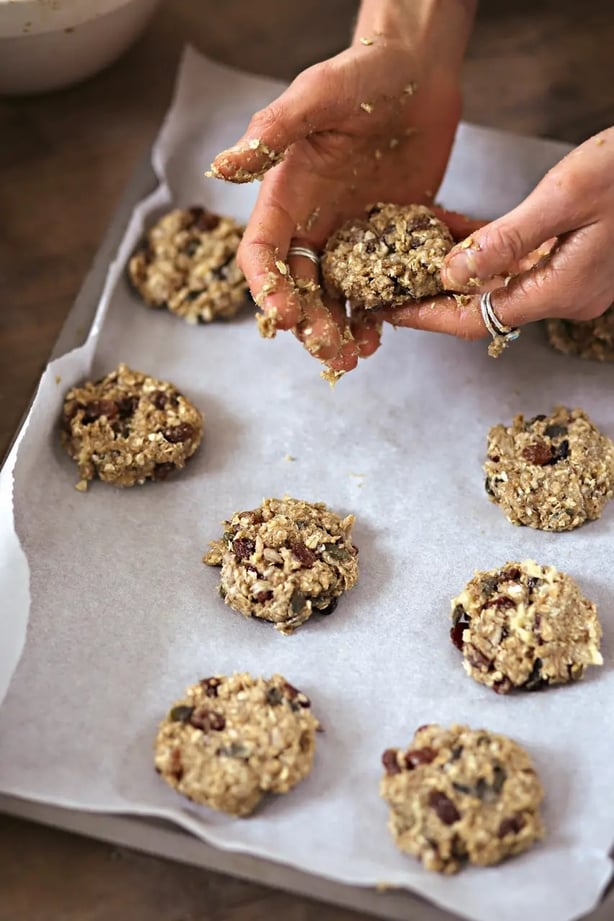 Eat Better Forever by Hugh Fearnley-Whittingstall, photography by Simon Wheeler, is published by Bloomsbury.