Tune in to watch Donal Skehan on RTÉ One at 8:30pm on Wednesday 23rd December.
Ingredients
Makes 30
Takes 50 minutes
100g of muscovado sugar
150g of butter
1 large free range egg
350g of plain flour
1 tsp of baking powder
A pinch of salt
1 tbsp of mixed spice
1 tsp of vanilla extract
1 pack of foxes fruits or jolly ranchers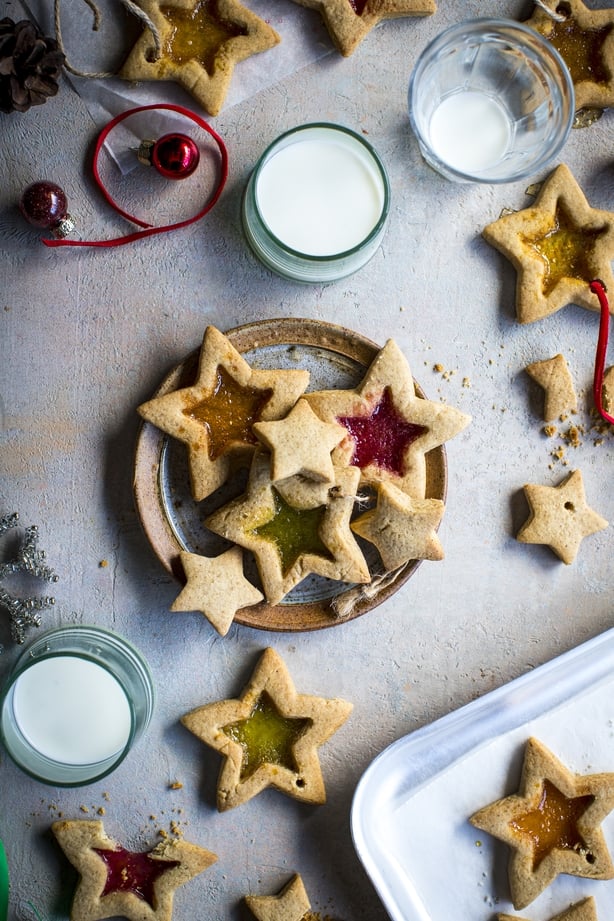 Method
Preheat the oven to 180˚C/ fan 160c and line a baking tray with parchment paper.
In a stand alone mixer beat together the butter and sugar. Add in the egg and beat through.
Mix through the flour, baking powder, salt, mixed spice and vanilla extract until you have a biscuit dough.
Turn the dough out onto a floured surface and roll out to about 1cm in thickness.
Cut out biscuit shapes, place on the lined baking tray, then using a smaller cutter or a small knife cut out the center of each cookie, arranging these around the tray aswell.
Crush the sweets using a rolling pin, they don't need to be very fine pieces and arrange them into the centre of the cookie. Place in the oven .
Cook in the oven for about 15 minutes. As soon as they come out of the oven, using a straw or end of a piping nozzle, poke out a hole at the top of each cookie. Allow to cool on a wire rack.
String through some ribbon and hang on the tree.