Watch Donal's Family Food in Minutes on RTÉ One, Wednesdays at 8.30pm.
Ingredients
Serves 4
Takes 30 minutes
250g basmati rice, well rinsed
1 tbsp vegetable oil
2 banana shallots, peeled and finely sliced
3 tbsp Thai green curry paste
400ml tin coconut milk
200ml vegetable stock
Juice of 1/2 lime
1 tbsp Thai fish sauce
2 tsp brown sugar
150g green beans
100g baby corn, sliced lengthways
500g raw king prawns, peeled
Good handful of Thai basil and coriander leaves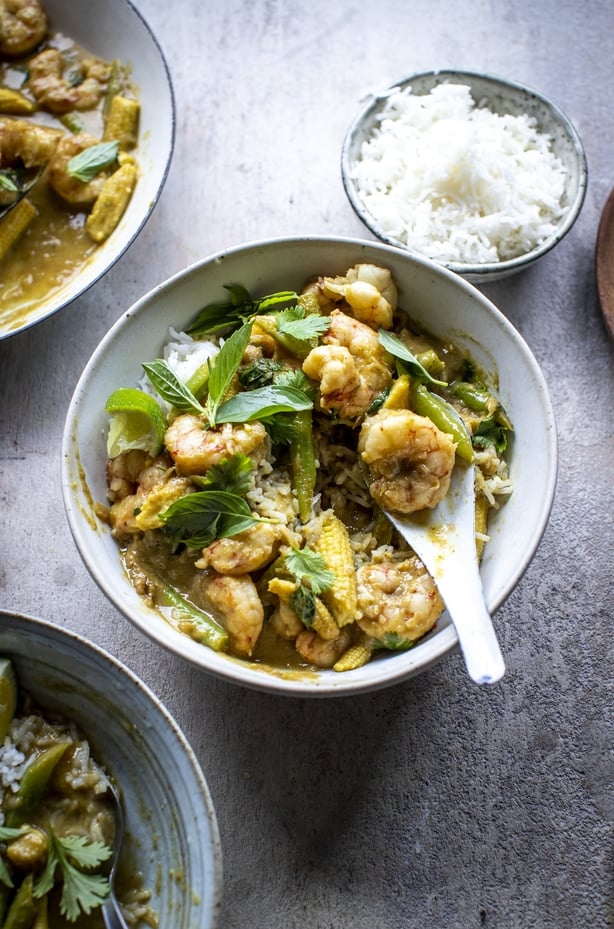 Method
Pour the rice into a cup, check the level it comes to, then pour into a cooking pot. Use the same cup to measure out twice the amount of water and pour this over the rice.
Place over a medium–high heat with the lid on for about 15 minutes until all the water has been absorbed and the rice is cooked through. Take off the heat, fluff up with a fork and place the lid back on until you are ready to serve.
While the rice is cooking, heat the oil in a separate cooking pot over a medium–high heat and add the shallots. Fry for 3–4 minutes until softened. Add the red curry paste and fry for a further minute or so, stirring to coat the shallots.
Pour in the coconut milk and vegetable stock and bring to a steady boil, simmering for 8–10 minutes. Add the lime juice, fish sauce and brown sugar. Stir in the sugar snap peas and baby corn and simmer for 3 minutes.
Add in the prawns and simmer for 3–5 minutes until just cooked. Stir through some of the thai basil and coriander leaves before serving the curry in bowls over rice. Garnish with the last few thai basil and coriander leaves.