Watch Donal's Family Food in Minutes on RTÉ One, Wednesdays at 8.30pm.
Ingredients
Serves 8
Takes 1 hour 10 minutes
100g butter, plus extra to grease
75g caster sugar
100g soft light brown sugar
250g self raising flour, plus extra to dust
2 large free range eggs
1 tsp baking powder
1/2 tsp of vanilla extract
A pinch of salt
3 large, very ripe, going brown bananas
50g dark chocolate chips
100g walnuts, roughly chopped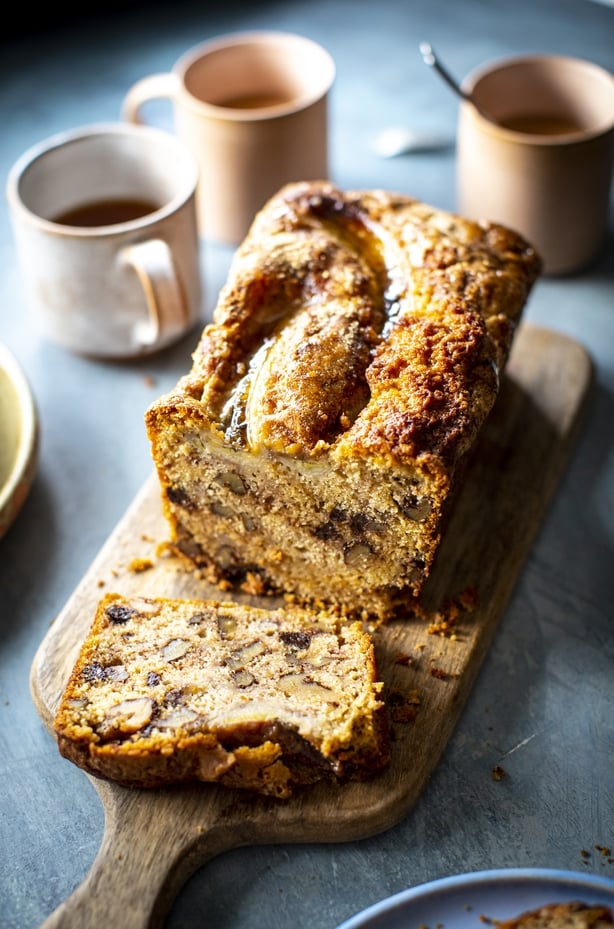 Method
Preheat the oven to 180°C/ fan 160c. . Grease a 2lb loaf tin and line with parchment paper.
Whisk the caster sugar, 75g soft light brown sugar and the butter in a bowl with a handheld mixer until light and pale.
Add in a little flour and one egg. Mix through, repeat with the other egg and the rest of flour, baking powder, vanilla and a pinch of salt until everything is mixed through and smooth.
Peel the bananas and mash two of them well with the back of a fork. Add to your cake mixture and stir through along with the chocolate chips and walnuts.
Pour the mix into the prepared loaf tin, slice the remaining banana in half lengthways and arrange on the top of the loaf.
Sprinkle with the remaining brown sugar then place in the oven for approximately 50-55 minutes. It should be risen, golden and a skewer comes out clean when the banana bread is ready.
Cool for 10 minutes in the tin before turning out onto a wire rack to cool completely.