Watch Donal's Family Food in Minutes on RTÉ One, Wednesdays at 8.30pm.
Ingredients
Cook time: 35 minutes
Serves: 4
For the roast cauliflower:
1 large head cauliflower, roughly chopped
1 tbsp curry powder
2 tbsp vegetable oil
For the curry sauce:
1 tbsp vegetable oil
2 onions, finely chopped
4 garlic cloves, crushed
5cm piece ginger, finely grated
1 green chilli, finely chopped
1 tbsp coriander seeds, crushed
2 tsp turmeric
2 tsp medium curry powder
1 x 400ml can coconut milk
750ml/25fl oz vegetable stock
150g/60z baby spinach
For the saffron rice:
1tbsp vegetable oil
1 onion, finely chopped
250g/10oz basmati rice
Pinch saffron fronds
To serve:
Pickled red onions
Small handful coriander leaves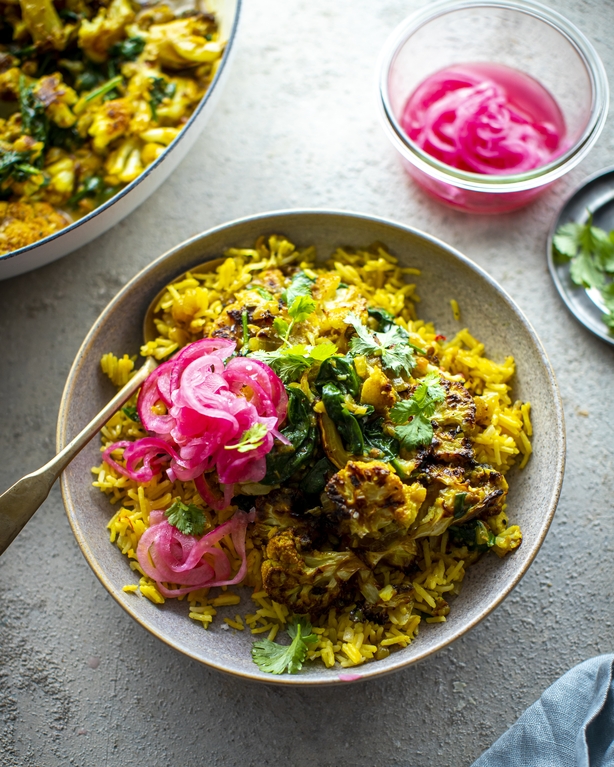 Method
Preheat oven to 200c/fan 180c.  Toss the cauliflower with the oil and curry powder on a roasting tray. Arrange in a single layer and roast for 30 minutes until golden and crisp. 
While the cauliflower is roasting heat the oil in a large sauté pan over a low heat. Add the onion and allow to sweat down in the pan until they become soft. Stir through the spices until aromatic followed by the garlic, ginger and chilli. 
Next pour in the coconut milk and stock, bring to the boil. Reduce to the heat and allow to simmer for 10-15 minutes. Season to taste.
Stir through the spinach followed by the roast cauliflower, allowing the spinach to wilt. 
For the saffron rice, place a medium sized saucepan over a low-medium heat, add the oil and onion, sauté for 3-4 minutes until softened a little, adding salt to help soften. Stir the rice through the onion to coat in the oil.
Pour 500ml boiling water into this along with the saffron Bring to a steady simmer, cover and cook for 10 minutes or until the liquid is completely absorbed. Remove from the heat, when ready to serve, fluff up with a fork. 
To serve scoop the rice into a wide bowl, spoon in the curry and top with the pickled red onions and coriander.