Watch How to Cook Well with Rory O'Connell at 8:30pm on Tuesday evenings on RTÉ One.
Ingredients
This is a clean and fresh tasting salad that is best made with really fresh and quite small courgettes. Large courgettes tend to be watery and not nearly as crisp as the little ones and this salad partly relies on that crispness for its charm. As a general rule, I serve very small courgettes raw in salads such as this, medium sized ones I cook quickly over a high heat until tender and the largest ones are cooked slowly to a more collapsed texture. The vegetable has merit at all of the different stages of growth but seasonings and cooking methods change according to its size.
It is also worth mentioning that courgettes have a lovely and very distinctive perfume especially when freshly picked and ideally having never seen the inside of a fridge. Excessive refrigeration has a detrimental effect on many vegetables and also fruit. The difference between the flavour and texture of a vegetable or fruit that has been recently picked and never chilled (ideally still slightly warm from the plant in the case of summer fruit and vegetables) to one that has languished in chilly surroundings is huge. We sometimes forget to smell vegetables and though it is fair to say that not all vegetables will having you waxing lyrical when held and inhaled under the nose, there are certainly a few that I really like to stop and enjoy their perfume. Tomatoes and cucumbers are a good case in point as are beans, peas and asparagus.
The flavours here are both hot and cold at the same time. The heat coming from the chilli and the coolness coming from the lime. The final addition of the freshly chopped herbs adds a floral note. The salad is delicious as a refreshing summer starter and I also serve it with simple grilled or roast chicken legs or grilled fish such as mackerel or hake. A dab of nasturtium butter on the meat or fish also works really well with all of the flavours.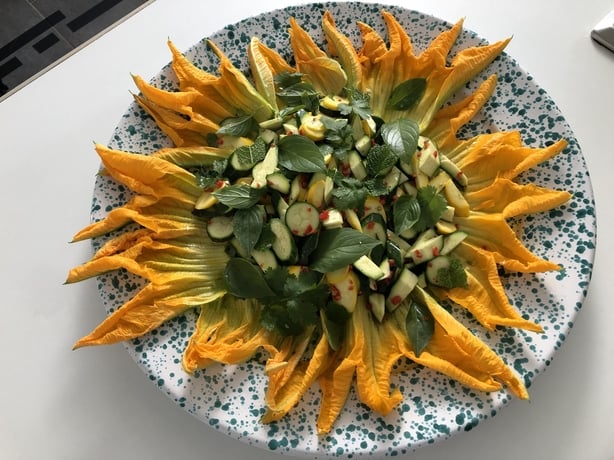 Serves 4 - 6
4 medium sized courgettes (c 15cm long, just not too big and watery. Smaller courgettes can also be used, you may just need a couple more)
1 red chilli, seeds removed and finely chopped
Juice of 1 lime, you may not need all of the juice so add to taste
4-6 tablespoons olive oil
20 mint leaves, torn or chopped just before using
2 tablespoons chopped coriander leaves or flat parsley
Sea salt and freshly ground black pepper.
Method
Cut the courgettes into c 2 cm dice or thick slices or into more random angular shapes but of a similar size. Toss in the olive oil, lime juice, chilli and season to taste with salt and pepper.
The courgette salad needs to sit for 30 minutes before eating and is quite happy sitting for an hour.
Just before serving add the chopped or torn herbs and fold through the courgettes.
Serve immediately.