Brioche frangipane apple pudding recipe from Simple Comforts by Mary Berry.
Ingredients
Serves: 8
1/2 a brioche loaf
175g butter, softened, plus extra for greasing
175g caster sugar1tsp almond extract
175g ground almonds
3 eggs, beaten
25g plain flour
About 2 red dessert apples, skin on, cored and thinly sliced
2tbsp apricot jam
1tbsp flaked almonds, toasted
Icing sugar, for dusting
Method
You will need a large, shallow ovenproof dish, about 28cm in diameter. Preheat the oven to 200°C/180°C fan/Gas 6 and grease the dish with butter.
Slice the brioche into thin slices, about 5mm (quarter of an inch), and arrange these over the base of the dish. Make sure you cover the base and fill in all the gaps, but don't overlap the slices.
Measure the butter and sugar into a food processor and whizz until pale and fluffy. Add the almond extract, ground almonds, eggs and flour, then whizz again until the mixture is soft and creamy and there are no lumps. Be careful not to over-process.
Spoon the mixture over the brioche base and spread it to the sides. Arrange the sliced apples in a neat overlapping circular pattern over the top. Bake the pudding in the oven for about 40 minutes until lightly golden all over and firm in the centre when lightly pressed.
Melt the jam with two tablespoons of water in a small pan. Brush over the surface and sprinkle with flaked almonds.
Dust the pudding with icing sugar and serve warm.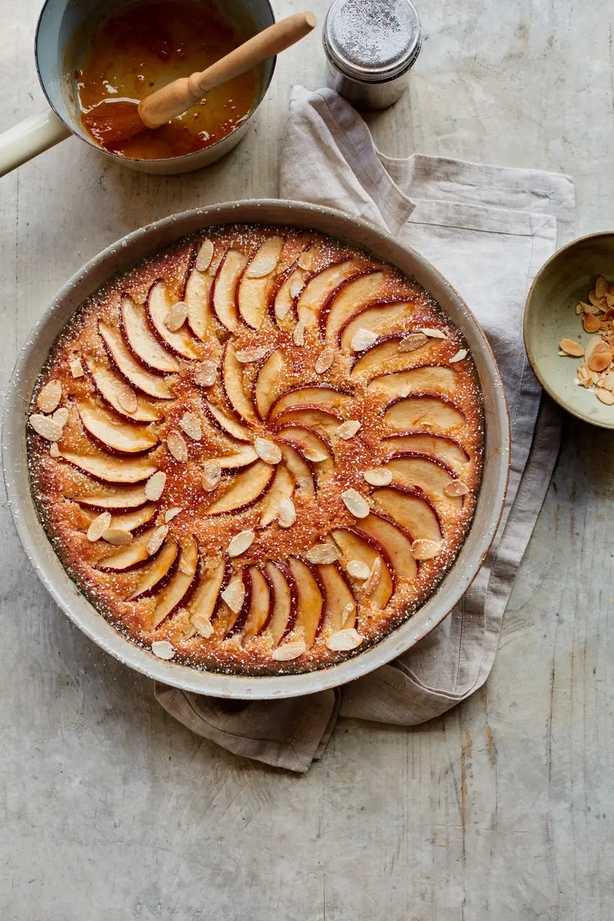 Simple Comforts by Mary Berry is published by BBC Books. Photography by Laura Edwards. Available now.