These chocolatey muffins show vegan food can still satisfy your sweet tooth.
Ingredients
If you've well and truly mastered baking banana bread by now, why not mix things up a bit with Deliciously Ella's recipe for chocolate banana muffins?
With plant-based substitutions of almond milk, coconut oil and dark chocolate, they're arguably a healthier version of the regular sweet treat – but that doesn't mean they'll taste any less rich or delicious.
Makes 12
3 large overripe bananas (about 350g, peeled weight)
150ml almond or oat milk
3tbsp coconut oil, melted
4tbsp cacao powder
200g spelt flour
100g coconut (or brown) sugar
1tsp bicarbonate of soda
1/2tsp baking powder
Pinch of salt
80g dark chocolate (we like 70% cocoa solids)
About 12 walnuts (or pecans), roughly chopped or broken (if you want to make these nut free leave these out)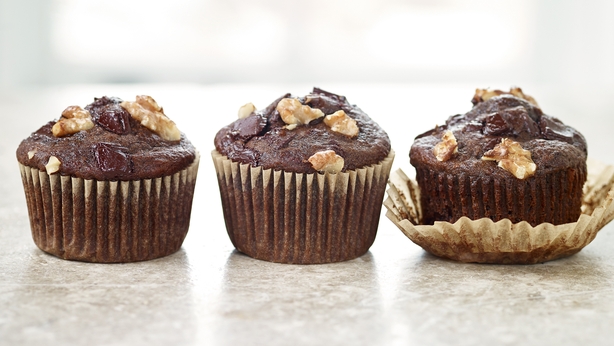 Method
Preheat the oven to fan 180°C fan and line a 12-hole muffin tray with cases.
Chop the dark chocolate into chunks, roughly the size of a chocolate chip.
Mash the bananas in a large bowl using a fork, until smooth and creamy.
Add the almond milk, coconut oil, cacao powder, spelt flour, coconut sugar, bicarbonate of soda, baking powder and salt, then stir until a smooth batter forms.
Stir the dark chocolate into the mixture. I always keep a small handful of it back so that I can put it on top of the muffins, as it makes them look even more chocolatey and delicious.
Spoon two tablespoons of mixture into each muffin case, scatter over some walnuts, if using, and add a little piece of chocolate to the top.
Bake for 25 minutes, then leave the muffins to cool for 10–15 minutes before serving.
Deliciously Ella Quick & Easy: Plant-based Deliciousness by Ella Mills, recipe photography by Nassima Rothacker, is published by Yellow Kite. Available now.