Cooking for company doesn't have to be tons of hard work.
Ingredients
"These tomatoes are perfect for a shared meal with friends," says vegan expert Rita Serano. "You can prepare them in advance and cook just before serving, meaning you are free to join your guests and not be stuck in the kitchen.
"Serve with a salad for a tasty but simple meal."
Serves 4
50g pine nuts
1 medium onion, finely chopped
1/2tsp allspice
35g currants, soaked
25g fresh dill, chopped
300g wholegrain basmati rice
8 medium sized tomatoes
Salt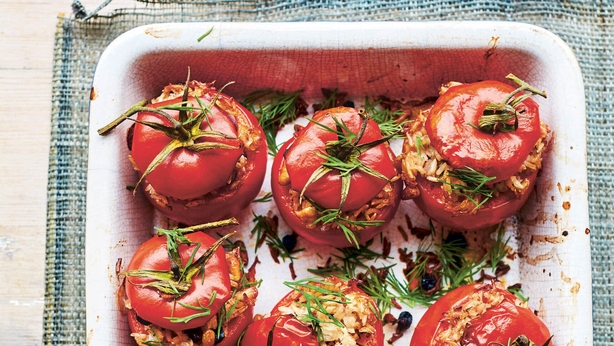 Method
Soak the basmati rice for at least 30 minutes, then rinse and drain.
Preheat the oven to 180˚C/gas mark 4.
Heat a frying pan over medium heat, add the pine nuts and toast until golden brown. Set aside.
To make the pilaf, cook the chopped onion with a splash of water in a medium-sized pan over a medium heat until soft, adding a little more water if needed. Add the allspice, currants, toasted pine nuts, half the dill and a pinch of salt and gently mix.
Add the basmati rice and stir well, then add 750ml of water. Bring to the boil, then reduce the heat and cook the rice for the time indicated on the packet.
Meanwhile, cut the tops off the tomatoes and scoop out the seeds and core. Once the pilaf is cooked, fill the tomatoes with this rice mixture. Place the tomatoes on a baking tray and cook in the oven for 15–20 minutes.
Scatter the remaining dill over the tomatoes to serve.
Vegan In 7 by Rita Serano, photography by Laura Edwards, is published in paperback by Kyle Books. Available now.