A light supper that can be made with any roast vegetable really, but I do like the idea of a chunky cauliflower steak, however faddy it might be
Ingredients
HANDS-ON TIME: 10 minutes
COOK TIME: 40–45 minutes
SERVES: 4
Equipment
Ingredients
2 large cauliflowers,
sliced into 2cm steaks
1 x 400g tin chickpeas, drained and rinsed
Good glug of olive oil
1 tsp cumin seeds
Drizzle of runny honey
Good pinch of smoked paprika, plus extra for sprinkling
Sea salt and black pepper
For the tahini yoghurt
3 tbsp tahini
200g Greek yoghurt
Juice of a lemon, or to taste
To serve
2 tbsp toasted pumpkin seeds
Handful each of mint and coriander leaves
Extra-virgin olive oil, for drizzling
Method
Preheat the oven to 200°C (180°C fan).
Put the cauliflower steaks and any trimmings and the chickpeas onto a large baking tray (you may need a second tray to ensure the cauliflower doesn't steam). Drizzle with olive oil and add the cumin seeds, honey and paprika.
Turn to coat the cauliflower gently and season well. Roast for 40–45 minutes, turning the cauliflower over halfway through cooking, until tender and golden.
Meanwhile, blend the ingredients for the tahini yoghurt together, loosening it with a little cold water if you need to. Taste and add more lemon juice if you like. Sprinkle some paprika on top.
Spread the tahini yoghurt out over a serving plate and arrange the roasted cauliflower and chickpeas on top. Scatter with the toasted pumpkin seeds and herbs. Finish with a drizzle of extra-virgin olive oil.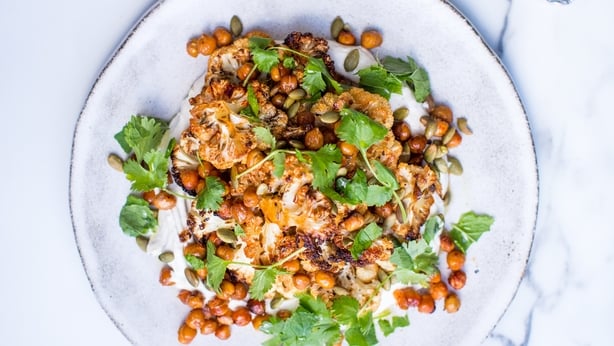 Cook Notes:
A light supper that can be made with any roast vegetable really, but I do like the idea of a chunky cauliflower steak, however faddy it might be.
Tahini yoghurt is something I make regularly and keep in the fridge for a couple of days – drizzled over barbecued meat or a rich tagine it adds a tart, nutty flavour.