Donal's Sliced Lamb Steaks with Flatbreads in 15 minutes.
Ingredients
Hands-On Time:10 minutes
Cook Time: 5 minutes
Serves: 4
1 red onion, thinly sliced
Juice of ½ lemon
Extra-virgin olive oil, for drizzling
4 flatbreads*
1 tbsp olive oil
6 lamb leg steaks, 1.5cm thick
1 tsp ras el hanout
300g tub hummus*
80g bag wild rocket
1 large carrot, julienned or ribboned with a peeler
Good pinch of smoked paprika
Sea salt and black pepper
*cheats ingredient

Method
Heat a large frying pan and a griddle pan over a high heat.
Put the sliced onion and carrot into a bowl with a squeeze the lemon juice, some seasoning and a glug of extra-virgin olive oil and set aside.
Meanwhile, pour the tablespoon of olive oil into a frying pan and place over a high heat. Season the lamb with the ras el hanout and salt and pepper and sear for 2 minutes on each side until just cooked but still slightly pink in the middle.
Drizzle the flatbreads with olive oil and place on the griddle pan until warmed through and lined with char marks.
Spread each flatbread with hummus and scatter with the rocket leaves and carrot. Slice the lamb thinly and put it on top of each flatbread. Scatter with the pickled onions and paprika and drizzle with a little more extra-virgin olive oil.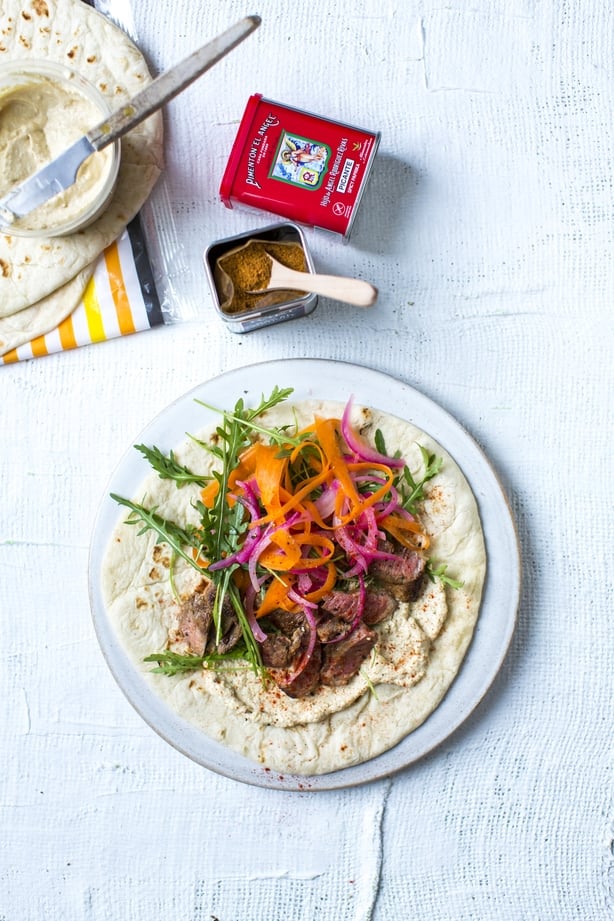 Nutritional
KCALS: 641
FAT: 39g
SAT FAT: 6g
CARBS: 30g
SUGARS: 5g
FIBRE: 7g
PROTEIN: 39g
SALT: 1.29g