This is one of those cakes that rises up beautifully as it bakes, then proceeds to collapse when it comes out of the oven. That's okay though, as the resulting soft, mousse-like texture is wonderful.
Ingredients
Serving chocolate sauce with the cake may seem excessive, but believe me, it is really spectacular. Other than that, a bowl of fresh raspberries and softly whipped cream are all that you need. Serves 8–10.
melted butter, for greasing
200g chocolate (at least 55% cocoa solids), coarsely chopped
6 eggs
150g caster sugar
110ml milk
1 teaspoon vanilla extract
To serve
A dusting of bitter cocoa powder fresh raspberries softly whipped cream chocolate sauce
Chocolate Sauce
I have several different recipes for chocolate sauce, but I think this rather uncomplicated one is best with the chocolate soufflé cake.
150g best-quality chocolate (at least 62% cocoa solids), finely chopped
75ml cream
75ml milk ½ teaspoon vanilla extract or 1 tablespoon rum
Method
Preheat the oven to 180°C. Grease a 20cm springform tin with melted butter and place a disc of non-stick baking paper on the base.
Put the chocolate in a Pyrex bowl and sit it over a saucepan of cold water, making sure that the bottom of the bowl is not touching the water in the saucepan. Bring the water to a simmer, then turn off the heat to allow the chocolate to melt slowly.
Separate the eggs and place the whites in a spotlessly clean bowl.
When the chocolate has melted, whisk in the egg yolks, half of the sugar, the milk and vanilla extract.
Whisk the egg whites while gradually adding the remaining sugar. You want to achieve a set snow with a glossy, meringue-like consistency.
Stir one-quarter of the beaten egg white into the chocolate mixture and fold the rest in gently but thoroughly. Scrape the batter into the prepared springform tin and gently smooth the top.
Bake the cake in the oven for 30 minutes. After 20 minutes it may be necessary to place a sheet of non-stick baking paper over the top of the cake if it is colouring too quickly. By now the cake will look like a risen soufflé. Continue cooking for a further 10 minutes.
Remove from the oven and place on a wire rack to allow the cake to cool completely before removing from the tin. The cake will deflate slightly to create a wonderful foamy consistency. Dust the cake with the cocoa powder just before serving and serve with a few fresh raspberries, softly whipped cream and chocolate sauce if you are really going for it.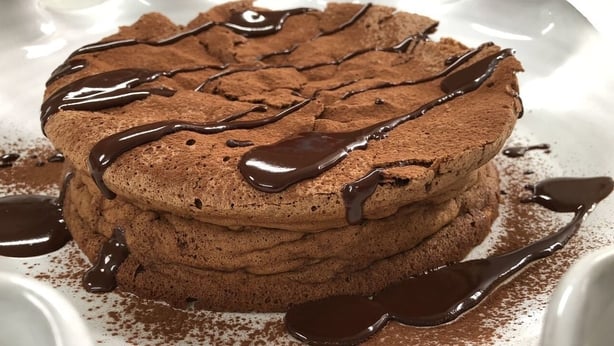 Chocolate Sauce
Place the chocolate, cream, milk and vanilla in a small saucepan and melt over a low heat, whisking occasionally, until the sauce is smooth and a rich, glossy colour.
Keep the chocolate sauce in a warm place, such as sitting in the saucepan that you melted it in with the heat turned off.