Stir-frys are quick, healthy and easy! Here are a few favourite flavours together with a little extra crunch from the carrots and pumpkin seeds. Serve this with a bowl of steaming rice.
Ingredients
Serves 3-4
I pkt Irish beef stir fry (350g)
3 lg carrots (300g) peeled and cut into thin strips.
3 cloves of garlic (15g) chopped
I lg knob of Ginger (60g) peeled and cut into matchsticks.
2 tbsps vegetable oil
I tbsp squeezy honey
3 tbsp soy sauce
3 pinches of pumpkin seeds (30g)
A little salt and a lot of pepper.
A generous scattering of fresh coriander if available.
Method
Heat your oil in a wok, when it's gently smoking, carefully add your beef and turn up the heat to the highest setting.
Cook for 3 minutes, stirring frequently before adding the carrots, garlic and ginger and pumpkin seeds.
Stir-fry for another 3 minutes then add the honey, soy sauce, salt, and pepper then continue to cook.
It should take from this point just another 2-3 minutes until the sauce starts to get a little syrupy but without overcooking the carrots.
In less than 10 minutes you can cook yourself a vibrant tasty dinner.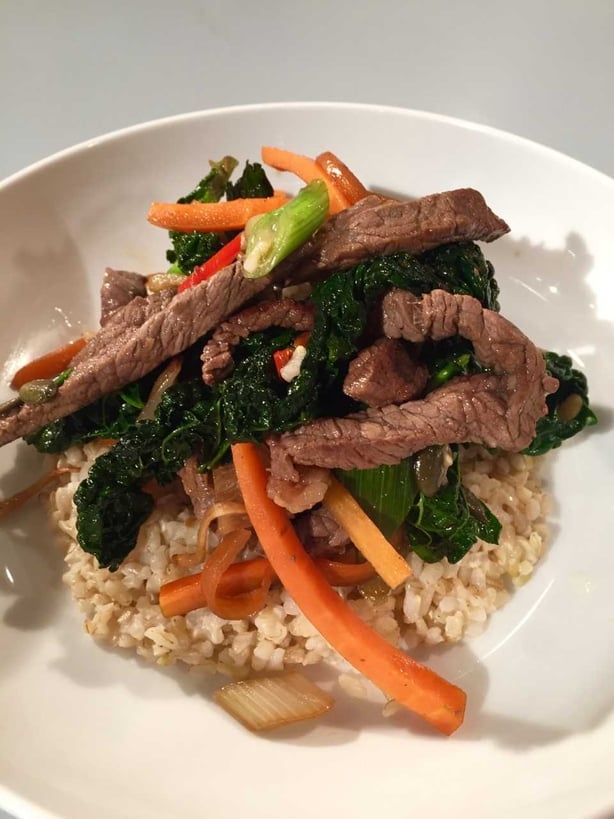 Note: The secret to a successful stir-fry is to have all your prepared ingredients ready and waiting beside you.