Donal Skehan's five-minute Griddled Minute Steak with Baby Gem, Spring Onion & ChimmiChurri.
Ingredients
Cooking Time: 5 minutes
Serves 1
120g Rib eye minute steak
1 large garlic cloves, finely minced
2 tbsp olive oil
1 tbsp balsamic vinegar
1 sprigs rosemary, leaves finely chopped
2 small spring onions, trimmed
1 little Gem lettuces, trimmed and cut in half lengthways
50g sun blushed tomatoes
50g pecorino cheese
For the chimichurri sauce:
1 Shallot, roughly chopped
1 garlic cloves, chopped
1 handfuls of fresh flat leaf parsley
Pinch of dried oregano
1 tbsp of extra virgin olive oil
1 tbsp of red wine vinegar
A pinch of cayenne pepper and sea salt
Method
Place the ingredients for the chimichurri sauce in a food processor and blitz until smooth. Set aside.
In a large bowl whisk together the olive oil, balsamic vinegar, garlic cloves, rosemary and season generously with sea salt and ground black pepper.
Heat a large griddle pan over a high heat.
Add the prepared baby gem and spring onions to the dressing and toss to coat. Shake off excess and place the vegetables on the hot griddle pan, leaving space in the centre of the pan for the steak.
Using the back of a spatula press the vegetables against the grooves.
Add the steak to the remaining dressing and turn to coat completely. Place the steak in the centre of the hot griddle and cook for 2 minutes either side for medium rare depending on the thickness of the steak.
Turn the vegetables and as soon as they are tender remove from the pan, cut in thick slices.
Arrange the warm steak slices with the vegetables, drizzle with chimmichurri, and garnish with sun blushed tomatoes and pecorino.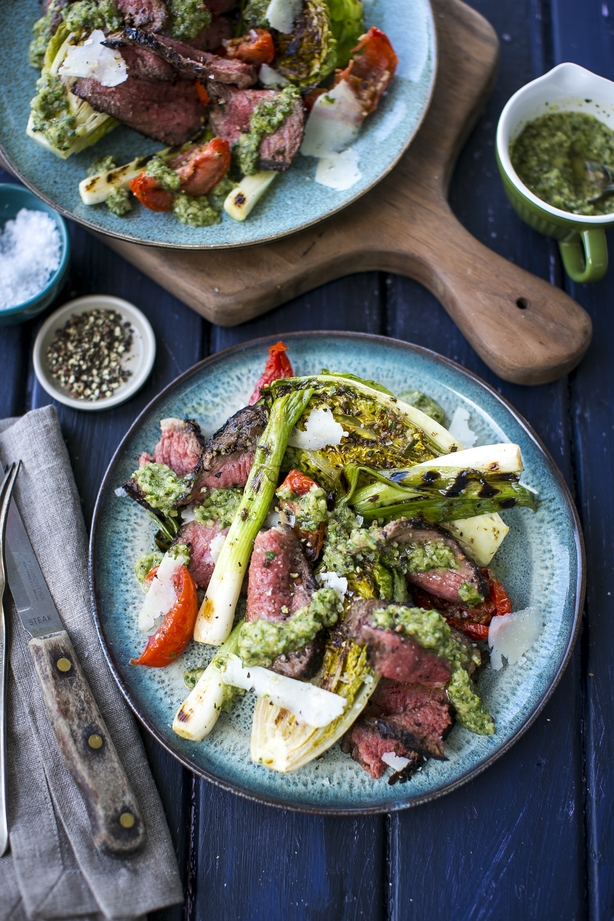 Nutri-facts
- Per serving ; 951kcal (calories), 73g Fat, 22g Sat, 8g carbohydrate, 3g Fibre, 61g Protein
- Great source of protein, but also high in saturated fat and calories
- Great source of Riboflavin.
- Riboflavin is a B vitamin and helps to convert food into energy so if your energy levels are flagging pick yourself up with this griddled steak.
- Great source of Iron (Heam iron is well absorbed and utilized by the body).
- Iron helps haemoglobin in red blood cells and myoglobin in muscle cells carry oxygen throughout the body to produce energy in our cells.
Nutri-tips
- Much of the olive oil dressing will be lost on the griddle so this main is probably not as high in calories and fat as recipe analysis suggests.
- You don't need chips to accompany this high energy feed – bulk up on more green side salad if necessary or add some leftover pre-ccoked French beans or asparagus to your chimichurri
SPOTLIGHT FOODS IN THIS RECIPE
Beef (steak)
Lean beef can definitely be included in a healthy diet. Lean meat itself i.e. the muscle tissue is relatively low in fat and about half of it is monounsaturated fat.
A medium portion of lean, sirloin beef provides 173 calories, 8.2g of fat and 3.3g of saturated fat.
A relatively good source of iron - Iron is needed for normal cognitive function, for formation of red blood cells, transporting oxygen around the body and for the normal functioning of the immune system. Low levels of iron can lead to anaemia.
High in zinc - we need zinc for normal carbohydrate metabolism, for normal cognitive function, healthy hair, healthy nails, healthy skin, for the immune system to function effectively, and it also acts as an antioxidant in the body, protecting cells from oxidative stress.
Donal's Meals in Minutes is sponsored by Spar