Donal Skehan's Spanish Veggie Paella from his series Donal's Meals in Minutes. Tune into RTÉ One at 8:30pm every Tuesday.
Ingredients
Cooking Time: 30 minutes
Serves: 2
1 tbsp olive oil
1 tbsp dried oregano
1 red peppers, sliced lengthways
1 onions, finely chopped
2 garlic cloves, finely chopped
100g baby broccoli, sliced on the diagonal
½ tsp dried chilli flakes
50ml white wine
2 x 400g tins plum tomatoes
400ml vegetable stock
A generous pinch of saffron
250g short grain rice (Arborio or Spanish bomba)
100g green olives, roughly crushed and stone removed
Sea salt and ground black pepper
Method
Heat a casserole over a medium-high heat and add some olive oil.
Fry the onions, peppers for 6-8 minutes until just tender. Stir through the garlic and chilli flakes and continue to cook for 1-2 minutes until aromatic.
Pour in the wine and simmer for 1-2 minutes before adding the tomatoes, vegetable stock, saffron, rice and. Bring to a steady simmer.
Reduce the heat, cover with a lid and simmer gently for 25 minutes or until the rice is tender. Just before the end of the cooking time, stir through the olives & broccoli.
Depending on the rice you may need to top up with a little water if it gets too dry before the rice is cooked. Also, ensure the rice doesn't catch at the bottom of the pan by stirring every now and then. Add in broccoli, olives.
Season with sea salt and ground black pepper and serve while still warm.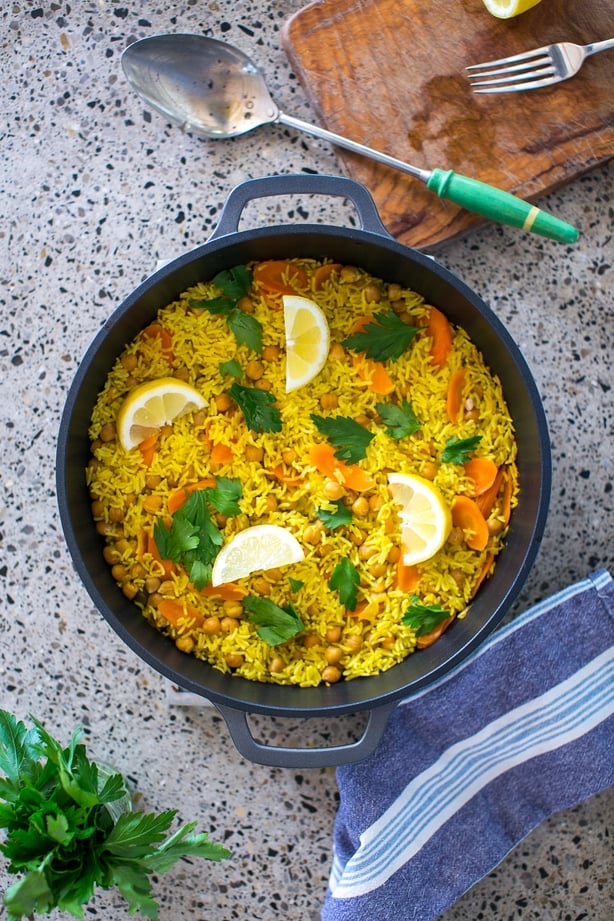 Nutri-facts
Per serving; 779kcal (calories), 18g Fat, 4g Sat,  124g carbohydrate, 9g Fibre, 25g Protein 
- Great source of Folate (coming mainly from broccoli). 
- Folate is important for brain and mental health.
- Great source of Vitamin C. 
- Vitamin C helps make neurotransmitters (serotonin and norepinephrine), so good for our mood and mental health again.
Nutri-tips
- There are 5 high fibre vegetables in this paella.
- Recent guidelines encourage 7 servings of fruit and veg a day (and more veg than fruit is recommended so this is a very handy recipe ). 
- Chop enough for two dinners and leave one aside for later in week. 
SPOTLIGHT FOODS IN THIS RECIPE  
Broccoli
shares many of the health benefits attributed to other cruciferous vegetables like kale and cabbage. A fully functioning immune system is one of the most vital aspects of a healthy body, helping to prevent and combat disease.
Broccoli, out of all vegetables, stands out as one of the most concentrated source of the antioxidants vitamin C, and carotenoids lutein, zeaxanthin, and beta-carotene.
That gives it great antioxidant and anti-inflammatoryeffects.
Peppers
One red pepper has only 26 calories and no fat. It is high in vitamin C, which helps boost the immune system. In fact, to get the same amount of vitamin C as just half a red pepper, you would need to eat 2 oranges, 3 kiwis or 40 cherry tomatoes.
One pepper provides 7% of the GDA for fibre. They are high in vitamin A, another antioxidant vitamin and it is also important for iron metabolism, healthy skin, normal vision and a normal immune system.
Compared to green peppers, red peppers have more nutritional value for your money. They contain greater amounts of certain vitamins and nutrients such as the antioxidant lycopene.
 Donal's Meals in Minutes is sponsored by Spar