Donal Skehan's One Pot Thai Super Green Veggie Stew from his series Donal's Meals in Minutes. Tune into RTÉ One at 8:30pm every Tuesday.
Ingredients
Cooking time: 25mins
Serves: 4
240g of basmati rice
1 tbsp of sunflower oil
1 sweet potatoes, peeled and diced in 1-2cm pieces
150g sugar snap peas
100g baby corn sliced in half
1 x 400g tin of coconut milk
2 tbsp of fish sauce
500ml of Water
A large handful of coriander, roughly chopped
6 spring onions, finely sliced

For the paste:
1 large thumb-sized pieces of ginger, peeled and roughly sliced
Zest of 2 limes & Juice of 1
3 garlic cloves
1 red chilli, deseeded
3 stalks of lemongrass
Method
In a mortar & Pestle pound the ginger, lime zest, green tops of Spring Onions, garlic, red chilli and lemon grass until it becomes a fine paste.
Heat a casserole pot over a high heat and add a little sunflower oil.
Add in the paste and stir-fry for 2-3 minutes until they release lots of great fragrant smells!
Add the sweet potato, rice and stir fry for 2-3 minutes before lowering the heat and adding the coconut milk, fish sauce & 500ml water.
Cook over a gentle heat for 10 minutes until the sauce has reduced a little and the sweet potato & rice are thoroughly cooked through.
Just before the end of the cooking time, stir through the sugar snap peas and baby corn & lime juice.
Once the peas are tender serve in deep bowls with a generous sprinkle of spring onions and coriander.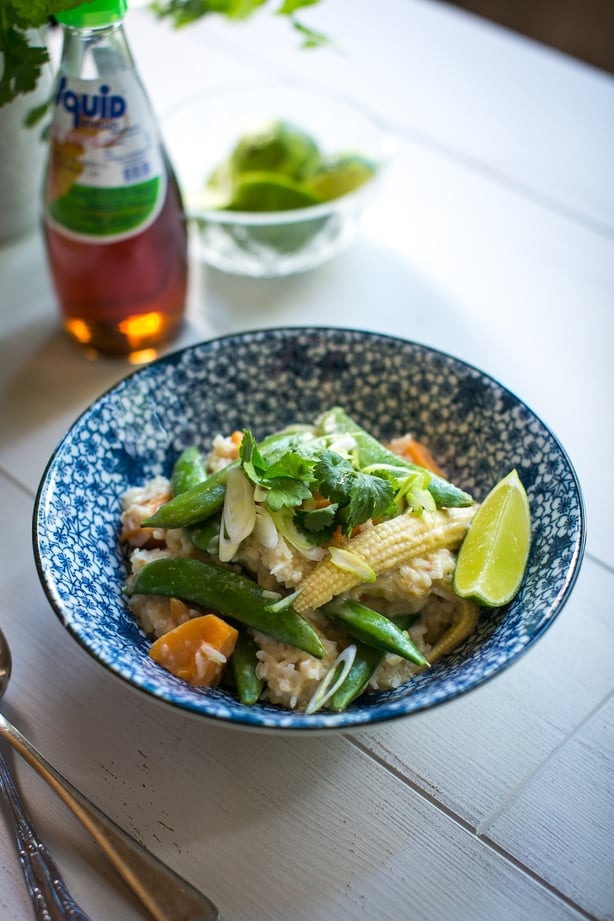 Nutri-facts
Per serving; 411kcal (calories), 4g Fat, 1g Sat, 79g carbohydrate, 6g Fibre, 10g Protein
- Great source of Vit A (sweet potato)
- Vit A essential for good vision and keeps tissues and skin healthy.
- Great source of Vitamin C.
- Vitamin C bolsters the immune system.
Nutri-tips
- Stir-frying veg quickly retains nutrients especially if slightly al dente.
- Try not to smoke an expensive oil. Use rapeseed or oil with a higher smoking point.
- Contains loads of natural plant protectors in 4 different veggies and lots of aromatic spices
SPOTLIGHT FOOD IN THIS RECIPE
Ginger
It contains the active ingredient gingerol which is responsible for its hot pungent taste and aroma. Ginger can help relieve nausea, motion and morning sickness.
It is a source of potassium – needed for normal muscle function and regulation of blood pressure. You can add raw ginger to stir-fries or curries; use in marinades; grate to make tea.
Dried ginger works well in puddings, flapjacks and fruit cakes or stewed fruits, particularly apple.

Spuds
Potatoes are an excellent source of healthy carbohydrate and are actually a better source of vitamin C and fibre than brown rice or pasta. One medium baked potato has 25mg of vitamin C (41% of the RDA).
Potatoes are good sources of fibre – one medium baked potato has 6.5g of fibre or 27% of the GDA. Dietary fibre is part of the plant material that cannot be digested and absorbed in the bloodstream.
It has numerous health benefits, including helping to regulate our blood sugar levels and increasing satiety which may help with weight loss. In moderation, potatoes can be part of a weight loss plan.
A medium baked potato has more potassium than a banana, which is important for healthy blood pressure.
Another advantage, they are unprocessed and naturally free from gluten, and so are perfect for coeliacs and people avoiding wheat-based pasta and couscous.
Donal's Meals in Minutes is sponsored by Spar