Christmas with The Happy Pear means a healthy feast of Sweet Potato, Feta & Broccoli Filo Pie with Chia Cranberry Sauce.
Ingredients
500g sweet potatoes, cut into bite-sized pieces
salt and pepper
2 tbsp olive oil, plus extra for drizzling and brushing
1 red onion, finely sliced
4 garlic cloves, finely sliced
1 leek, chopped
1 large head of broccoli (approx. 250g), cut into bite-sized florets
300g feta cheese
100g Cheddar cheese, grated
3 sprigs of fresh thyme, leaves stripped
5 medium eggs
½ lemon, juice only
1½ tsp ground cinnamon
1 tsp ground nutmeg
250g frozen filo pastry, thawed
2 tbsp sesame seeds
For the chia cranberry sauce:
200g fresh cranberries
200ml orange juice
100ml honey or maple syrup
2 tbsp chia seeds
Method
Christmas with The Happy Pear means a healthy feast of Sweet Potato, Feta & Broccoli Filo Pie with Chia Cranberry Sauce.
Preheat the oven to 180°C/gas mark 4.
Place the sweet potatoes on a baking tray. Drizzle with a little oil and a pinch of salt and pepper and bake in the oven for 25 minutes.
Add the 2 tbsp of oil to a large pan set on a high heat and let it heat up for 1 minute. Add the onion and fry for 3 minutes, stirring occasionally. Add the garlic and fry for 2 minutes, then add the leek and cook for 2 minutes more. Finally, add the broccoli and cook for a further 3 minutes. Transfer to a large bowl along with the roasted sweet potatoes. Crumble in the feta and add the grated Cheddar and thyme leaves. Mix thoroughly – it should be quite dry and have lots of lovely colours with chunks of feta going through it.
Crack the eggs into a separate medium-sized mixing bowl. Add the lemon juice, cinnamon, nutmeg and a pinch of salt and pepper. Whisk it all together using a whisk or fork, then add to the vegetables and stir everything together until well combined.
Transfer the pie filling into a 3- or 4-litre baking dish, filling it four-fifths of the way up to leave some space for the filo (a large family-sized lasagne dish would be perfect). Put one sheet of filo pastry on top of the filling and brush the top of the sheet very lightly with olive oil. Slightly rumple each sheet of filo to leave a pocket for air as it bakes, as it will get crispier this way. Put another sheet of filo on top and brush with oil. Repeat until you have four or five sheets of filo on top of the dish. Give the top layer of filo a generous brushing of olive oil.
Sprinkle the sesame seeds on top of the filo before putting the dish in the oven. Bake for 35 minutes, until the filo turns golden.
 Meanwhile, to make your chia cranberry sauce, simply place all the ingredients in a small pot and bring to the boil, then reduce the heat and simmer for 5 minutes, stirring regularly, until the sauce thickens. The cranberries will pop and add a lovely texture to the sauce. It will thicken more as it cools.
Cut the pie into wedges and serve with the chia cranberry sauce for a really tasty Christmas dinner.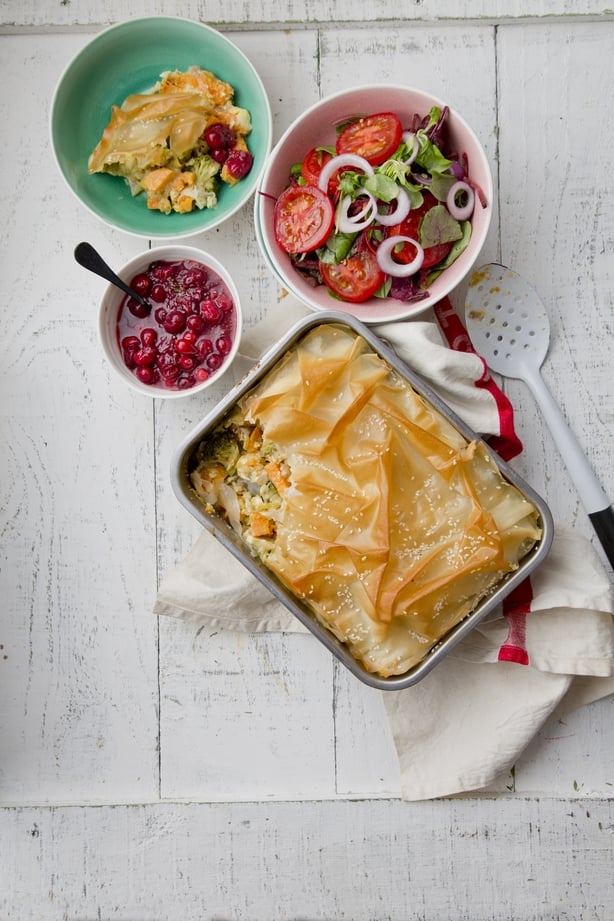 Recipe courtesy of SuperValu Good Food Karma Project ambassadors.