Sharon Hearne Smith is here to help warm us up with a winter-warming pastry dish. Sponsored by JusRol.
Ready in just 40 minutes, Sharon takes the hassle out of baking with this easy Jus-Rol winter pastry dish; Roast butternut squash & feta tart - the perfect recipe for a cosy night indoors.
And, if you're a baking fan that finds you just don't have the time to slave away in the kitchen all day. Don't worry!
Sharon says;
''Just use Jus-Rol Ready Rolled Puff Pastry, available in the chilled and frozen aisle in store. Working with this pastry couldn't be any easier as it is simply unrolled and baked on the paper it comes wrapped in''.  
Whether you're settling down to enjoy it over a family dinner or are looking for an impressive dinner party option – it's the perfect dish to make friends and family think that you've been hard at work all day.
This recipe makes enough for 4 servings, so if you've leftovers from dinner, why not bring it to the office as a delicious lunch option, as Sharon says it tastes just as good served chilled, as it does piping hot straight out of the oven.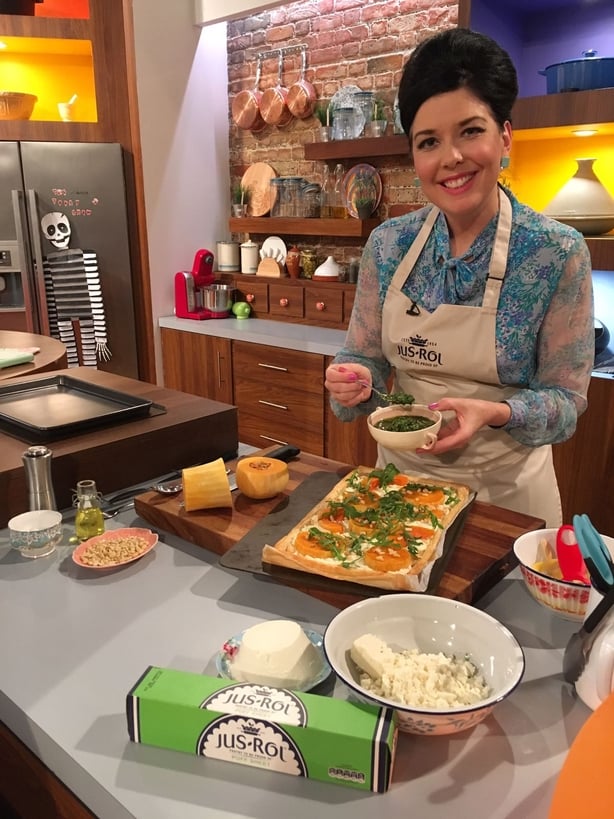 'Sharon says; serve this as a lunch or dinner dish and it would even make a great bring to work lunch option also.''
And for the weekend that's in it, if you're carving out Halloween pumpkins and looking for something to do with all the scooped out goodness. Then Sharon has the answer!
Sharon suggests substituting the butternut squash with pumpkin as a tasty alternative and a fun way of getting the kids involved, giving you an extra helping hand in the kitchen this weekend.
Sharon's top serving tip;
''Use any roasted vegetables like peppers, aubergines and / or courgettes as well as or instead of the butternut squash. Serve with parmesan shavings also if liked.''
Enjoy!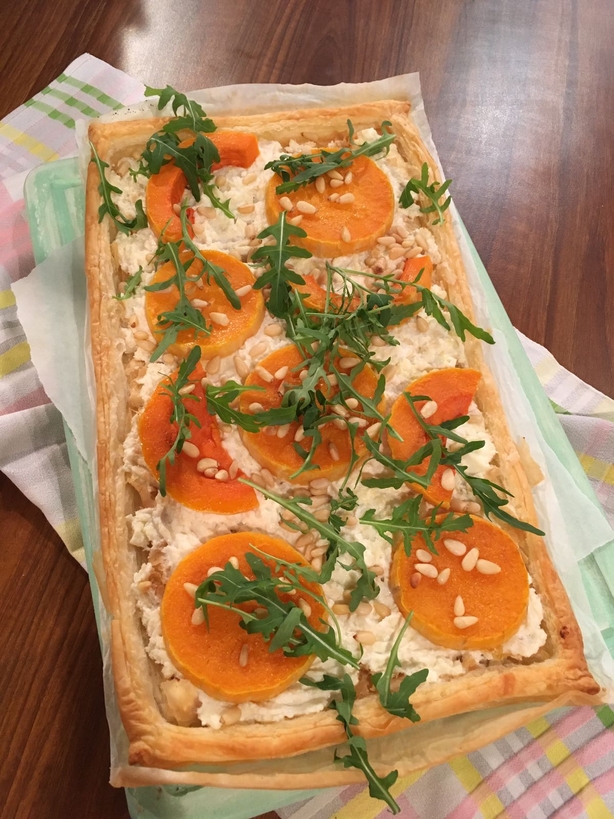 RECIPE
Roast butternut squash & feta tart
4 servings for dinner, 6 for lunch
35-40 minutes bake time
Ingredients
1 small-medium butternut squash, about 600g
1 tbsp olive oil
1 x 320g regular or Light Jus-Rol Puff Pastry Sheet
200g feta, crumbled
250g ricotta
25g pine nuts
3-4 tbsp pesto
½ x 90g bag of rocket
Method
Preheat the oven to 220°C (200°C fan oven) Gas Mark 7.
Peel the squash, then slice into 1.5cm-thick rounds and rings – removing the seeds as you go. Spread on a baking tray, drizzle over the oil and some seasoning and bake for 18-20 minutes until tender.
Meanwhile, unroll the pastry, leaving the pastry paper as parchment underneath. Score a 1cm border all around the edge. Prick all over the middle with a fork and bake for 15 minutes underneath the squash until puffed and lightly golden.
Mash the feta and ricotta together until roughly blended and season with some freshly ground black pepper.
Once the pastry and squash are done, press the pastry middle of the tart back down with the back of a spoon. Spread the ricotta mixture over the pastry, keeping within the border, then arrange the roasted squash over the top and scatter with the pine nuts. Bake for a further 10-15 minutes until the pastry is golden and crisp.
Serve immediately, or at room temperature, dotting over teaspoons of the pesto, then scattering over some rocket. Eat with the rest of the rocket leaves.
For more pastry recipe inspiration visit www.jusrol.ie.