Every Monday on the Today with Maura and Daithi, Neven Maguire will focus on food specifically for women who are becoming mothers. This week we're looking at his Seared Lamb Fillet with Mediterranean Butter Bean Stew for pregnant mothers.
Ingredients
Lamb:
4 x 150g (5oz) lamb fillets, well-trimmed and any excess fat removed
1 tbsp extra virgin olive oil
1 large garlic clove, thinly sliced pared rind of 1 lemon
handful of fresh rosemary sprigs
Butter Bean Stew:
1 tbsp olive oil
1 large red onion, finely chopped
2 garlic cloves, finely chopped
1 tbsp chopped fresh sage
good pinch of dried chilli flakes
150ml (¼ pint) chicken stock
1 x 400g (14oz) can of good-quality
whole plum tomatoes
1 tbsp red wine vinegar
pinch of dried oregano
2 x 400g (14oz) cans of butter beans, drained and rinsed
1 tbsp roughly chopped fresh
flat-leaf parsley
sea salt and freshly ground black pepper
Method
The foods and drinks that a pregnant mother chooses can have a big influence on the child's future health. School performance, risk of developing common adult diseases such as heart disease, obesity and type 2 diabetes are all greatly influenced by a mother's pregnancy diet.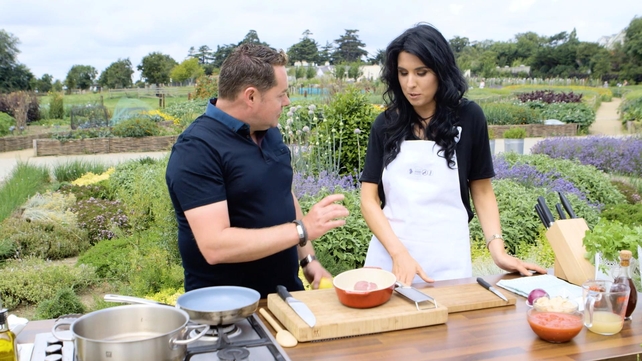 Rub the lamb fillets with the olive oil and garlic. Season well and pare over the lemon rind, then add the rosemary, mixing well to combine.
Set aside at room temperature while you prepare the beans, or overnight in the fridge, covered with cling film, is fine too.
To make the butter bean stew, heat the olive oil in a sauté pan over a medium heat.
Tip in the onion, garlic, sage and chilli flakes and sauté for about 5 minutes, until softened.
Pour in the stock and allow it to bubble down, stirring. Then add the tomatoes, crushing them up with your hands, along with the red wine vinegar and oregano and season with salt and pepper to taste.
Bring to the boil, stirring, then reduce the heat and stir in the beans. Simmer for about 15 minutes, until most of the excess liquid has evaporated. Meanwhile, put a large non-stick frying pan over a high heat until it's very hot.
Brush the marinade ingredients off the lamb fillets, then add to the pan. Reduce the heat a little to a medium to high heat and quickly sear for 5–6 minutes, turning regularly, until just cooked through and tender but still pink in the middle.
Leave to rest in a warm place for about 10 minutes.
Spoon the butter bean stew into wide-rimmed bowls, then carve the lamb fillets into thick slices and arrange on top. Scatter the parsley on top to serve.