Summer Vegetable frittata with goat's cheese - it sells itself! This Dublin Cookery School recipe is lovely served with a tossed green salad.
Ingredients:
75g peas, fresh or frozen
75g broad beans, fresh or frozen
100g asparagus
6 large eggs
30g butter
1 onion, sliced thinly
5 spring onions, cut into 2 cm chunks
100g new potatoes, cooked and sliced (optional)
50g courgette, very thinly sliced
80g sundried tomatoes, sliced into strips (optional)
5 leaves mint
80g soft goats cheese, such as St. Tola
20g parmesan
Garnish: a handful of peashoots (or fresh watercress), if available
Equipment: non stick frying pan about 24cm in diameter
Bring a large pot of salted water to the boil. Have at your side a bowl of iced water.

Blanch the peas and broad beans for 1 minute, remove to the bowl of water. Blanch the asparagus for about 2 minutes and add to the bowl of cold water. Drain the vegetables when cold and pat dry. Slice the asparagus into 2 cm pieces.

Preheat the grill. Beat the eggs in a bowl with a hand whisk and season with salt. Slice the mint leaves into strips. Heat the butter in a 24cm frying pan. Add the onion, season with salt and cook for about 5 minutes, stirring regularly until the onion is tender. If you place a lid on the frying pan and allow the onion to sweat at a low heat, they will soften faster.


Add the spring onions, toss for a few seconds, then add the potatoes, peas, broad beans, asparagus, courgette, sundried tomatoes (if using) and the mint. Season again and pour on the egg mixture. Cook for 5-8 minutes until the underlayer is starting to set.

After the first 4 minutes, crumble the goat's cheese over the surface and mix in gently with a spatula. Sprinkle the parmesan over the top.

When the egg mixture is half set, place the frying pan under the grill and continue cooking the eggs until just set and lightly golden on top.

Remove from the grill, run a plastic spatula around the outside and tip the frittata onto a serving board.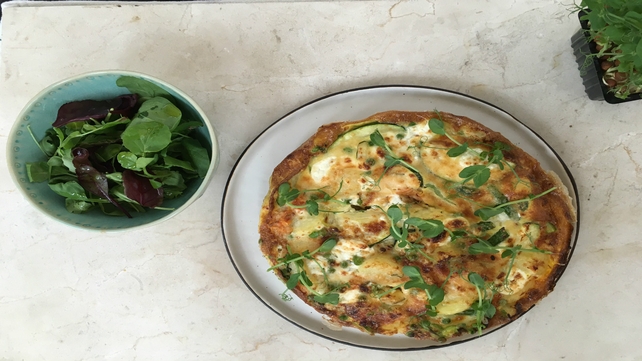 To garnish:
Scatter over some pea shoots if desired. Slice and serve with a tossed salad.

The video has been produced in partnership with Lynda Booth's Dublin Cookery School in Blackrock using one of their own recipes. The school was named 'Best Cookery School in Ireland' in 2013 & 2015 (Irish Restaurant Awards). For further information, click here. Follow Dublin Cookery School on Facebook, Twitter and Instagram!