We all know a person who not only runs but likes to share how fast, how far, and how hard they've run in their most recent race. But for the rest of us, is the tyranny of the clock putting us off running? Maybe it's time to put the stopwatch down.
Sarah and Cormac spoke to Paul Byrne, owner of Bodyburn Gym about the growing popularity of what's been called the slow running revolution:
"It's great to hear people are looking at going down that route of doing a slower pace and more enjoyable because it's more sustainable for running and they'll enjoy it much more. A lot of people get too caught up in times and make it an uncomfortable pace and they get injured and they don't enjoy it and then it's not sustainable and the fun is gone out of it."
Sarah recounted how she was training for a mini-marathon about 10 years ago and finding it tough, as she'd never really done any running before that.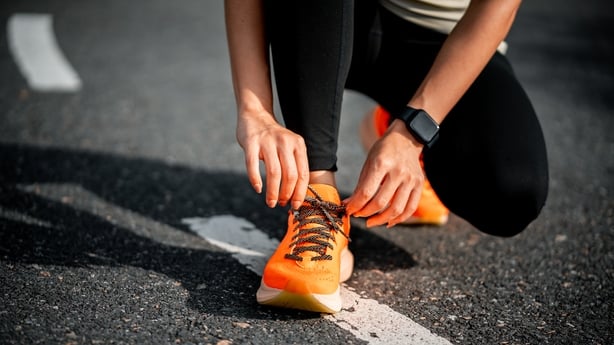 A marathon-running friend advised her to slow down and, Sarah says, that advice was a game changer for her, meaning she could train better and run further distances. Paul is familiar with people starting out going too fast:
"Most people, they get caught up in the thing and times as well and they're looking at their watches. That's what the really elite runners do. But somebody that's working in an office all week and going out for a 5k at the weekend, or a 10k, it's much more enjoyable by just running and just letting your body do its pace, because pace is actually, it's a coping mechanism."
Cormac was happy to seek the advice of the expert with his running issue. He starts off running slow, but once he gets warmed up, he finds his pace increasing, even though he knows he should stick to a slower, more sustainable pace. Pacing is not always easy, Paul tells him:
"That's the hard part of running is actually pacing yourself. Pacing is actually a stress management tool. So once [you're] warmed up and [you're] going, the adrenalin is kicking in and [you're] taking off again and that's the worst thing that can happen."
That's what leads to burnout. Maybe Cormac should ditch Eye of the Tiger in his headphones and listen to a podcast instead.
Paul told the story of how he and Keith Duffy were taking part in the London Marathon years ago, raring to go at the starting line:
"We were all set up at the start line and took off like rockets and felt we were great. And by 10 miles in we were huffing and choking and everything and there were people with banners at 10 miles and we felt like we were doing Chariots of Fire. And then some guy shoots past us dressed as a tin of beans."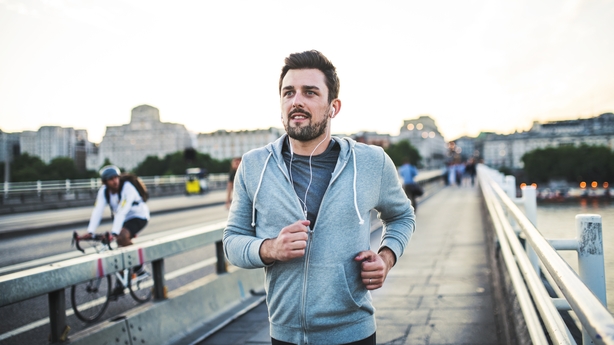 Slow running sounds like a good solution for a lot of people put off by the pressures of pace and personal bests, but is there a pace that's too slow? That kind of depends on the distance, Paul suggests.
If you're running say, a 10k at a reasonable pace of around six minutes per kilometre, something that should suit most people, you'll do it in about an hour and ten minutes. But if you're on your feet running for too long, it can get much harder:
"If you're going at seven and eight minutes, it's, you know, it's probably easier to walk."
And there's nothing wrong with walking either, especially for people starting out. The key, as Paul stressed, is sustainability. Let the tin of beans run at their own pace and you stick with what works for you.
You can hear Sarah and Cormac's full conversation with Paul on Monday's Drivetime by clicking above.