Open Instagram on a Saturday afternoon and you're likely to see at least two people you know, cheeks flushed and smugly tucking into a fry after their hike. Bonus points for a dog, double bonus points if you can post a sunrise backdrop. 
If it feels like hiking has suddenly boomed in popularity, you're not mistaken. A combination of January resolutions, popular hiking groups and a growing awareness of those sweet, sweet mountain selfies has led to a new generation of hikers taking to the trails. 
There's nothing new about hiking – we've been clambering over uneven terrain since we could walk –  but what is it drawing people out to the trails, and what keeps them coming back? 
Eons of evolution
Walking is fundamental to humanity, neuroscientist Shane O'Mara argues. Our wellbeing – physical, emotional, mental – depends in a large way on it. In his book In Praise of Walking, O'Mara outlines how eons of evolution have passed to allow us to walk upright, genes altering to facilitate mechanisms that help us gather food, spread our genes, and eventually to colonise the planet. 
If you don't know Prof Shane O'Mara's work, you should. He wrote the book on torture (doesn't work) and walking (works a treat). This podcast goes into how these books came about & his unique way of 'writing' them. #tcdtalks @smomara1 #mondaymotivationhttps://t.co/nnmA8OVYnB pic.twitter.com/FrUkyTal8K

— Trinity College Dublin (@tcddublin) January 13, 2020
Our brains are designed to map our surroundings, and our very biology yearns for movement. "We're built to move", he tells me. We are the only species we know of that can walk and travel the way we do. 
But walking is not the same as hiking. According to a study carried out at the University of Michigan, hiking uses up 28% more energy than walking on flat land as you strain, scramble and balance your way over rocks and roots. It is a more challenging exercise than merely trotting on the treadmill, not to mention more visually exciting. 
"Walking stimulates all sorts of things within us that are good and positive and foster health and wellbeing", O'Mara says. "This is something which is kind of lost in our modern world that has progressively restricted the range of movement that people can engage in. 
"It's not easy to walk long distances anymore."
City vs nature
When we talk one Friday morning, O'Mara tells me the story of how a park got its paths. When London's Green Park was built, the neuroscientist says, it was open green space with no concrete or earthen walkways snaking through it. When asked about them, the designer allegedly replied something akin to "They'll come next year when the people tell us through their walking where they want the paths."
Cities are, almost by definition, a triumph over nature and while green spaces should be present in every one of them, they are often relegated to small squares here and there, no doubt rimmed with traffic lights, stop signs and other urban ephemera. Unless you seek out a national park, there is little opportunity to immerse yourself in nature in a city.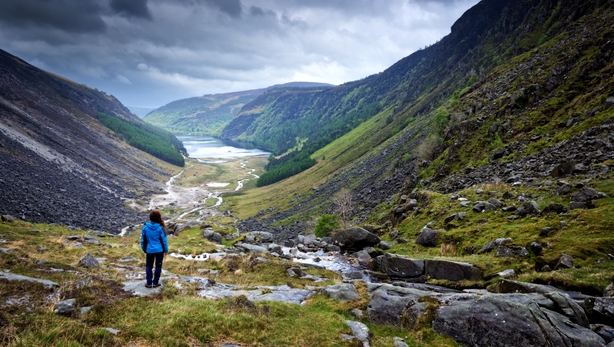 O'Mara argues that green spaces have largely been forgotten in urban planning. "We can build our environment but we shouldn't forget that we evolved in a landscape which was natural", he says.
Also forgotten? Our inherent – biological - need for nature. The benefits of nature have been proven time and again by science. In the early 80s, a researcher monitored two groups of patients who had had gallbladder surgery and were treated in identical ways, except for which bed they were placed in.
Some were assigned to a bed facing a window looking onto trees and the others were facing a brick wall. The ones facing nature complained less, required fewer painkillers and were discharged, on average, a day earlier. 
"We're not a rural country anymore", he says. "The majority of the population live in urban centres - 60%. Within 20 years that'll be north of 80% and I guess people who go hiking are expressing that need for exposure to nature."
So naturally, we started seeking it out. 
New-gen hikers
Irish people have been hiking as a pastime for decades and our cultivated network of hiking trails attests to our fondness for it. Sport Ireland Trails monitors trails across the country through their National Trails Register, from the most popular ones like Ticknock and Glendalough to those "Under Development", the nascent paths trod out by more adventurous hikers. At their latest count, there are 833 trails around Ireland, and their "Review" section heaves with lengthy and impassioned accounts left by hikers. 
An appetite for fleeting, experiential activities has been mounting for years, with The Happy Pear twins among the first to capitalise on it with their sunrise sea swims. But when it comes to hiking, it was Roz Purcell's Hike Life that got the people hiking en masse. Literally. 
We need your consent to load this Instagram contentWe use Instagram to manage extra content that can set cookies on your device and collect data about your activity. Please review their details and accept them to load the content.Manage Preferences
Having grown up on the foot of Sliabh na mBán, the former model and cook has always hiked in her spare time and after issuing some call-outs to her followers to join her, a following started to grow organically. Before long, the Hike Life was hundreds of people strong, spanning all ages but especially young adults.  Now the blogger caps her treks at 100 people and hires trained guides to ensure everyone finishes the hike happily and safely. 
What would stop them otherwise? Flakey mates and fear of getting lost, of course. "They really wanted to join on a hike but they didn't have anyone to go with, and a lot of people my age were like 'I really like hiking but my friends always bail on a Sunday because it's after a night out.'"
"I guess hiking wasn't really seen as a thing our generation do that much."
In the same way that the Hike Life created a space for young people to explore nature together, other groups have sprung up. Galz Gone Wild, an all-female hiking group, was formed in part as a response to what founder Mel McDermott saw as an older, mostly male-dominated pastime. Mostly, though, McDermott was trying to pry herself from the proverbial brick wall-facing hospital bed. 
We need your consent to load this Instagram contentWe use Instagram to manage extra content that can set cookies on your device and collect data about your activity. Please review their details and accept them to load the content.Manage Preferences
"I had no idea I was depressed, severely depressed*", she says. "I just thought I was going crazy." After 15 years in retail management and scrambling up the corporate ladder in London, McDermott burnt out. Back home in Ireland, the comparative dearth of mental health services left her even more isolated. 
"I went into my doctor and she was like, 'you're depressed', gave me antidepressants and that was it. No conversation."
While she acknowledges that medication can help many people with mental illness, it was not the best fit for her. After two "numb" years "coasting along" on medication, McDermott found a more effective treatment in nature, eventually inviting others on her hikes and building the community to roughly 5,500 thousand of women hikers, multiple trained guides and a host of other wellness and fitness instructors.
The complexities of mental health can rarely be solved with just one lifestyle change, but studies have been carried out measuring the effect of green space – through street trees – on rates of antidepressant prescribing. One led by Mark S. Taylor found that prescriptions did fall when green space was increased. 
As O'Mara says, "We need to take seriously the view that movement is medicine", especially, it seems, when in nature. 
"Mindlessness"
You don't need to have a mental illness to find hiking soothing and therapeutic, of course, but what does a hike need to be therapeutic? In his book, O'Mara mentions attention restoration theory, which states that for a walk to be truly restorative it needs to be visual and sensory, have a sense of expansiveness and give you a sense of being away from your normal life. 
And who among us hasn't walked from Bray to Greystones and forgotten they're even in Ireland?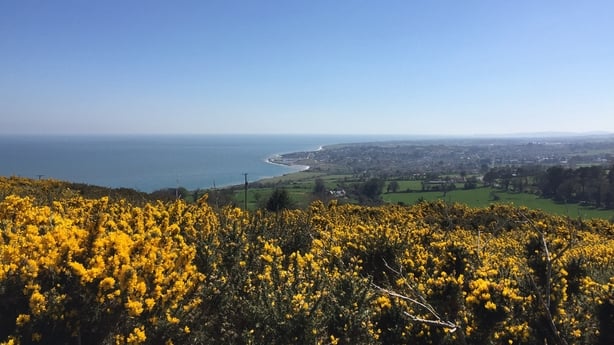 In our "normal" lives, we're constantly being donkey-kicked into action by phone notifications, endless scrolling timelines and the constant drip-feed of content waiting to be consumed. 
This, O'Mara says, is called "excessive rumination", something we're particularly talented at. "We think too much about the everyday and being out in nature abstracts you from the normal stuff that goes on in your life because you have attentional capture. By definition, it stops you being in your own head and it takes you out of your own head and the thoughts that might be distressing you in some way."
"Mindlessness" is O'Mara's tongue-in-cheek solution to this buzz of thinking. 
"To be out of your own head. Walking and especially walking in nature facilitates getting away from yourself and that's a good thing from time to time."
For Purcell, hiking is "the only place I can think things through and rationalise them". "I'm quite a stressy person and when you're self-employed you're kind of dealing with a million jobs – you're the person who's in charge of your accounts, you're the person in charge of customer service", she says. "If I want to discuss an idea, I'll discuss it in my mind when I'm hiking and have no distractions."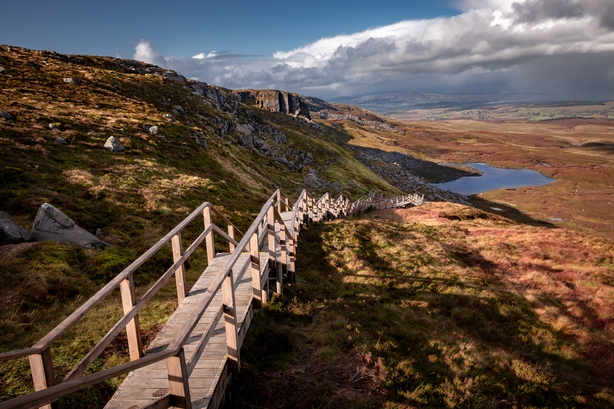 And then there's the salve of perspective, that moment when you reach the summit, look around and see how far you've come to stand there. "It brings you back to yourself", McDermott says. "It brings you back to realising the number one thing that we should all be working towards isn't a job, isn't money, isn't the nice house. What we should be working towards is self love."
Tribes
O'Mara writes movingly of our collective nomadic past, how we travelled in tribes, crossing punishing terrains, altering course and eventually settling down. It's clear that the act of walking has been one of our main sustaining abilities. In so many senses it got us where we are today. 
"Social walking – marching in concert and with purpose – can be an effective goad for real change in society", O'Mara writes but the same is true for the individual. Walking together can change you. 
Two years into building her hiking group, McDermott says "I don't even think it's about the hiking anymore". 
"I think there's been a shift and I think women are realising that what's most important is self love and taking time out for themselves. I think they're trying to figure out where and how they can do that, and GGW has opened up that door for them."
We need your consent to load this Instagram contentWe use Instagram to manage extra content that can set cookies on your device and collect data about your activity. Please review their details and accept them to load the content.Manage Preferences
Visit one of Dublin's hiking trails on any day and you'll find it teeming with families, couples, friends and dogs. Visit on the weekend and you'll encounter troves of hiking groups all guiding one another up the mountains. Hiking is more accessible than ever, Purcell says. 
"What I would say to any young people out there who want to go hiking but are like 'I don't have anyone to go with', join the groups! Join the Hike Life Facebook page, join the Hiking Ireland Facebook page and post call-outs".
And if you don't, sure, there's always those Instagram selfies to spur you into action. 
*If you are affected by any of the issues raised in this article, you can contact; The Samaritans or Aware. Contact your GP to discuss treatment options when dealing with depression.