Although once known as "the change", menopause is undergoing a change of its own.
After years of misinformation and misunderstanding, menopause is experiencing a bit of a PR makeover, as misconceptions about treatments are challenged, and greater insight into symptoms is reached.
The National Menopause Summit was held today in The Round Room in Dublin's Mansion House, the first event of its kind in the country. Walking into the packed, buzzing room, it was clear a significant turning point in the conversation around menopause has been reached.
Compèred by Gráinne Seoige and featuring an emotional and impassioned keynote address by presenter and writer Davina McCall, who has become a champion for menopause healthcare, the summit featured speeches by world-class experts across medicine, business, law, and more.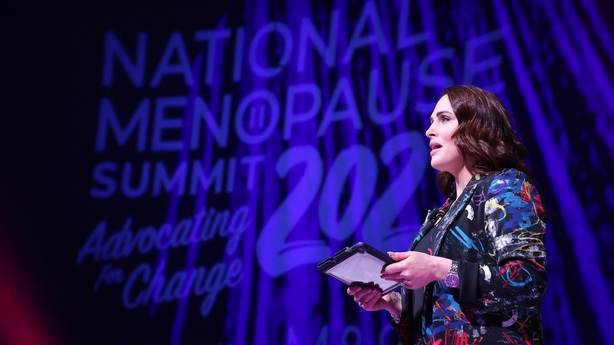 Two years after women lit up Liveline with their often anguished accounts of menopause for five days straight, the event was an attempt to undo some of the generational and institutional "gaslighting", as Dr. Caoimhe Hartley – Clinical Lead for the Rotunda Menopause Clinic – put it.
"For a really long time, women weren't involved in research, we weren't in clinical trials", she told me. "And then moving on from there, I suppose a lot of women's problems or a lot of symptoms that we couldn't explain were labeled as just hysteria.
"Medically speaking, we know a lot more than we did. We have explanations now for things we didn't, for real physiological changes that happen for women."
There were some facts we sort of knew: Menopause is defined as having had no period for 12 months, or if a woman has no ovaries due to surgery. It's caused by a drop in the production of key hormones estrogen, progesterone, and testosterone.
Then came one of the first knock-on-the-head revelations: Once symptoms begin, menopause can last anywhere from four to 11 years. This statistic alone puts so much about the experience of women in their 40s and 50s into perspective.
Speakers repeatedly came back to the point that, for generations, women have been putting up with debilitating symptoms like hot flashes, disrupted sleep, brain fog, restless leg syndrome, vaginal dryness, and more, for fear of being dismissed or missing out on work opportunities.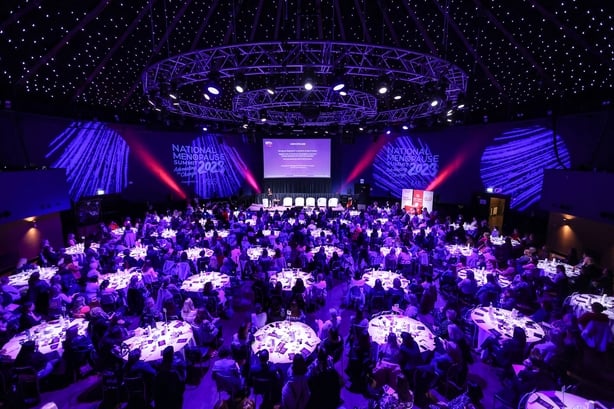 As it stands, there are 600,000 menopausal women in Ireland today, with 350,000 of those in the workforce, according to research by The Menopause Hub. By 2030 it is estimated that there will be 1.1 billion menopausal women on the planet. That's an enormous amount to be left searching in the dark for answers and help with their health.
As understandings of menopause have deepened, so too have approaches to treatment. Despite hormone replacement therapy (HRT) being prescribed for decades, particularly in the 1990s, a major study – the Women's Health Initiative, which set out to examine the link between HRT and cardiovascular disease and studied the health of 160,000 postmenopausal women – skewed public perception against HRT.
The study found both adverse effects and benefits to HRT, but decided the risks outweighed the advantages. A headline-stealing finding, that HRT increases a woman's risk of breast cancer, became a particularly insidious misconception.
So pervasive was this belief that I, at 14, picked it up in a Home Economics class, and – with a family history of breast cancer – told myself it wouldn't be for me, anyway.
New recent studies have since found that such risks are low for healthy women under the age of 60 and HRT is still a profoundly helpful treatment option for many women. Still, its legacy reared its head at the summit in some ways.
Sallyanne Brady, who founded The Irish Menopause group following her own experience of early onset menopause at 36, recalled the first time she collected a prescription for HRT.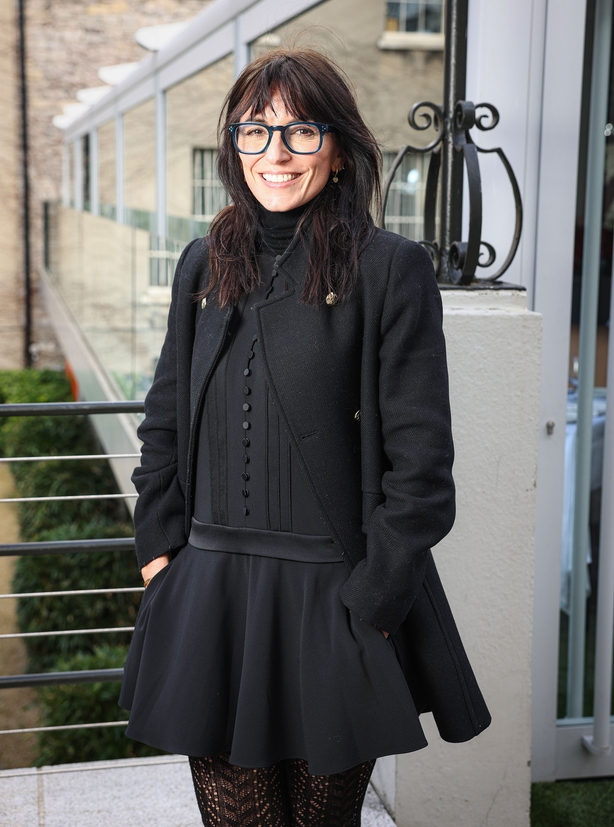 "I came home and I remember as I opened the paper bag, thinking, 'this is the stuff that's going to give me cancer' in my head. And then I said, Why are you thinking that? You need to research this and the rest is history."
Women shared their experiences of menopause freely, almost joyously. Davina McCall said she found she was "flatlining", and won laughs with her retelling of the first time she fancied someone – a waiter in a restaurant – after finally going on HRT. She also spoke frankly about hesitating to open up about menopause for fear it would hinder her at work.
"I am now 55 and having the time of my life. I used to be scared of ageing and getting older. I love my work and have never worked so much in my life."
Loretta Dignam, CEO and Founder of The Menopause Hub, told the packed room that she was "blindsided" by menopause. She said in her 40s she went for brain scans looking to get to the bottom of what would eventually be revealed as menopause symptoms.
One woman I spoke to, a scientist, said she was one of the 8% of women who contemplated leaving her job because she couldn't cope with symptoms. She said she didn't feel confident that she could stack shelves, never mind anything else.
She, like many, she said, ignored and suppressed her turmoil, afraid her colleagues would see her as "weak".
Underpinning these conversations about menopause is a deeper, more nebulous one about femininity and what it means to be a menopausal woman. Hartley touched on the way we have been conditioned to talk to women in menopause.
"The easiest thing to do is to tell them, just get on with it. And I think that became endemic in how we speak about women's health, how we treated women when they came in, a disbelief of the symptoms that they were reporting."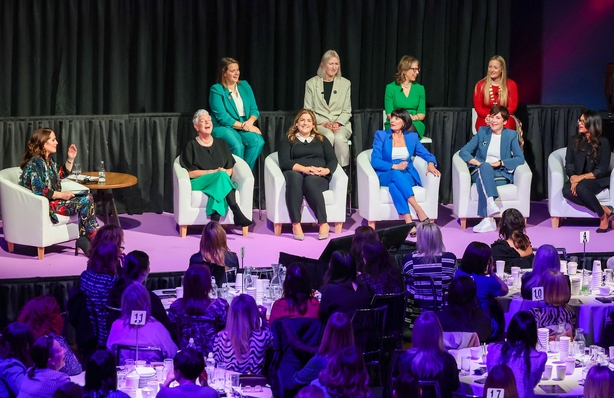 The silence around parts of a woman's life affected by it – sex, cognitive functions, energy, emotions – only push them further away from help. "We can't ignore the fact that we're a type of society in Ireland that are, like, we're quite private and we don't like sharing this information. A lot of the time, patients won't offer the information. You have to ask", Hartley added.
As Seoige noted, we resort to euphemisms. "Instead of calling something what it is, we use terms or we have used terms like the change or my nerves or whatever. And I think that helps us get around social situations where we're trying to make other people feel comfortable."
"When I was in my 20s, I never thought about it. My mother would have been going through it and she didn't talk about it", she added.
Educating ourselves and others is the next step in expanding menopause awareness, many of the speakers said. There is now a generation of young women who are comfortable taking charge of their health and well-being, and as much as we need to learn about how menopause presents, we also need to look back at how our mothers and grandmothers experienced it.
"A lot of why women have a rough menopause or a lot of symptoms and other women don't, a lot of that is genetics. So there's nothing much you can do about your genetics", Hartley said. However, she added "You can optimise your long term health with modifiable risk factors: don't smoke, drink to moderation, exercise as much as you're comfortable with, look after your mental health.
"You need to empower yourself with the right information."