"Two people in a room, just trying to have a body." That's how Elly's yoga supervisor explained trauma-sensitive yoga to her.
Two years on from the outbreak of Covid-19 and "having a body" has become a particularly tricky endeavour. From the global fear of an invisible virus constricting our airwave, to the hunger of touch starvation; being caught between wanting to avoid someone and wanting to embrace them.
And that's before we get into trauma that existed before this very specific widespread experience.
With trauma-sensitive yoga, however, it's less about nailing an impressive pose than it is about gently reconnecting with the body. It's a practice that has its backing in cutting-edge neuroscience and an awareness of the subtleties of living with trauma, and is being offered as a new kind of treatment for people who are chronically disconnected from their bodies.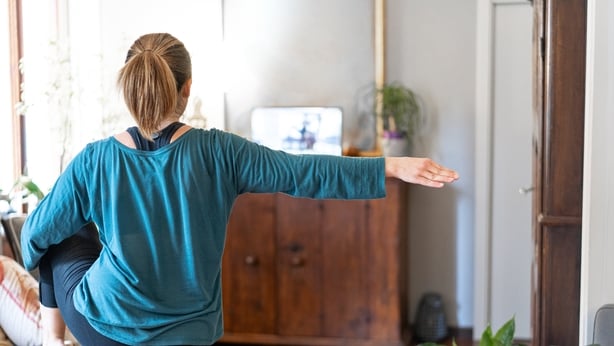 By the time Elly Coughlan found trauma-sensitive yoga, she was already "going through a tough time", she says. Caught up in the hustle of office life, she started adding 10 minutes of Yoga With Adriene YouTube videos to her mornings. Soon after, she came across trauma-sensitive yoga in "a very weird and zig-zaggy way".
An internal experience
"I was travelling and travel plans didn't go to plan. I ended up in Australia for a little while and in Melbourne, there's quite a big trauma-informed yoga scene", she says. After trying some lessons, she realised "there had been a piece missing for me in terms of I didn't really feel safe in a regular studio class".
"I think I was looking for a more internal kind of experience."
Elly went on to become one of just a few Trauma Center Trauma-Sensitive Yoga facilitators in Ireland. Founded in 2002 at the Trauma Center in Brookline, Massachusetts, Trauma Center Trauma-Sensitive Yoga (TCTSY) is an evidence-based practise for survivors of complex trauma and post traumatic stress disorder (PTSD). But it's not yoga as you probably know it.
We need your consent to load this Instagram contentWe use Instagram to manage extra content that can set cookies on your device and collect data about your activity. Please review their details and accept them to load the content.Manage Preferences
First of all, there's no hands-on assists, one of the things Elly remembers being uneasy with in typical yoga classes. There'll be no instructors weaving through the mats, putting their hands on you to nudge you deeper into a pose. They also don't call them "poses". Instead, they're just "shapes".
"It's you making choices with your body", says Elly Coughlan, who also runs Misneach Yoga. "It's a very invitational practice. So when I'm facilitating, I'll use language like 'if you like', 'when you're ready', 'as you're ready', 'feel free to have a go.'"
Why does it work?
How did yoga become one of the most promising treatments for severe forms of trauma?
Trauma is " a whole body thing", says Dave Emerson, who co-founded the Trauma Center Yoga program with esteemed psychiatrist, researcher and trauma expert Bessel van der Kolk – author of the influential book The Body Keeps the Score and who led some of the first pioneering studies into PTSD in the 70s.
TCTSY is specifically designed to treat complex trauma, the kind that arises from "long-term interrelational power abuse" – physical, emotional or sexual abuse, abusive childhoods, racial abuse.
Living in constant states of fear and helplessness demands extreme vigilance, Emerson says, from listening out for anger in a voice, to waiting for the footstep on the stair.
We need your consent to load this Instagram contentWe use Instagram to manage extra content that can set cookies on your device and collect data about your activity. Please review their details and accept them to load the content.Manage Preferences
"We have to shut off parts of ourselves, turn off on other parts, put things into boxes, deny bits and pieces of ourselves, because that helps us survive." When this happens, "we fragment into parts", even shutting down sensation in our bodies.
The core study on the practice was published in 2014, with the first cohort of people studied being 64 female-identifying adults aged between 18 and 58 with early childhood physical and sexual abuse.
What he and his team set out to do was to "build from scratch a care model that was informed by trauma theory".
Invitational
This is why the lack of "instructing" in a TCTSY yoga class is so significant. "The invitational approach to these forms is very, very intentional", Emerson says. "We're really cognisant of not telling people what to do. And it's easy to say, don't be commanding or directional language, but it's really more subtle because survivors are very skilled at figuring out what people with power want."
Elly remembers how freeing the practice was for her clients. "It was like it was the first time they took time for themselves", she says. "I remember them saying, 'Just to feel sensations in my shoulders as I moved my shoulders, that felt so incredible.'"
For people who have been trying to shut off feeling parts of their bodies, the experience can be frightening at first, as Emerson says: "If I've not had the experience for 30 or 40 years of feeling my body, having access to sensation can be really unsettling."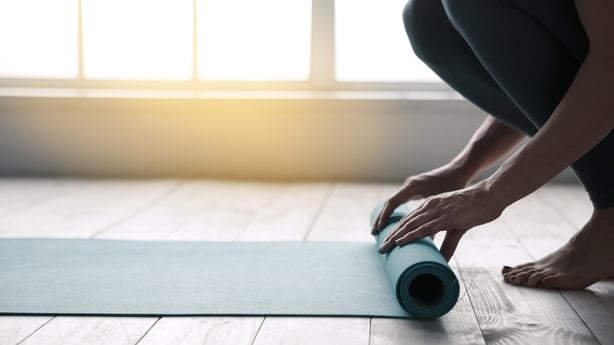 But the benefits can also be truly life-changing. After the assigned 10 weeks practice, Emerson recalls people coming back saying they could tolerate their partners and children touching them again.
In the 2014 study, participants recorded significant improvements. After the 10 weeks of practice, Emerson says, "PTSD symptoms dropped 33%", while "two months later, half the people didn't have PTSD".
In one study, participants had to "have PTSD, but you also have to be a female identified person who experienced military sexual trauma", Emerson says. After the 10 weeks of practice, "PTSD symptoms dropped 33%", while "two months later, half the people didn't have PTSD" – 52% to be specific.
Another 2021 study, which was carried out with survivors of sexual assault within the US military, "showed TCTSY to be as effective as the gold standard of care (Cognitive Processing Therapy) but also almost twice as many people completed the TCTSY group as opposed to the CPOT group", Emerson says.
"It's complicated because it can come and go", he adds, so "we don't want to take that as the only standard at all."
Though heavily backed by neuroscience, the yoga practice is far from "medical". It's not supposed to feel like therapy and it won't treat every condition or work for everyone. What's central to TCTSY is "vulnerability", Emerson says, with facilitators challenged to be as receptive and supportive as possible.
As Emerson says to his facilitators: "You're not an expert. You don't know what trauma is. You don't know what it is like to survive. You don't need to know. You don't need to know what this other person's experience is like. You don't need to fix it or change it. Part of it is showing up as a whole person, as whole as possible."
If you have been affected by issues raised in this story, please visit: www.rte.ie/helplines.