Every year on RTÉ LifeStyle, we share an all-Irish gift guide to shine a light on just some of the incredible artists, jewellers, designers, authors, and entrepreneurs that this country has to offer.
Now more than ever, it's important that we pay extra attention to our shopping habits, reduce our carbon footprint, and support those who have managed to keep their doors open despite the challenges of COVID-19.
So, with the countdown to Christmas well and truly on, here is our list of homegrown gift ideas from across the country.
CLOTHING & ACCESSORIES
Rotten Rouge
Working as a freelance painter while studying at college, Dublin-based artist Eibhin Kavanagh says he likes creating pieces that "encourage sustainability and reuse". As well as creating ready-to-buy prints, tote bags and masks, the artist can be commissioned for customised designs on jackets, bags or any other number of items. Prices range between €20-€50.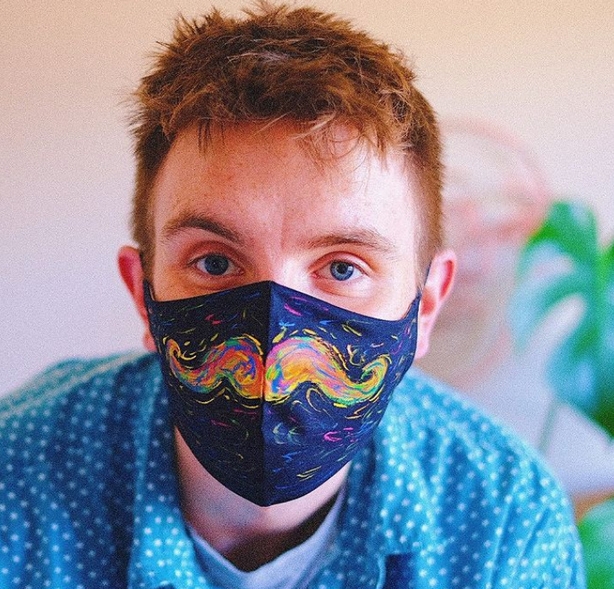 Beanantees
Lana and Ciara are two Donegal girls having the craic with fashion as Gaeilge. Playing with language and pop culture, the duo have created a line of empowering apparel. With sizes running from XXS to XXL, you can pick up a t-shirt, jumper, or bag for any or all of the wild Irish women in your life. This Yas Banríon (Yas Queen) t-shirt costs €35.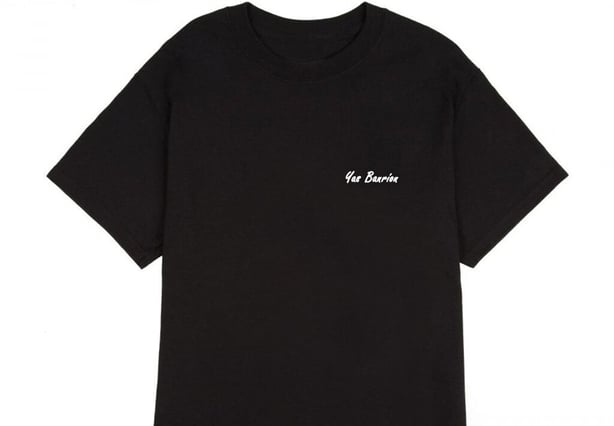 Fiadh Woven Designs
Fiadh is a textile designer and handweaver with a passion for traditional methods and contemporary design. Based in Dingle, the NCAD graduate draws inspiration from her scenic surroundings to create clothing inspired by nature. With sustainability in mind, the designer's ethos is all about creating something beautiful that is made to last. Her scarves range from €33 - €145.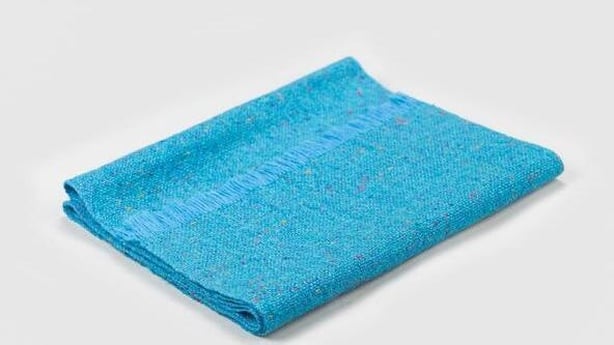 Chariot
Established as a clothing brand for wheelchair users, this Irish-owned brand of lifestyle apparel is inspired by nature, with all the artwork designed in the beautiful surroundings of Co. Cork. Working with sustainability in mind, this ethical brand make clothes for people who "love living their best lives, with or without wheelchairs". The Regenerate Sweatshirt costs €45.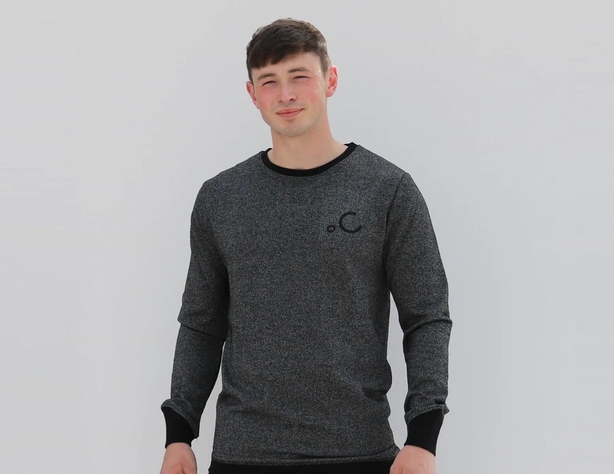 Liadain Aiken
With a desire to create sustainable, ethical and functional garments that leave "a happy footprint on our earth", Liadain is continuing her family's talent for craftmanship with the help of her 'wool gang'. Based in West Cork since 2019, the designer has a team of knitters working from their homes across the country. The raw materials of these pieces are sourced with sustainability in mind, with yarn coming from Donegal and Scotland. This Merino Raglan Jumper is €260.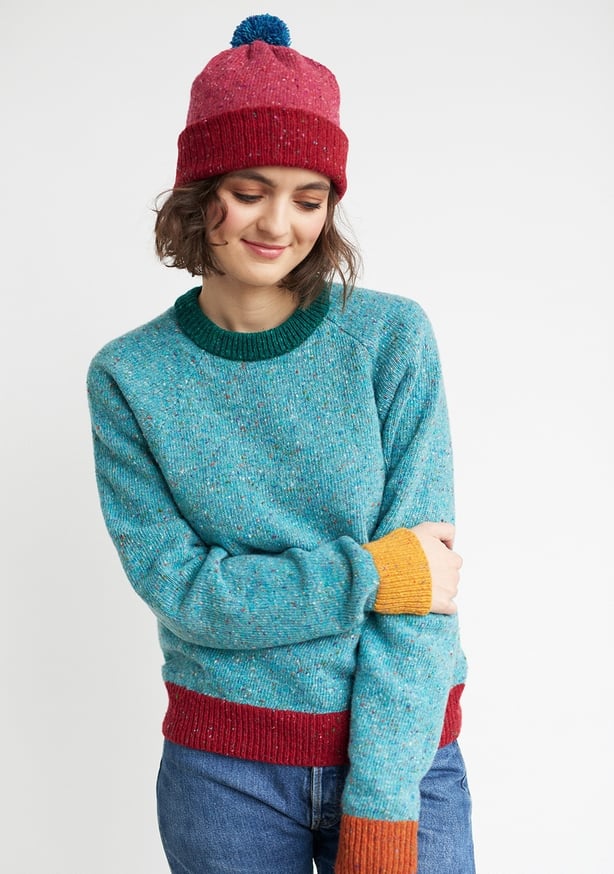 Éadach
Inspired by her grandmother's stories and the Irish landscape, stylist and illustrator Sara O'Neill created a range of limited edition prints in the form of scarves, dresses, pocket squares and kimonos. Éadach features hand drawn illustrations influenced by Ireland's darker myths and legends. This Valentine Parchment Silk Twill Scarf is £190.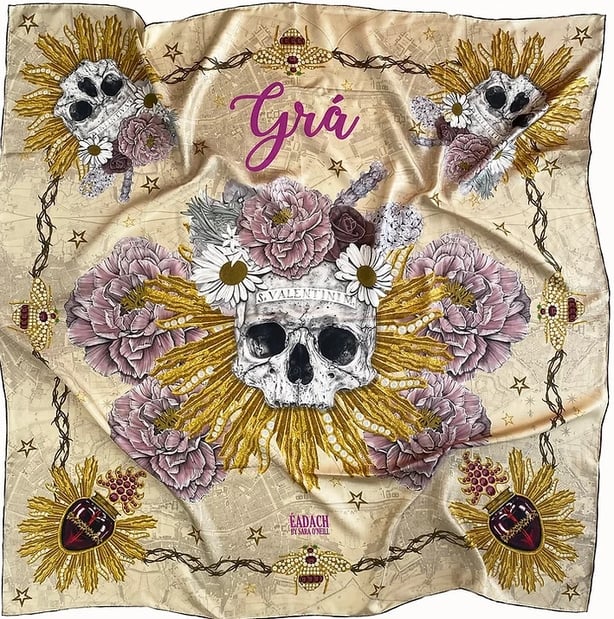 KDK
This luxury lifestyle brand was founded by two Irish sisters, Dairine and Keira Kennedy. With backgrounds in business and marketing, as well as a keen interest in photography and travel, the duo have worked together to create a successful line of nightwear and accessories that are now stocked in Brown Thomas and Avoca. The Dreamer Silk Cotton Pajamas are €150.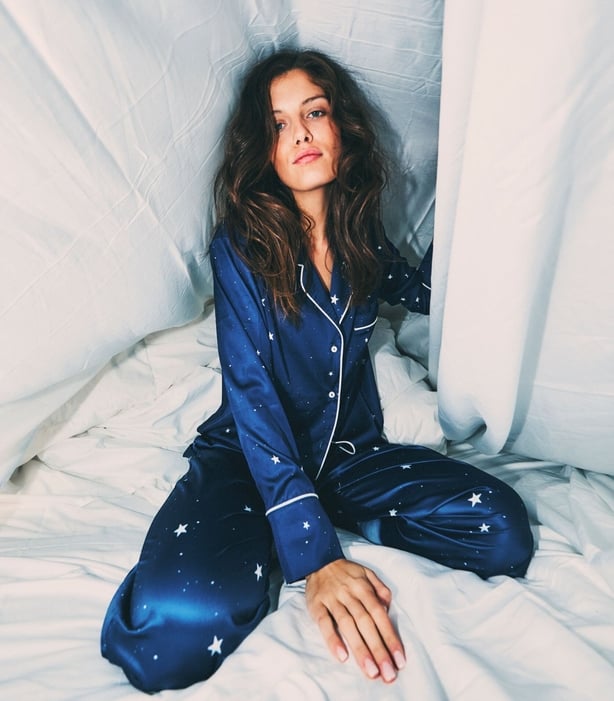 Magee
Magee 1866 is a fifth-generation family business with over 150 years of designing, weaving and tailoring luxurious fabrics and clothing in Donegal. Working with natural fibres like wool, cashmere, flax and alpaca, the brand offers a range of womenswear and menswear as well as home interiors. This Báinín Aran Handknit Jumper is €309.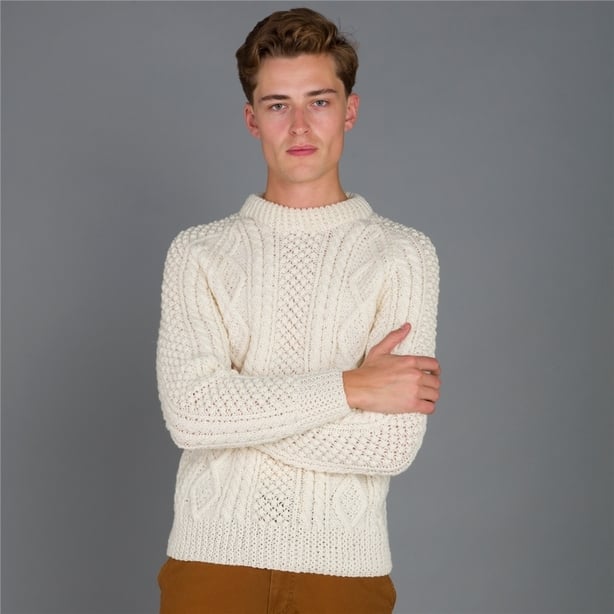 Irish Socksciety
Havin' the craic from head to toe, this novelty company might just have the perfect gift for himself. With the help of artist Shane O'Malley, the company have launched the most Irish socks on the market. From 'Bye Bye Bye' and 'the best mammy' to custom designs, these socks will guarantee a pair of happy feet for just €9.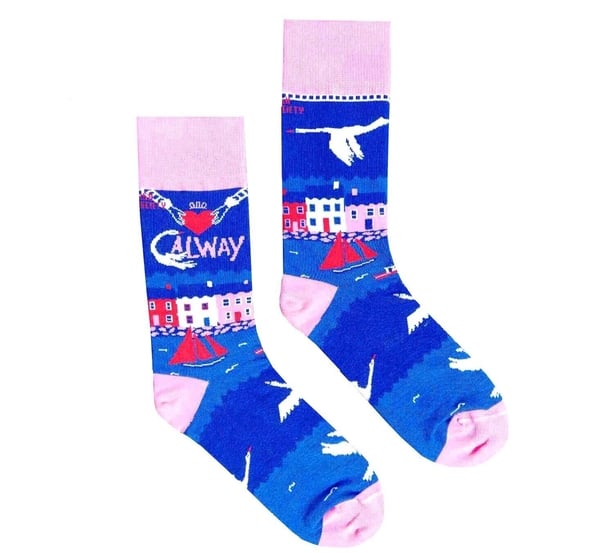 My Name is Ted
Born in 1913, Ted Carbery was a saddler from Mountmellick, Co. Laois. Father to eleven children, he ran a thriving business to support his family, despite suffering an aneurism that led him to losing the use of his right hand. Today, Ted's impressive legacy continues with his grandson, Brendan McEvoy, and Brendan's wife, Kasia, who are fusing fashion and function to create luxury products with smart technology. Their Mini Door Bag (recently worn by Angela Scanlon) costs €495.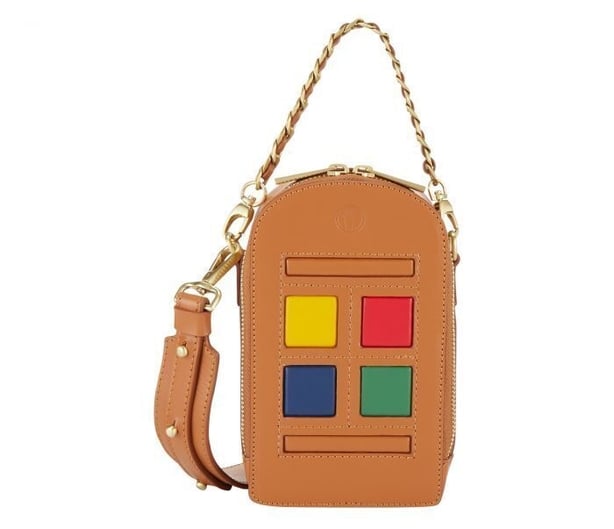 JEWELLERY
Dúil
Originally from South Africa, artist Rieleen has now settled in Ireland with her husband in Clondrohid, Co. Cork, where she handmakes her polymer clay and mixed media jewellery. Her statement pieces are unique, environmentally conscious, and affordable. These Gold Goddess earrings are €32.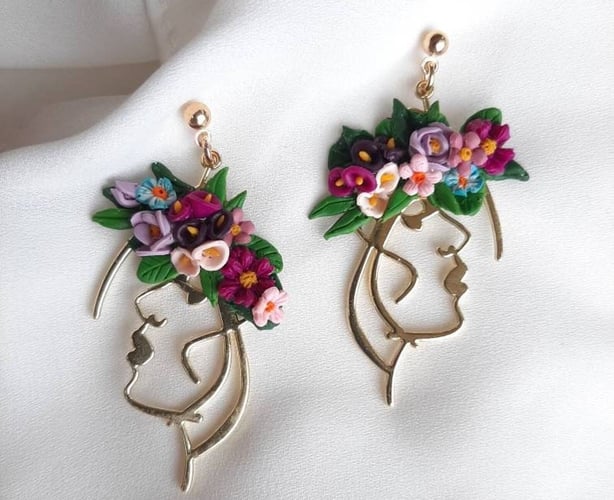 Rothlú
Rothlú Jewellery is made by Frances McGonigle, an artist based in the Ox Mountains in Co. Mayo. Surrounded by neolithic tombs, McGonigle says she is endlessly inspired by both the textures and hues of her surrounding landscape. She has a range of earrings, necklaces, rings and brooches. This crescent brooch is €26.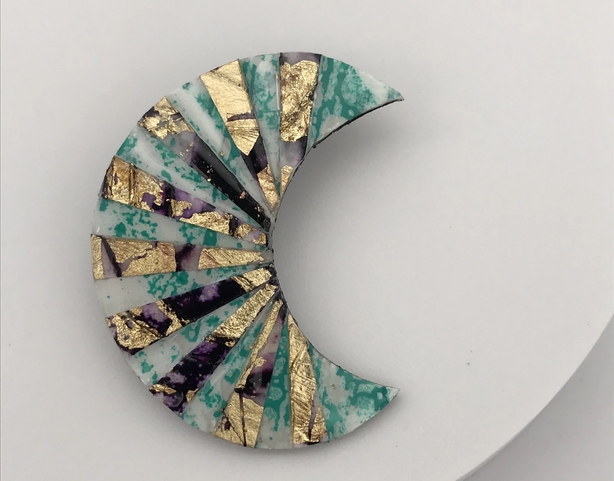 Ava Jane Jewellery
Home to handcrafted jewellery designed and created by Irish silversmith, Jane Farrell, Ava Jane Jewellery creates pieces to "uplift our spirits and bring joy". Using a mixture of silver, gold, gems and beads to create an eclectic look, these pieces are made to be worn every day. The sunbeam necklace costs €60.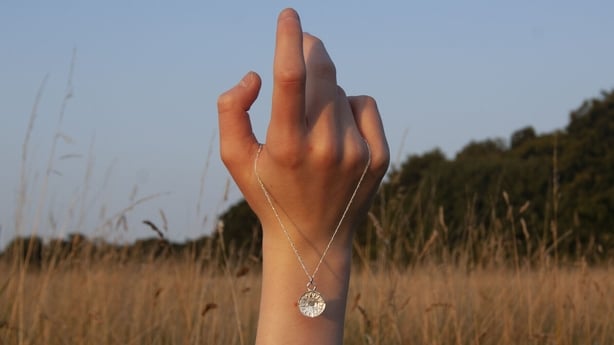 Shock of Grey
Since earning her degree in sculpture almost 20 years ago, Sarah Carroll Kelly has worked as an artist, designer and musician, all while living in Dublin 8 with her husband, two sons and two cats. Under her brand Shock of Grey, the artist is creating handcrafted statement jewellery on an individual basis from unpredictable materials, such as wood, brass, plastic, silicone and clay. These Jenny Fan Earrings are €45.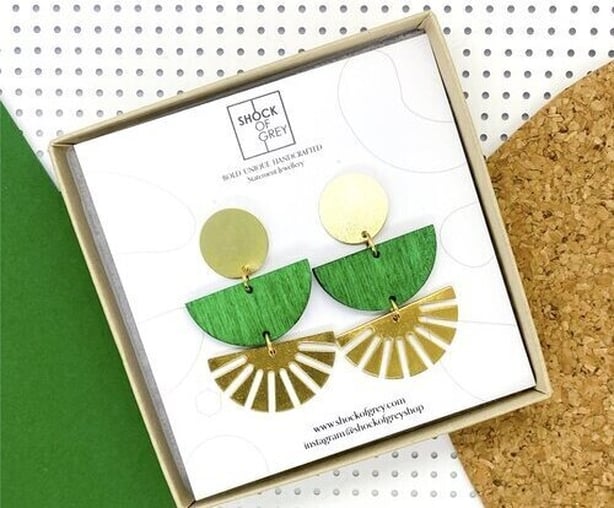 Betty + Biddy
Founded by Fiona Fitzsimons, online costume jewellery shop Betty + Biddy have the perfect accessories to gift your Secret Santa. From earrings and necklaces to rings and bracelets, they have a beautiful range of silver and gold items at an affordable price. Their birthstone necklaces cost €21.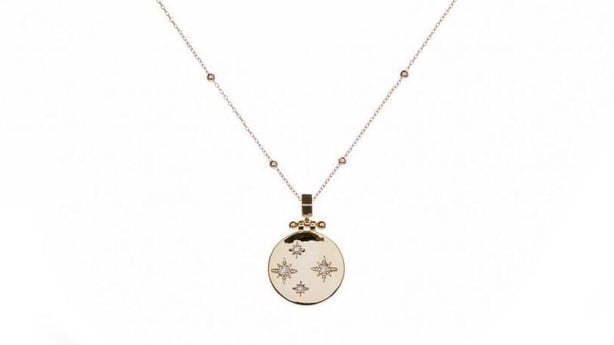 deBláca Jewellery
Irish designer Mairead deBláca creates beautiful collections in gold and silver that are both delicate and bold in style. Designed, crafted, and hallmarked in Ireland, every piece is sure to make a statement. These silver Night Moon Cufflinks cost €125.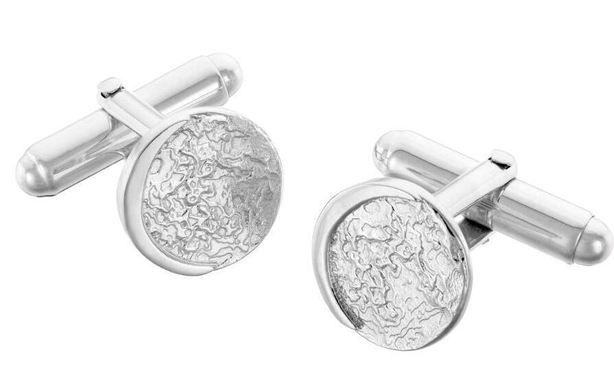 Blackbird
Based in Ennis, Co. Clare, Blackbird is a boutique-style jewellery store owned by Katie Rogers. Home to contemporary pieces from Irish and European designers alike, you're bound to find something fabulous for your special someone. These Granada Pearl Drops were handmade in Ireland by One Dame Lane and cost €165.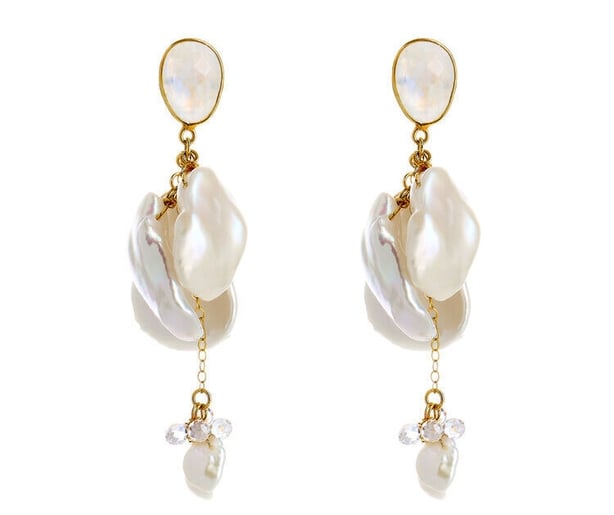 Kiki Na Art
Dublin born artist Ciarna Pham, who works under the name KIKI NA ART, is the creator of some incredibly bright and bold statement pieces. If you have an idol or an image that you would like made into a piece of wearable art, contact her at kikinaart1@gmail.com. So far, her work has featured icons such as Dolly Parton, RuPaul, Ruth Bader Ginsburg and Stevie Nicks. Custom necklaces start at €90.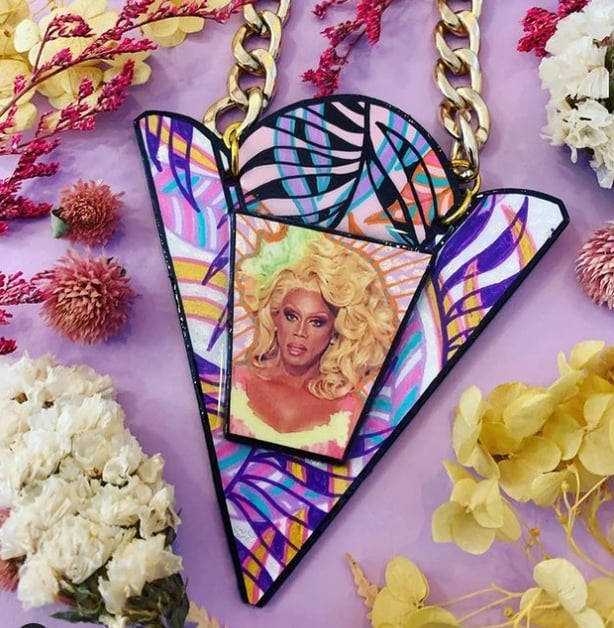 Edge Only
Founded by former radio DJ Jenny Huston, this jewellery brand is for individuals that "care about the jeans and trainers they wear every bit as much as the suit they wear to work". Ethically made in Ireland, the pieces are made from solid gold and sterling silver and are individually hallmarked in Dublin Castle. The unisex Mixed Tape Pendant costs €269.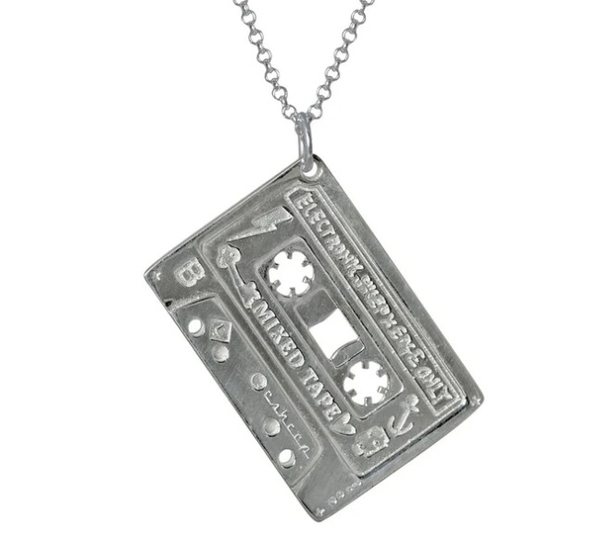 Brookwood Pottery
In 2017, potter Elaine Fallon established a design shop and studio in Santry, Co. Dublin, where she teaches ceramics and provides pottery membership to those who want to create their own work. Her shop is home to over 20 makers and includes textiles, print, homewares and jewellery. This pair of handmade, recycled silver studs by artist Nicola Moran cost €28.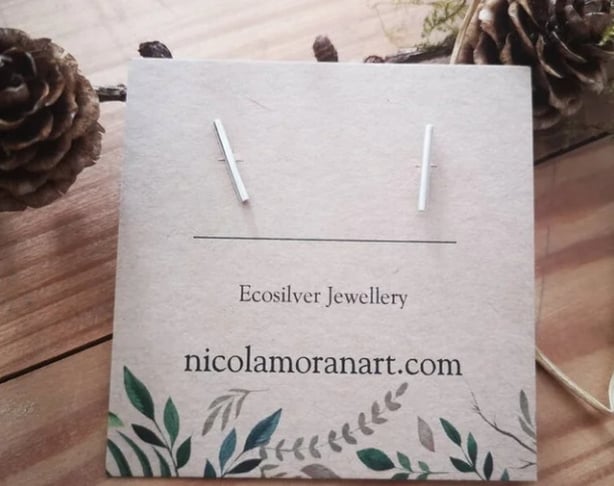 FITNESS & WELLNESS
Siest
Designed and created by Síne Dunne, Siest is a weighted sleep pillow that aims to help you sleep better. While the Lollipop (€179) aims to act as a hug for anxious sleepers, the Wishbone (€219) acts as a comfort for those who sleep with a pillow between their knees or struggle with snoring.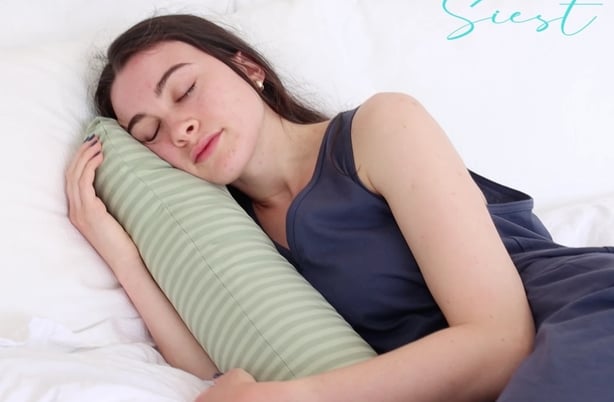 Slique
Based in Drumcondra, bridal and fashion designer Ro Molloy has created a range of luxury gowns, masks, and pillow cases under the name Slique. The Dusk Silk Eye Mask is €17.50.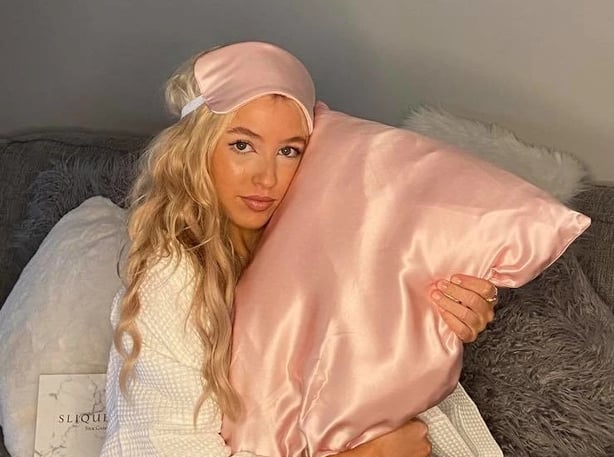 BEO
Founded by Aoibhín Garrihy and Sharon Connellan, BEO is a series of wellness events that aim to inspire, motivate and encourage self-car. Working with Ireland's leading health and wellness advocates, and partnering with brands that share their ethos, Garrihy and Connellan work to answer the needs of the modern woman. Their Pillow Mist Sleep Enhancing Night Scent costs €26.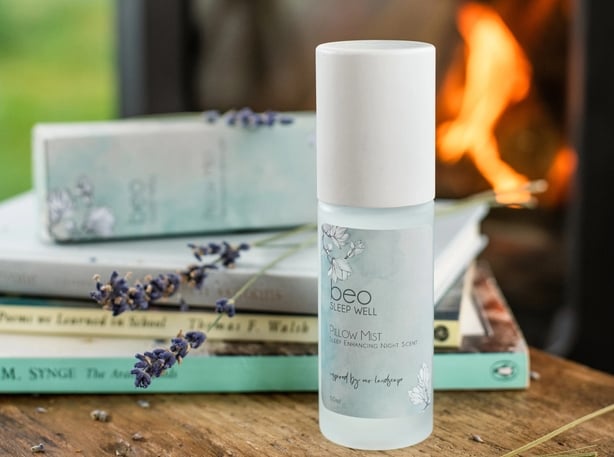 Kocoono
The brainchild of Emer Flannery, a psychology professional from Co. Mayo, the Kocoono Weighted Blanket is designed to reduce stress, increase quality sleep and support your body and mind. Officially launched in 2018, Flannery's products have now been shipped to more than 10 countries from their warehouse in Galway. The 5kg luxe blanket costs €279.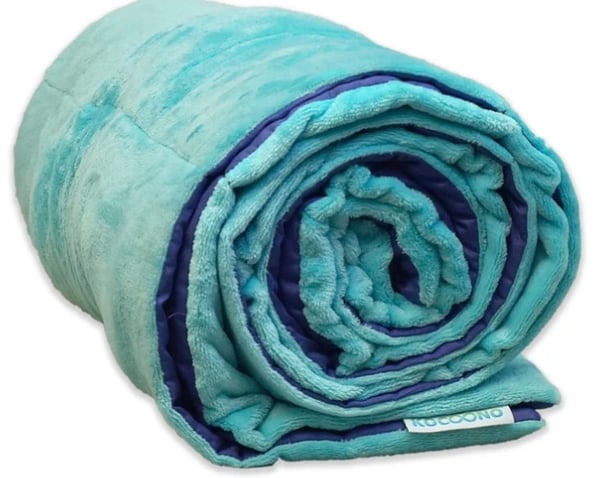 Vico Robes
Born out of the COVID-19 lockdowns, and the country's new found love for sea swimming, Vico Robes is a range of outerwear that encourages people to get out in style. With collections of thermal robes, poncho towelling robes, drybags and hi-viz vests the joys of cold-water swimming, walking, hiking and cycling can be experienced in comfort and warmth. The blue thermal robe is €130.
Final Bend
Founded in 2018 Emma Coffey - a then fifth year secondary school student - Final Bend is an athletics brand with roots in track and field. Today, the Cork-based brand specialises in creating fun fitness apparel, sports bras, accessories and lounge wear. Their lilac hat is €9.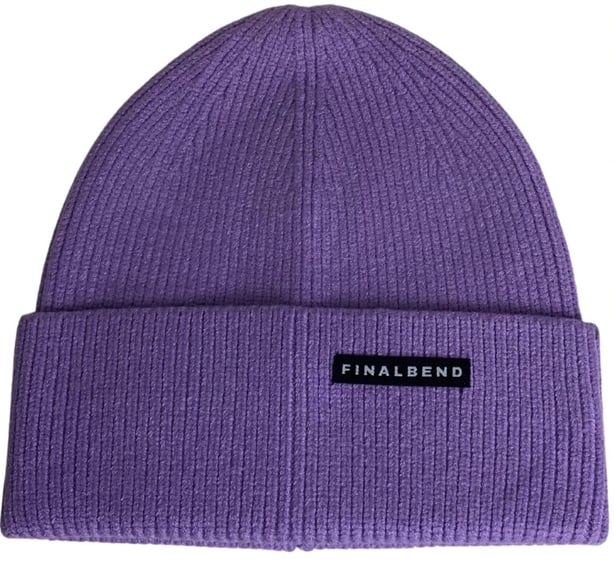 Boxable
Created by two friends, Cate and Laura, Boxable is a gifting company that aims to help people find joy in everyday moments. From their 'cupán tae' set to the 'taste of Ireland' box, these treats are sure to put a smile on anyone's face. The 'spa day' box costs €49 and is filled to the brim with Irish-made treats.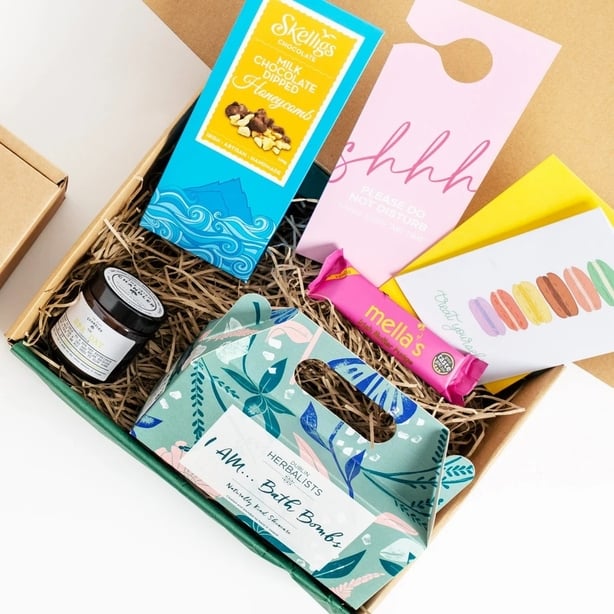 The Book Resort
Avid reader and self-confessed chocoholic Aisling Finn came up with the idea of a sweet subscription service from her home in Co. Waterford. Whether you're looking for a one off gift (starting from €23) or a monthly subscription (€33 per month), the Book Resort will deliver a brilliant new book, a large bar of chocolate and a small artisan product from a small Irish business.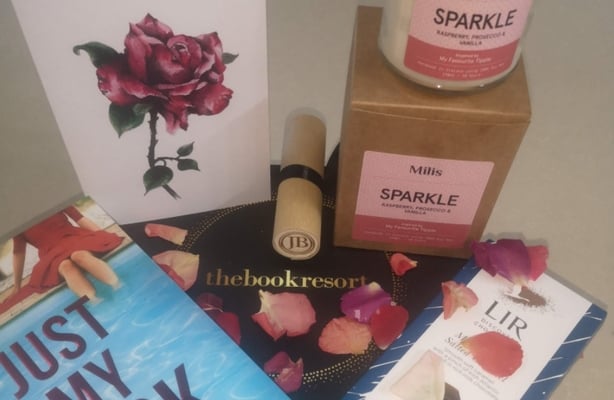 Peachy Lean
In August 2017, Sharon Keegan was inspired to create a clothing brand based around body positivity. From her retail space in Ballymount, she is selling "confidence, support and self-esteem" in the form PeachyLean shapewear. The leggings are squat-proof, come in a range of sizes and cost €65. The best part? They have pockets!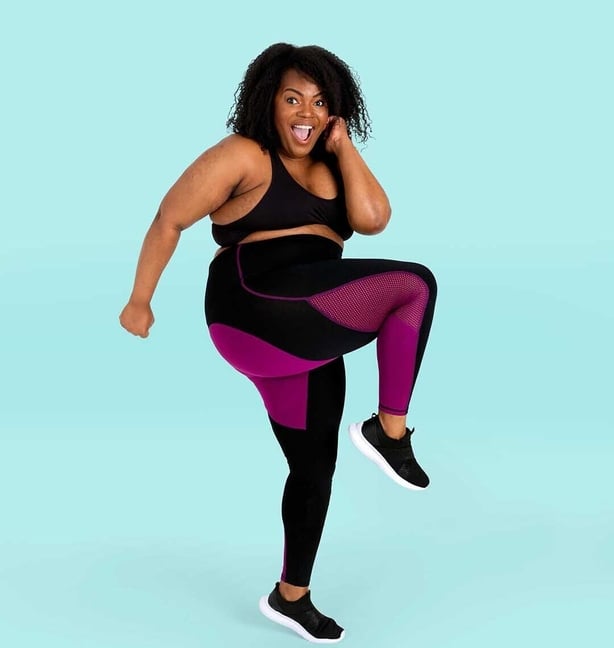 run angel
Founded in 2013 by husband and wife team David and Ellen Caren, this safety wristband has a loud 120dB high-pitched audible alarm that will ring out when activated attention in an emergency. The device pairs with smartphone devices over Bluetooth to send out alerts in the event of an emergency and costs €101.95.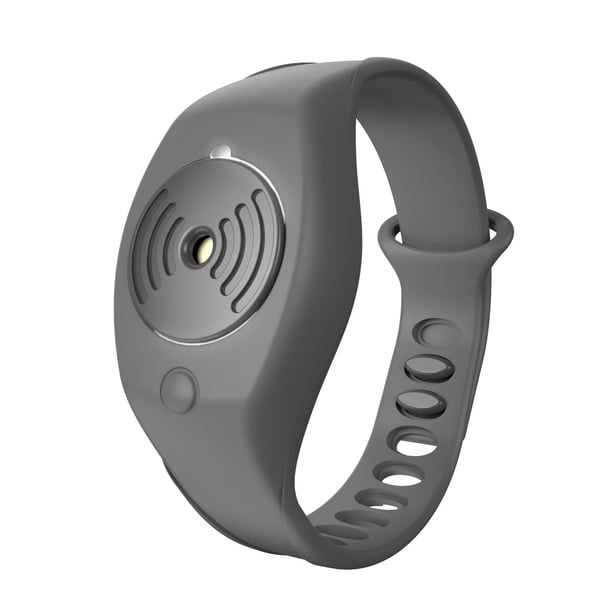 Gym+Coffee
This Irish activewear brand was founded by three highly-caffeinated men: Niall Horgan, Diarmuid McSweeney and Karl Swaine. Together, they created a one-stop-shop for the fitness guru in your life. The Men's Green Kairos Hoodie Gift Box from the Sustainable Collection costs €110 and includes the Kairos Hoodie in desert green, Sector Tee in white, black & blue KeepCup, and water bottle in Stainless Steel.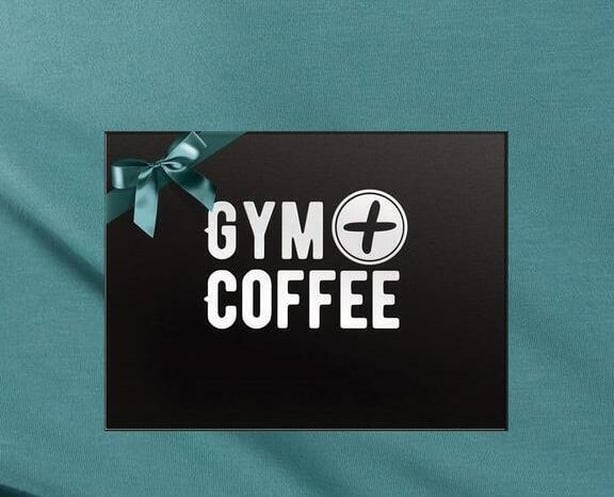 Kotanical
Founded by Karl Murray, Kotanical is the first company in Ireland to distill oil from natural native sources. While other brands import oils, the Dublin man saw potential in the flora found closer to home. Not only that, but the company will take back old essential oil bottles to be recycled or reused. The rollerball blends are cruelty-free, handmade in Dublin, and cost €22.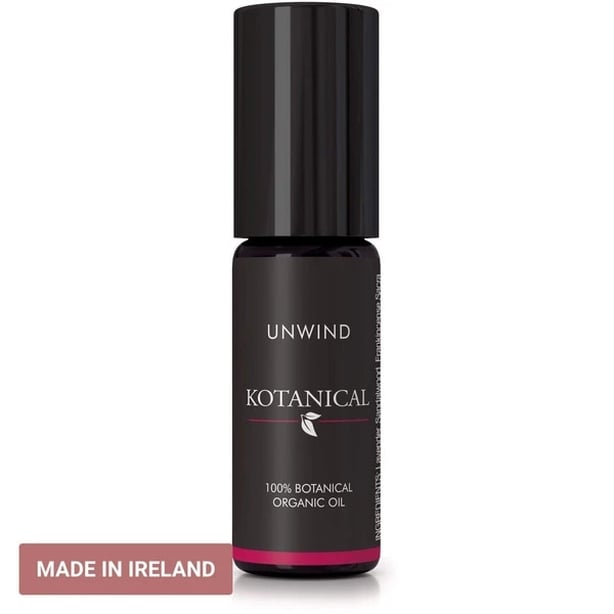 SKINCARE & COSMETICS
Donegal Bog Cotton
Based in Falcarragh, the Donegal Bog Cotton Company has specialised in organic handmade cosmetics since 2014. With a shared interest in the local flora, founders Marian and Patricia have invested in ingredients that are sustainably sourced, cruelty-free and vegan-friendly. The 'Mad About Ya' lip balm is the perfect stocking filler and costs €3.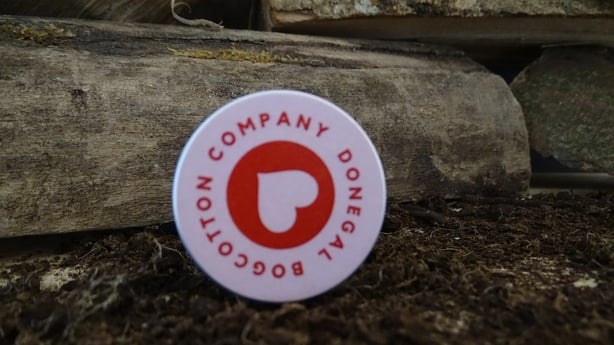 Whipped2Glow
Based in Co. Meath, Whipped2Glow cosmetics started out as a mission to find a solution to irritable, dry skin and unpredictable flare ups. Founded by sisters Masindi and Denga Phiriga, this holistic, hand–made butter is whipped up from natural ingredients. The Original Lemon Essential costs between €15 – €55.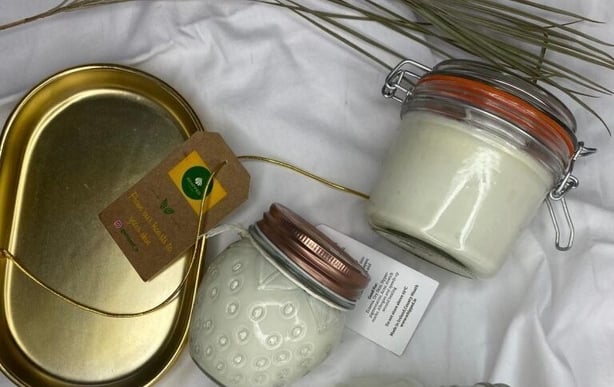 Kennedy & Co
As well as being a TV presenter, stylist, fashion journalist and Dancing with the Stars contestant, Darren Kennedy has a beautiful skincare range that includes moisturising gels, beard oils and peat scrubs. We recommend the daily moisturiser with SPF 20 for €9.95.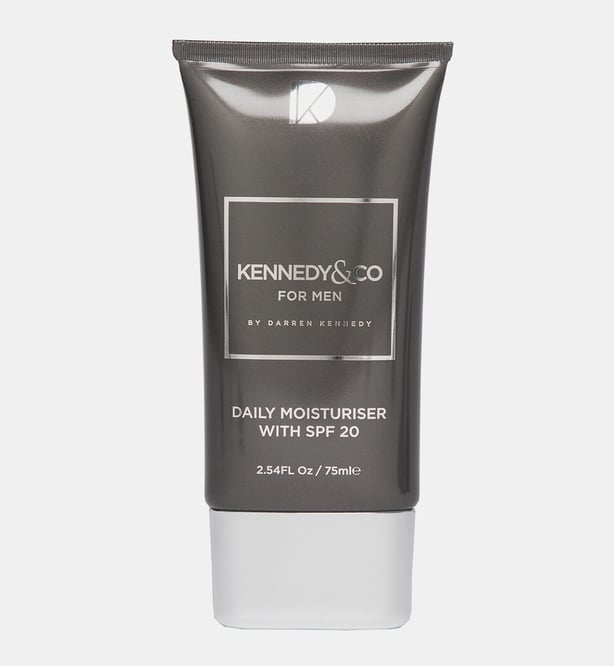 Dublin Herbalists
Founded in 2012 by Claire Brett, Dublin Herbalist products are made from 100% natural ingredients and are animal cruelty free. The creams and oils are made up of floral waters, natural butters, and active ingredients, while the packaging is made from recyclable materials. The Helping Hand gift box costs €35.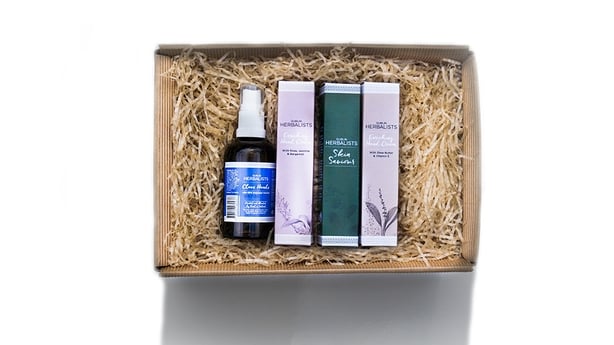 SOSU
Since 2012 blogger-turned-businesswoman Suzanne Jackson has been producing a wide range of beauty products under her brand, SOSU. From false lashes and highlighter kits to eyeshadow palettes and lip balms, the homegrown range is bound to have something for the make-up lover in your life. This Pamper Night Package is €21.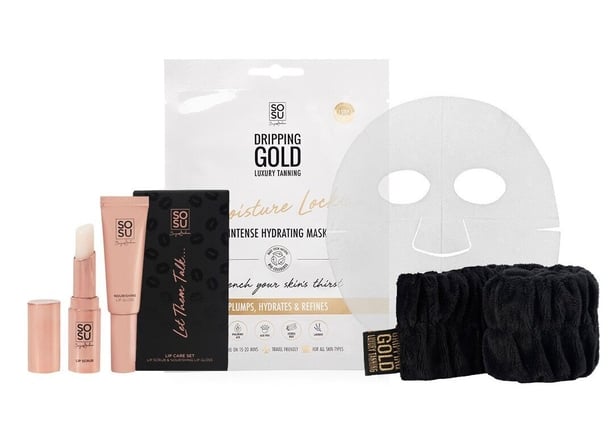 Sculpted By Aimee
Founded by Aimee Connolly at just 23 years of age, Sculpted By Aimee has grown exponentially during its initial years. As a make-up artist herself, the Dublin woman has worked hard to create a line of high-quality cosmetics, brushes, and skincare. The 'Story of Glowing Skin' gift set costs €35 (was €49).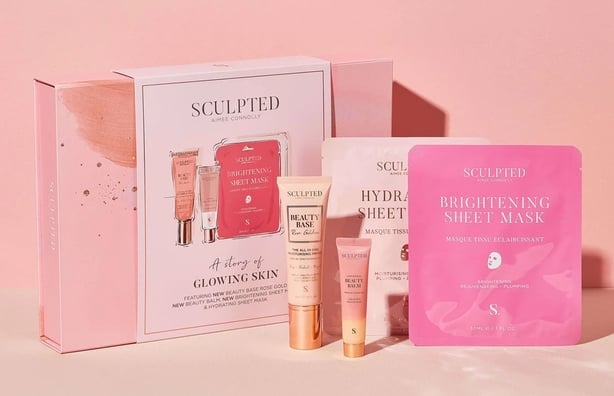 Up Cosmetics
Earlier this year, Irish entrepreneurs Pippa and Úna Tynan launched Up Cosmetics to the market. Their collection includes a gorgeous range of face palettes, eye palettes, lip glosses, and the 'Perfect Nude' lipstick. Their 5 Second Eyes set costs €35.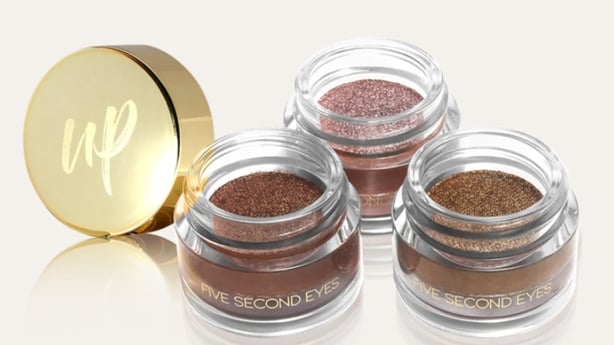 Cloon Keen
With its name coming from the Irish 'cluain caoin', meaning 'splendid meadow', this perfumer is uniquely Irish. Having met while working on a film set in the West of Ireland, founders Margaret Mangan and Julian Checkley say that the inspiration for their brand comes from Galway, Connemara, and the West of Ireland at large. The 100ml Róisín Dub scent is €130.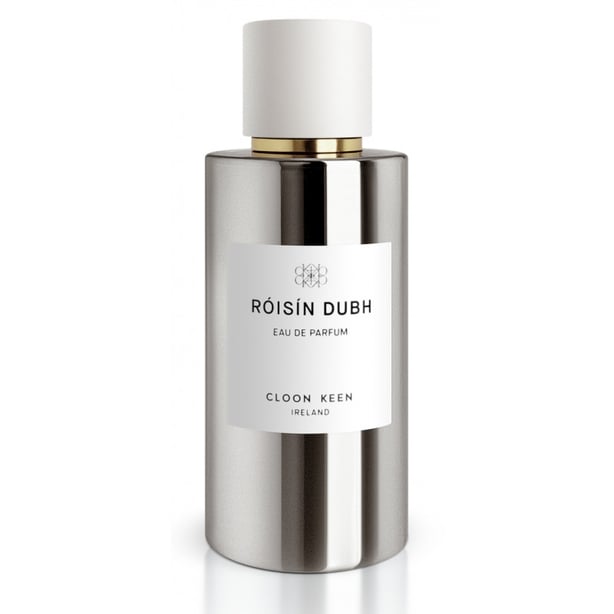 Nunaïa
Nicola Connolly founded Nunaïa (pronounced noo-nigh-ya) in September 2018. Working directly with small farmers, primarily in the Andes Mountains and Amazon Rainforest of Peru, Connolly's products are made using sustainable farming practices, while her packaging is made from biodegradable materials. The Ground and Glow Ritual Set costs €125 and has been designed to nourish, restore and renew.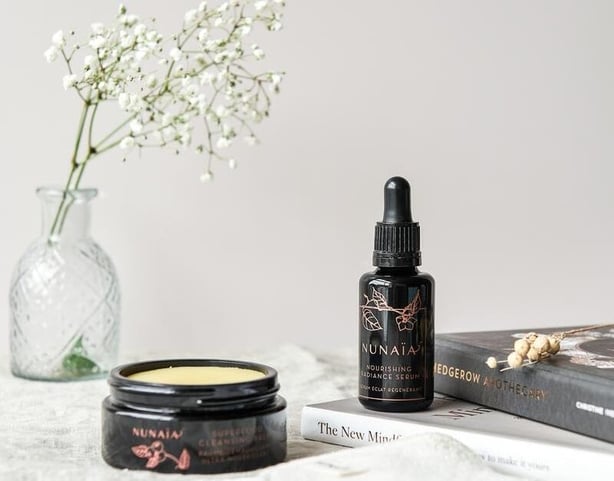 Oxmantown Skincare
Founder Amy Cahill's background in health and wellness led her on a journey to create her skincare brand, Oxmantown. Based in Dublin's Stoneybatter, all of her products are handmade in small batches using high quality, organic, and active botanical ingredients. The Hydrating Facial Cream with Rosehip & Vitamin E costs €28.99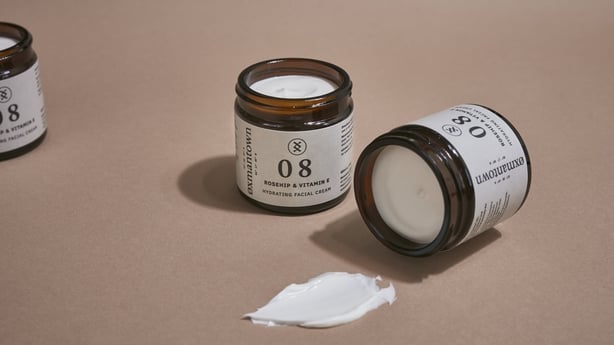 Pestle & Mortar
For many years, mother of five Sonia Deasy worked alongside her husband in the business of portrait photography. It was during this time, while she got up close and personal with people's pores, that she decided to find a simple skincare solution to remedy dull skin. Pestle & Mortar quickly became a cult favourite with Irish beauty lovers and the business has continued to thrive ever since. The Glowing Duo costs €44.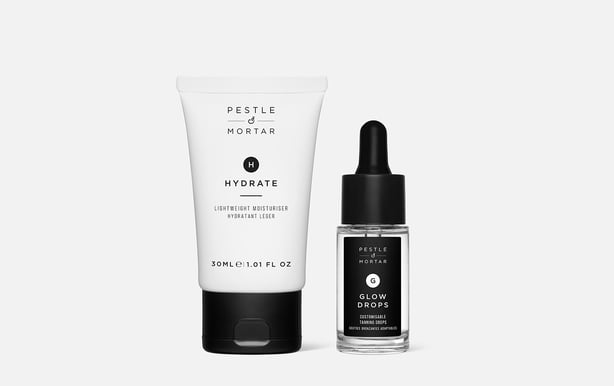 HOMEWARE
Charlie Mahon
Artist Charlie Mahon is an award-winning ceramicist who works with white earthenware clay and his own recipe of hand painted glazes that he has developed over the years. Every piece is individually handmade, hand painted, and fired in his kiln in Co. Cork. This Heart Platter and Mug costs €55.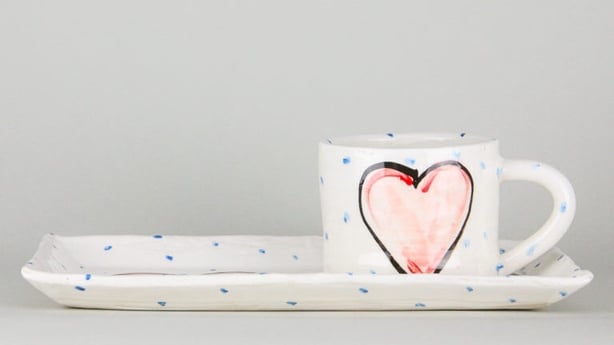 Copperfish
Located in Rathnew, Co. Wicklow, the Copperfish Lighting Company is a family-run business that creates lamps and lights from salvaged and storm-fallen timber. Established in 2016 by Eoin Shanley and his wife, Yvonne, the sustainably-minded business produces handmade lighting fixtures that are totally unique. The short Ballast Table Lamp costs €245.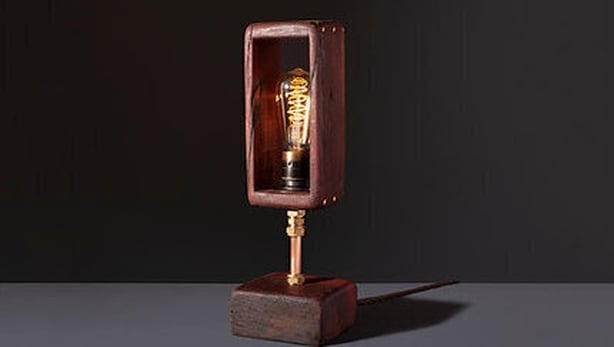 Lainey Grey
Elaine Naughton is an artist and wire sculptor based in Co. Galway. Working under the name Lainey Grey since 2019, she set up the Art in Mind collective alongside with master craftsman Glenn Gibson. Since then, the working mum has developed her skills to create a series of beautiful sculptures. The Family Tree piece costs €300.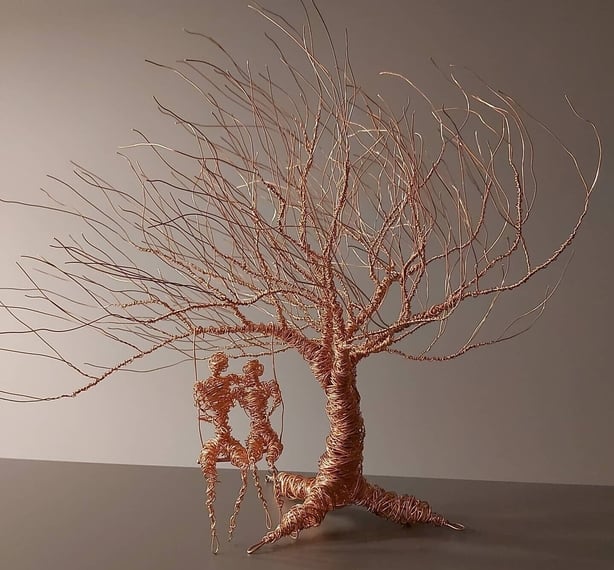 Slated
Established in 2010 by husband and wife team Ed and Tara Hammond, this family owned and run luxury homeware brand is based in Co. Dublin. Using artisan techniques and methods, each piece of slate is handcrafted using a family heirloom - a 150 year old knife that has been passed down through generations. This personalised cheese board costs between €55 – €67.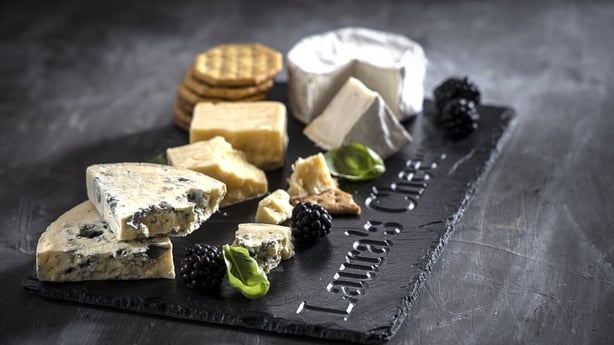 Pixalili
This family-run textile printing and design studio can be found on Ireland's Wild Atlantic Way in beautiful Donegal. Using a large digital printer - who the team have named Florence - Pixalili turn beautiful raw materials into eye-catching prints using eco-friendly inks. This D - Duck & Dog (Lacha & Madra) Cushion is €28.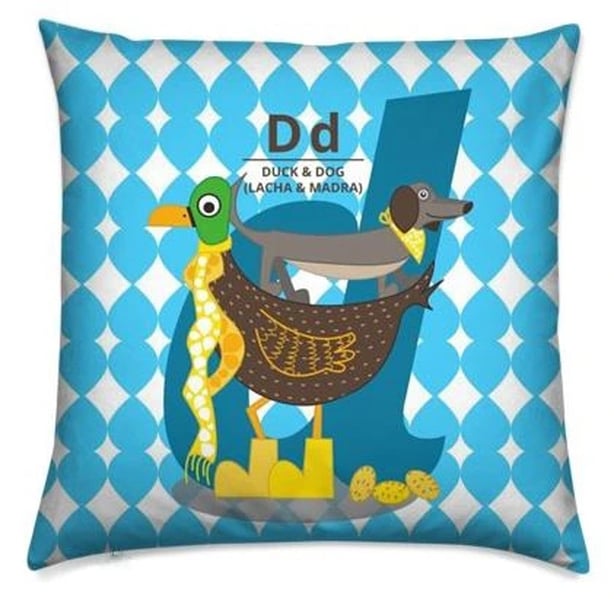 Grand Grand
Founded by designer Fergus O'Neill in 2008, Grand Grand celebrates all things Irish through retro prints, aprons and mugs. Remember the 'white ladies' of Dublin? Seen in windows all over the inner city, you can now have your very own replica in the form of this Christmas tree decoration for €10.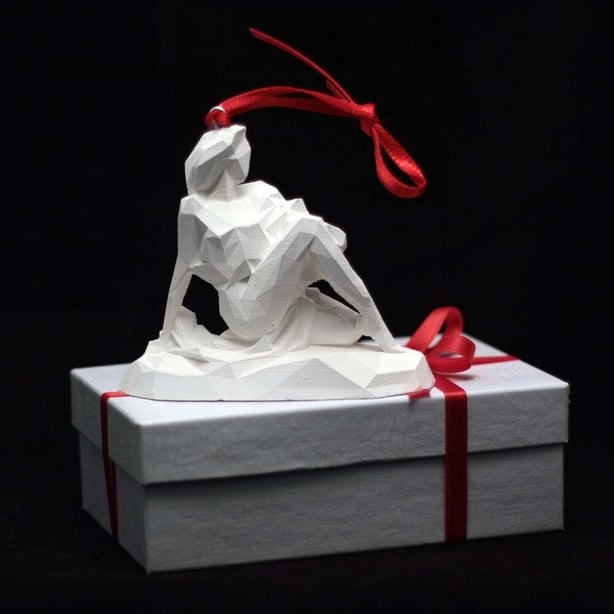 My Shop...granny likes it
A small shop with an unusual name, My Shop...granny likes it is based on Upper Abbeygate Street in Galway. Home to the best of contemporary art, craft and design, the space is dedicated to celebrating and supporting homegrown talent. They have a gorgeous set of Christmas decorations from Irish artist and designer Maple Tree Pottery from Co. Wicklow. This Robin Heart Christmas Decoration costs €13.75.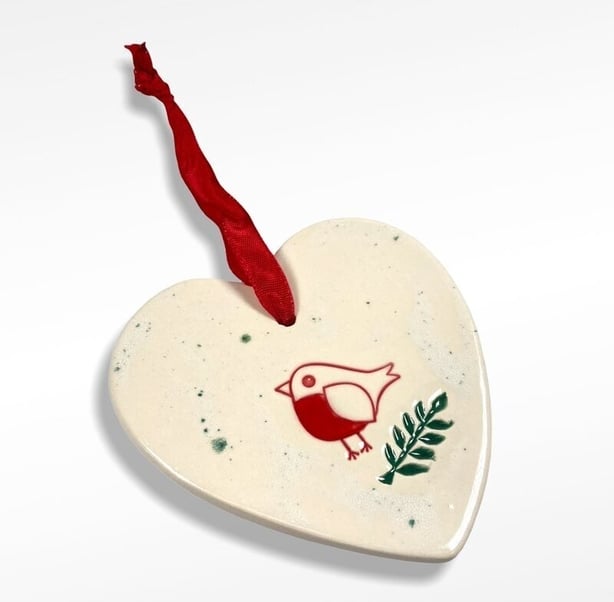 Irish Design Shop
Established in 2008 by two jewellers, Clare Grennan and Laura Caffrey, this homegrown store offers traditional and modern handicrafts. Trading both online and from a brick-and-mortar shop in Dublin, the two place a huge emphasis on supporting original design and craftsmanship. This navy herringbone throw by John Hanly costs €128.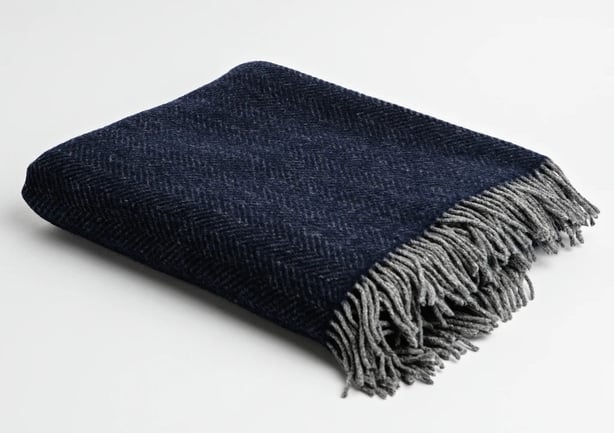 Sam agus Nessa
Many years ago, Sam and Nessa - along with their cat named Dude - settled into their home in Kildare where they launched an award-winning furniture company. Inspired by the Irish vernacular and observing the world around them, the two create functional furniture and homewares from locally sourced Irish timber. This Flower Factory is €65.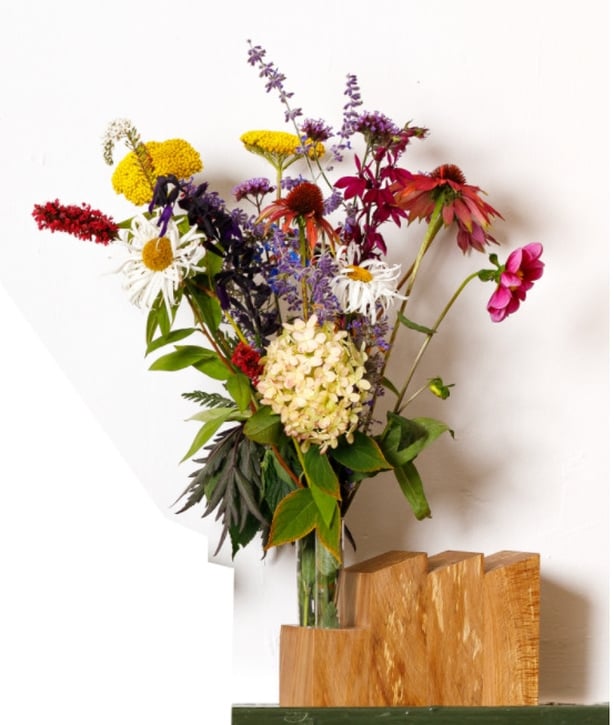 Rachel Dubber
Rachel Dubber is a contemporary artist from Galway. Born with a passion for animals and nature, and armed with an Honours Degree in Fine Art, the Connemara woman creates works of arts that focus on her favourite creatures, with a portion of profits going towards the care of the animals are featured. The Irish Fox Apron costs €38.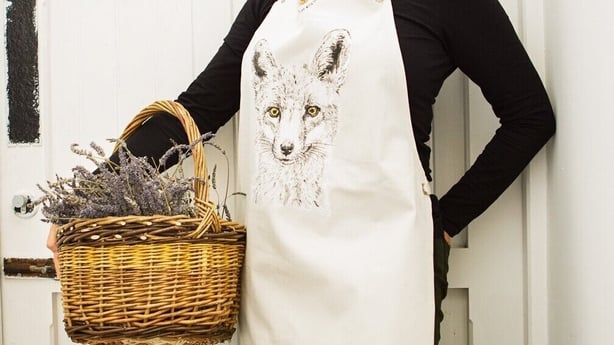 SOAP & CANDLES
Pigeon House
Made and packed in Dublin, these red and white striped candles are inspired by the capital's iconic Poolbeg chimneys. Presented in a simple screen-printed recycled cardboard box, these candles cost €12.50 and can be found online or in a number of Irish stockists.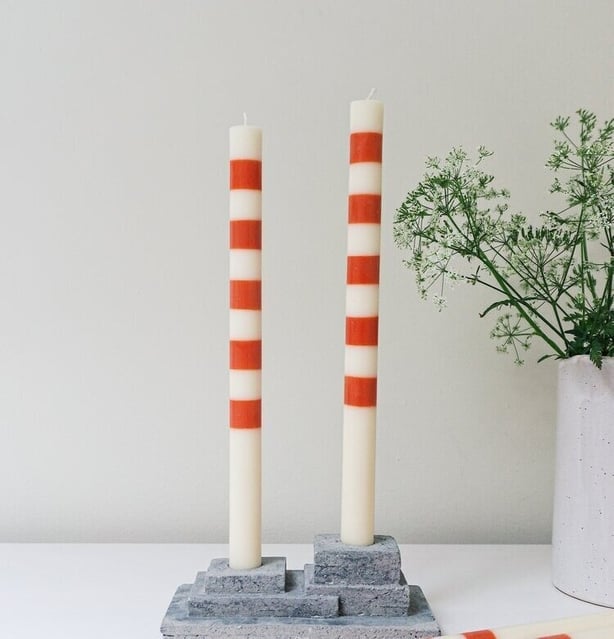 Designist
Set up by Barbara Nolan and Jennie Flynn in 2010, Designist is a gifts and homeware shop that can be found in the heart of Dublin city centre. Working with makers and suppliers from both Ireland and abroad, the small but passionate team are focused on bringing their customers the most remarkable products. This wooden wick candle is €37.50.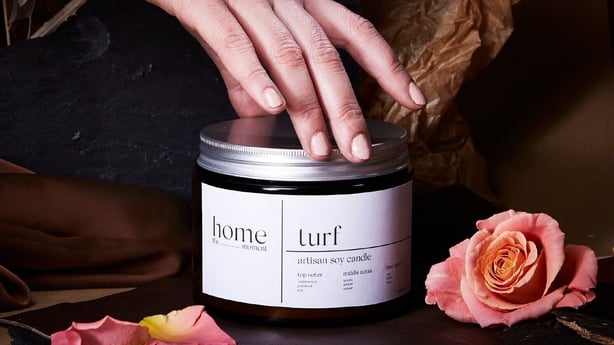 Ticknock Farm
This sustainably-minded brand believes in using all-natural oils that are sustainable, vegan, and free from paraffin, palm oils, and dyes. They produce all their goods on their farm in Tipperary, and use no unnecessary packaging. Their candles and soaps are made on a very small scale in a farmhouse using traditional methods. Pick up a bar of Dark Rose soap for €6.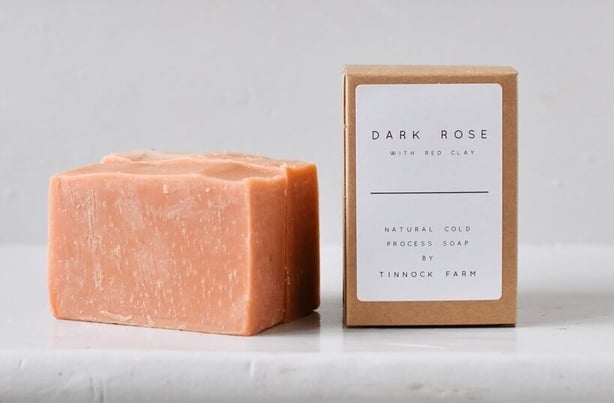 The D8 Candle Co.
Based in (you guessed it) Dublin 8, the D8 Candle Co. was founded by Lydia, a woman with a love of industrial design, high-quality handcrafted items, and lovely smelling things. These hand-poured candles are made using the highest grade soy wax with scents that are inspired by time spent growing up in Ireland. The jars are refillable, reusable and can be repurposed. The Ebenezer candle costs €31.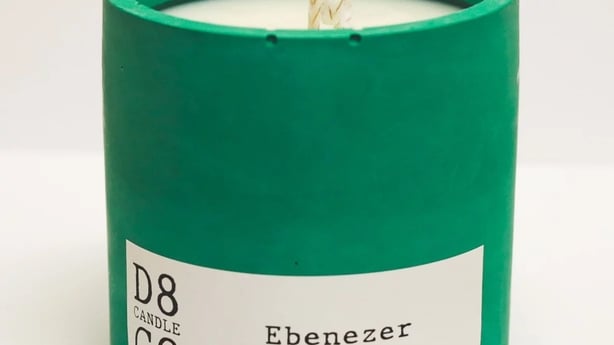 Soap & More
Originally from Syria, Reham Ghafarji moved to Ireland in 2017 and founded Soap & More just three years later. Committed to delivering beautiful, handcrafted products using only natural ingredients, all of his products are palm oil free and animal cruelty free. This festive Cookie Christmas Soap is €5.99.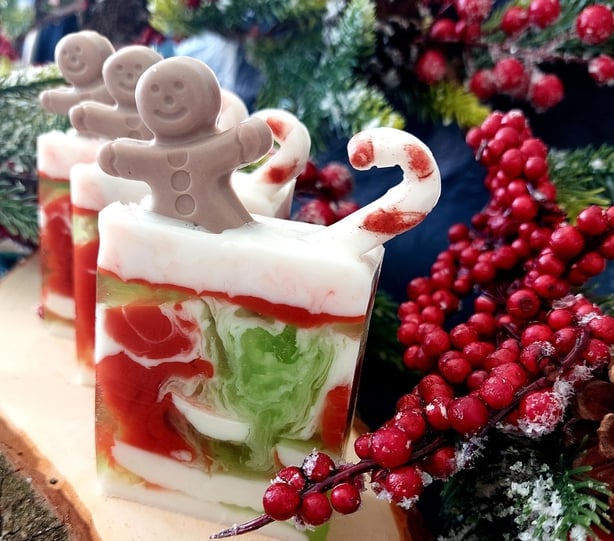 Max Benjamin
Basked in Enniskerry, Co. Wicklow, Max Benjamin was founded by Orla Van den Bergh who named the successful company after the company after her twin boys, Max and Benjamin. This Christmas, the brand will launch its first ever three-wick candle in scent 'White Christmas' for €40, with 10% of proceeds from sales of this candle to be donated to Make-A-Wish Ireland.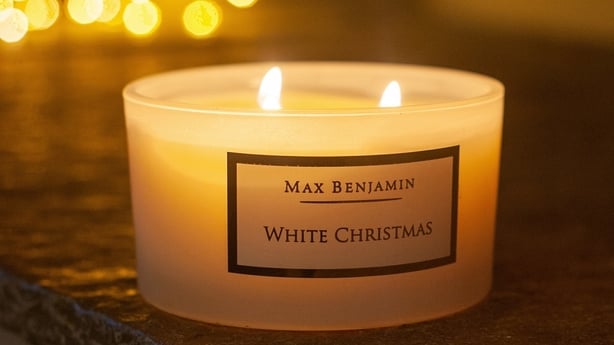 PRINTS & CARDS
Jam Art Factory
Founded in 2011 by brothers Mark and John, Jam Art Factory started out on Patrick Street in the heart of Dublin's historic Liberties. A few years later, a second location in Temple Bar was opened along with the launch of JamArtPrints.com. The website was set up to give hand-picked, Irish-based designers and artists an online platform to display and sell their work. This print of the George by digital artist Maxi costs €18.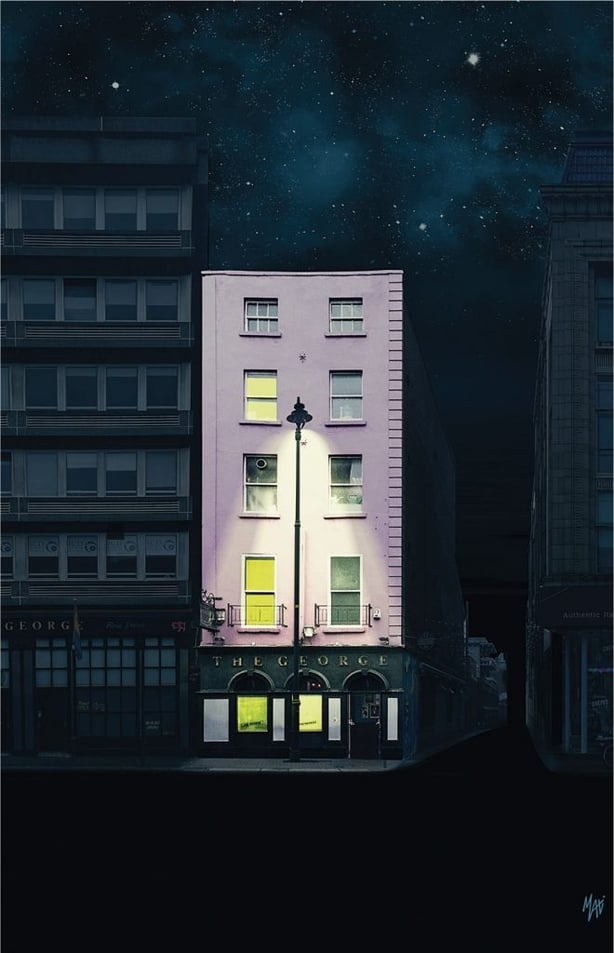 Hen's Teeth
This Dublin 8 space works as a shop, gallery and café. Aiming to put a smile on people's faces through art, food and music since 2015, this cultural hot spot works with artists from both Ireland and around the globe to create eye-catching, original artworks. You can find Maser and Aches' U Are Alive' print for €250.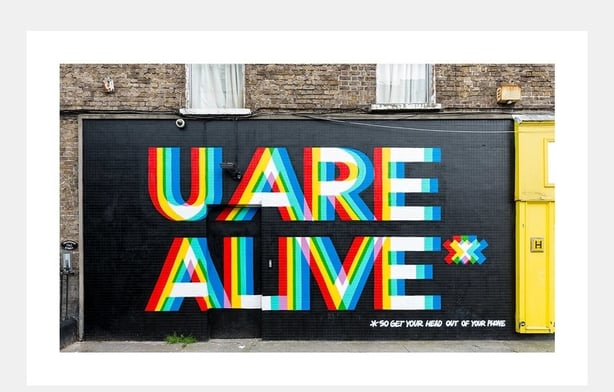 Jill & Gill
Illustrator Jill Deering and printmaker Gillian Henderson are the creative duo behind an incredible range of print and jumpers starring standout women such as Iris Apfel, Anna Wintour, Grace Kelly, and Countess Markievicz. The Boundless Radical print created in homage to former President of Ireland, Mary Robinson is €200.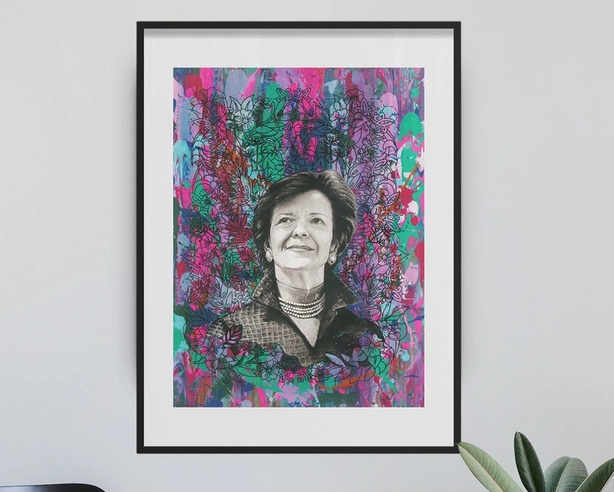 Jando
Founded in 2015 by husband and wife duo Julie and Owen Mc Loughlin, Jando is a multi-award winning printmaking studio based in Dublin. Blending a combination of both traditional and modern printmaking, these pictures will make any wall pop. The Baltimore Beacon print is available from €30.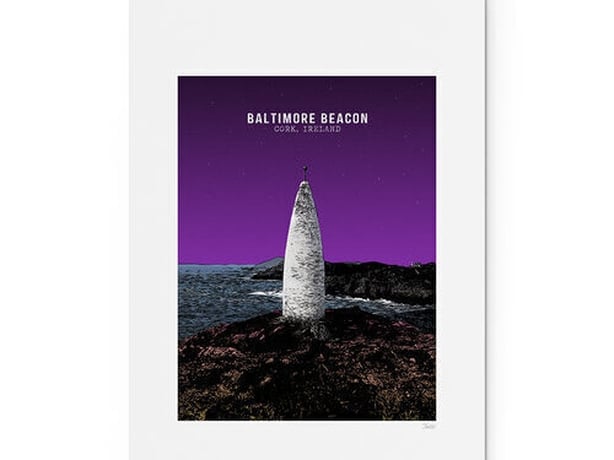 Nine Arrow
While travelling in Japan, Irish illustrator Catherine realised just how much she missed the Irish language. Once she returned home, she created a series of prints with Irish words that interested her. You can order her prints and learn some interesting 'cupla focail' along the way or put in a request for your favourite Irish phrase. The An Ghealach / The Moon print costs from €12.50.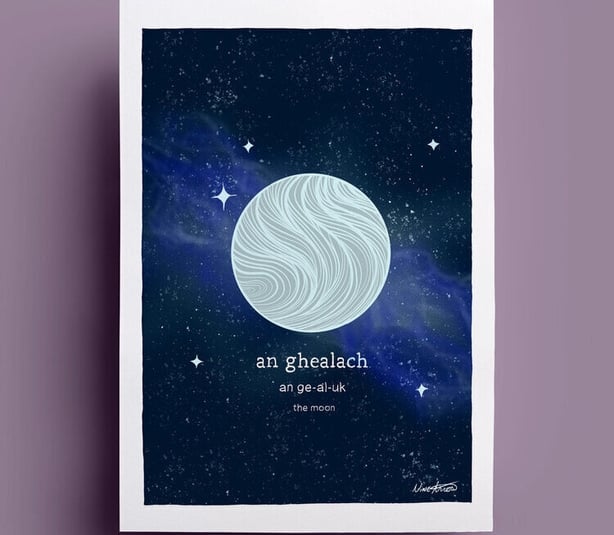 Selkies
Selkies is a self-taught artist from Dublin who is currently living in Brussels. Inspired by everything from big characters on reality TV to the everyday people around her, she has a range of incredible designs at a variety of prices. You can also commission her for a portrait or a custom family Christmas card. This Cobblestone print costs from €20.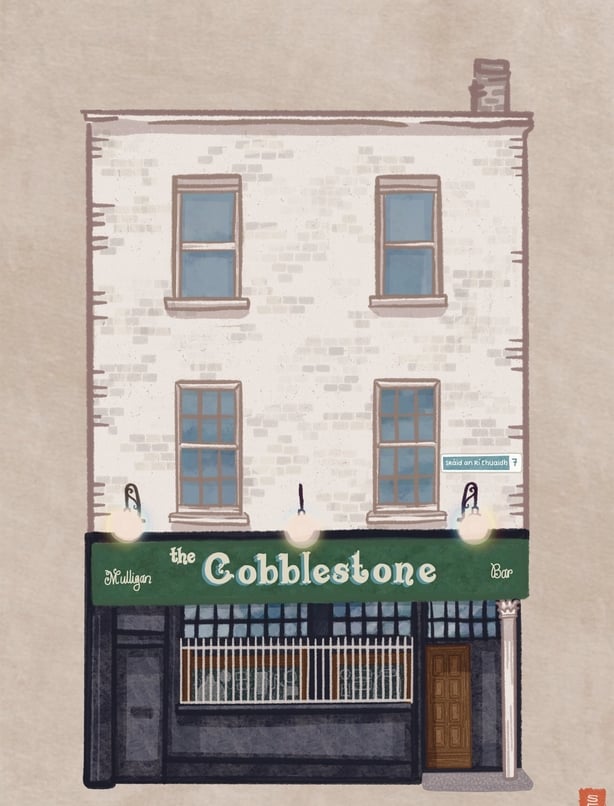 MIMI + MARTHA
Mimi and Martha are a mother-daughter duo with a background filled with music, art, design, and culture. The eco-conscious women bring a unique collection of crafts and designs to their website, supporting artists from both home and abroad. This Misneach / Courage from Three Little Birds studio in Co. Cavan print costs €10.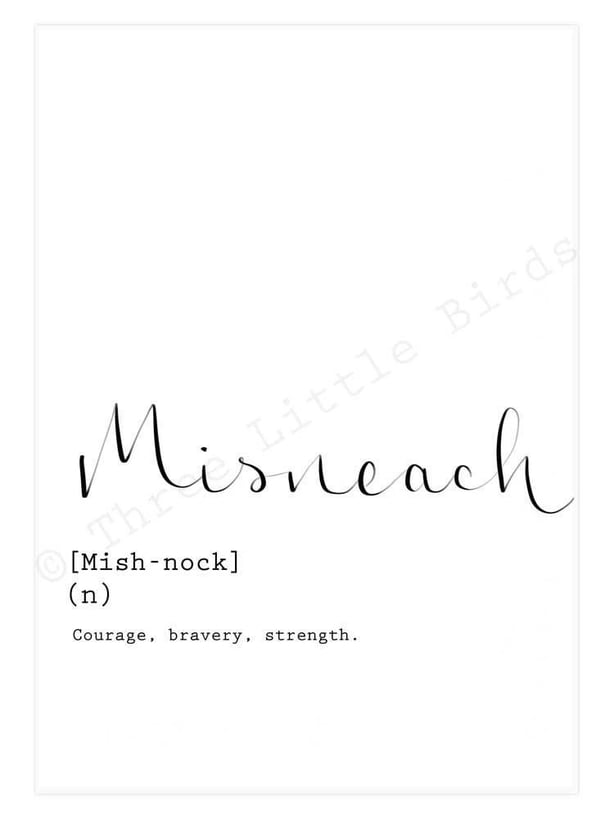 Wild Design
With a history of working in ethical fashion, Bronwyn Connolly had the idea to create the Wild Design Collective as a way to support small-scale businesses on a large scale. In 2017, she put the idea into action with a call out to Irish designers for a temporary pop up in her home of Co. Cork. Today, that temporary pop up has turned into a fully fledged business, supporting a myriad of Irish craftspeople including textile artist Ann Collins. Her Seascape print costs €49.95.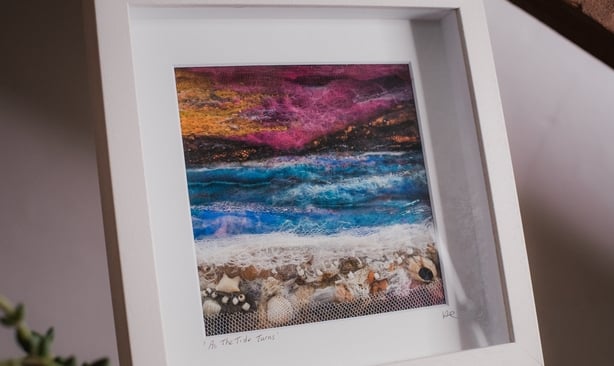 Scratchable Map Ireland
Founded in 2017 Paul O'Dwyer, along with his parents Vera and Seamus, scratch maps are the perfect way to document your favourite staycations. Hand drawn by Tipperary artist Cian Corcoran, the maps highlight 62 of the best places to visit in Ireland, and feature a uniquely satisfying way of ticking them off. This year, the team joined forces with hiking enthusiast Roz Purcell to create a map of 50 of the best hikes that Ireland has to offer. The Hike Life map costs €34.99.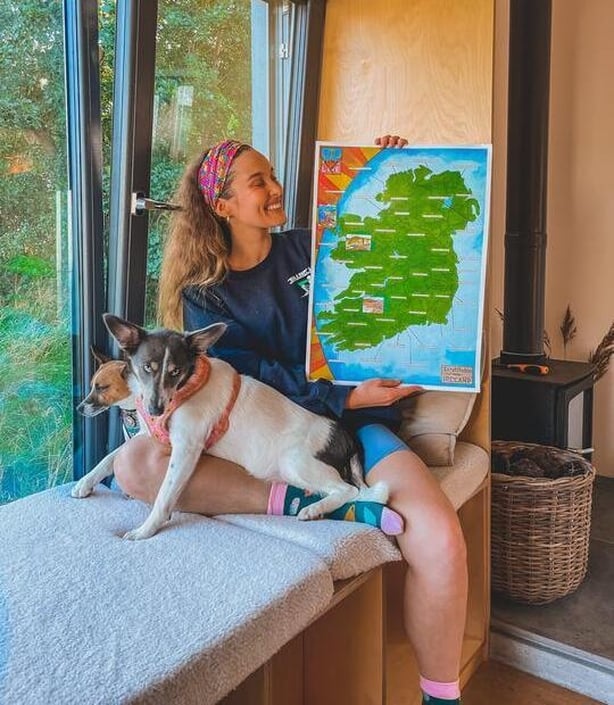 Conor Merriman
Illustrator, art director, and branding consultant Conor Merriman is one of the country's leading illustrators. His work typically features pop culture figures and icons drawn in a bold style but, at this time of year, we're loving his four pack bundle of Christmas cards for €10.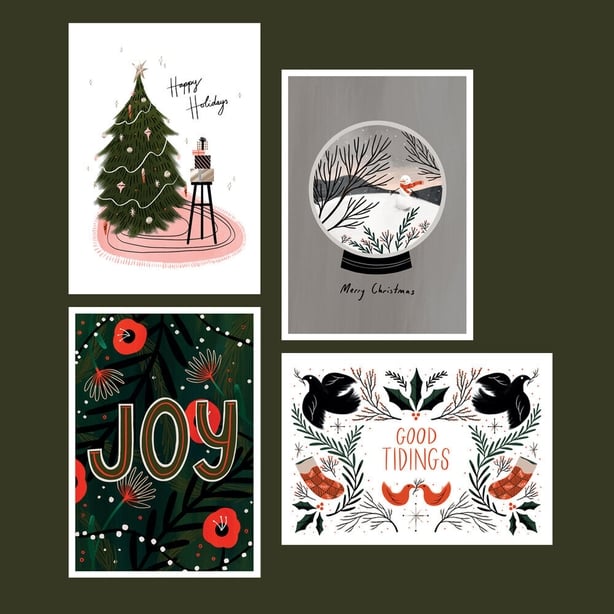 PaperBear.ie
Inspired by some simple designs that he came across while on holidays in 2013, Aaron Dowling came up with the idea for a series of pop-up cards. Soon after, with the assistance of his partner Katie, Paperbear.ie was born. Keeping the environment in mind, the duo have teamed up non-profit organisation One Tree Planted to combat deforestation. The Christmas in Dublin's Fair City card costs €4.99.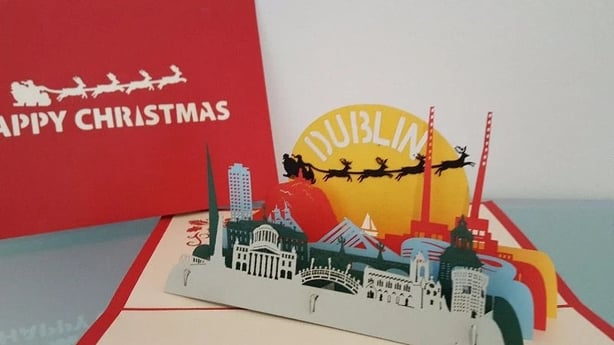 Jarlath Regan
Every year, Irish Man Abroad podcaster Jarlath Regan designs a batch of Christmas cards that will give the whole family a giggle. A batch of 10 cards costs €20. If you have your eye on a particular design, just pick your favourite from either 2020 or 2021 and order a pack of ten made up of the ones you're into!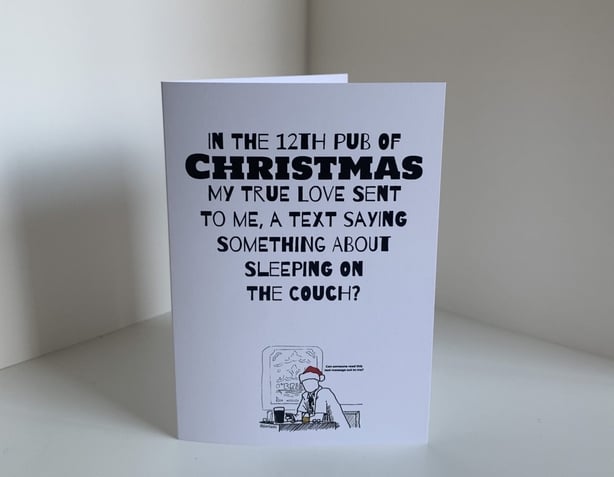 BOOKS & TOYS
A-Z and Back Again
Kids' Own is a children's arts organisation and Ireland's only dedicated publisher of books by children. Through a range of local, national and international projects, the dedicated team connect children with professional artists and publish the work that they create. This illustrated alphabet book, A-Z and Back Again, costs €10.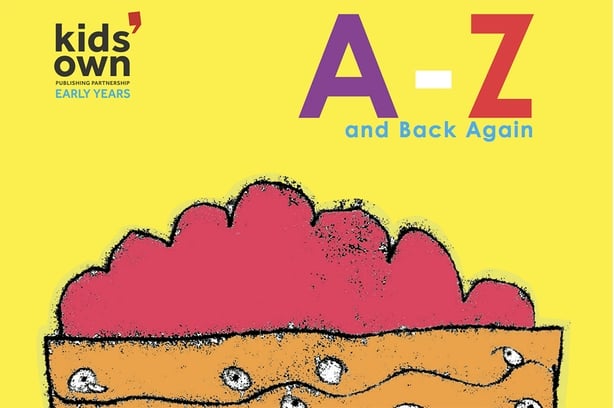 Izzy's Magical Christmas Adventure by Emma Larkin
Author Emma Larkin has recently written a series of books following the adventures of Izzy, an eight-year-old girl who lives in Ireland and loves all sport, especially camogie and Gaelic football. The character of Izzy was inspired by Larkin's grandmother, Maureen, who played on the Cork camogie team. Her latest book, Izzy's Magical Christmas Adventure, costs €13.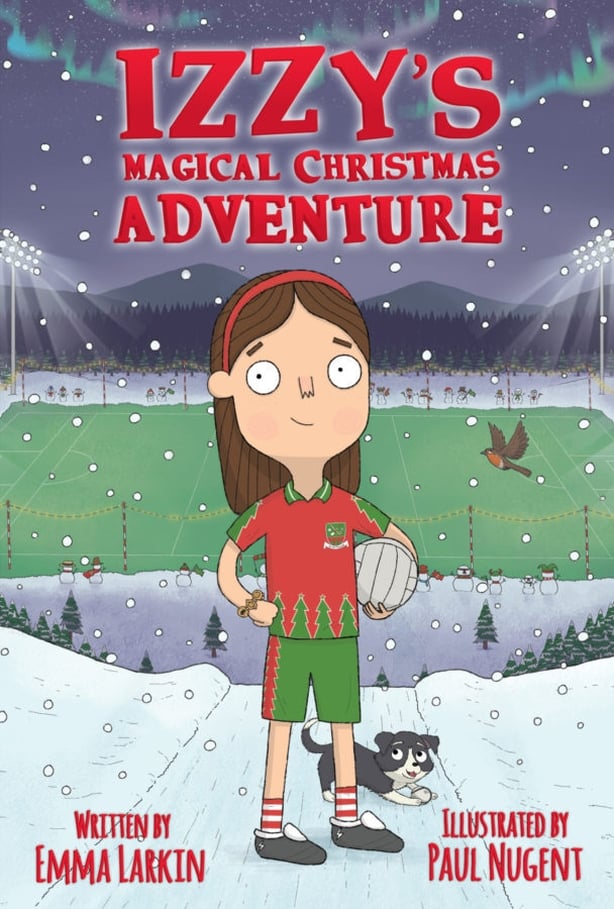 A Dublin Christmas
Irish illustrator and author Nicola Colton's latest picture book, A Dublin Christmas, follows the story of a girl called Orla who goes an enchanting adventure to the National Library, Grafton Street, Stephen's Green and the GPO. A heart-warming festive story that brings Dublin at Christmas to life.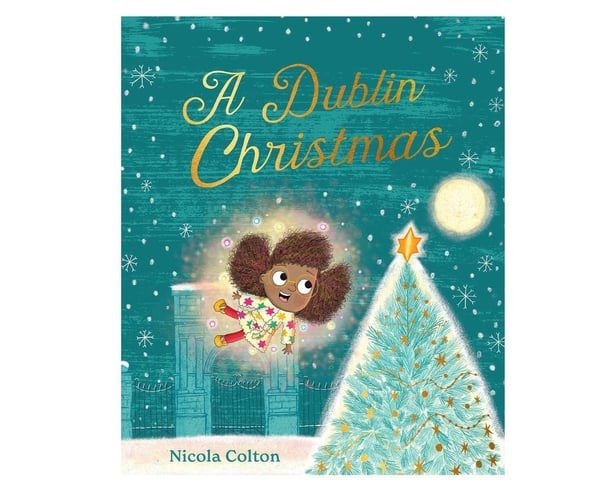 The Wishing Chair
Curated by Lousie Goodwin in Bundoran, Co. Donegal, The Wishing Chair shop is home to Irish made gifts that are "representative of the history, culture and unique personality of Ireland's Northwest region". Open since 2017, the shop offers everything from pashminas and baby blankets to chocolates and seaweed products. This Wee Fairy Wish Box costs €45 and come with a copy of children's book, The Sunbeam Path.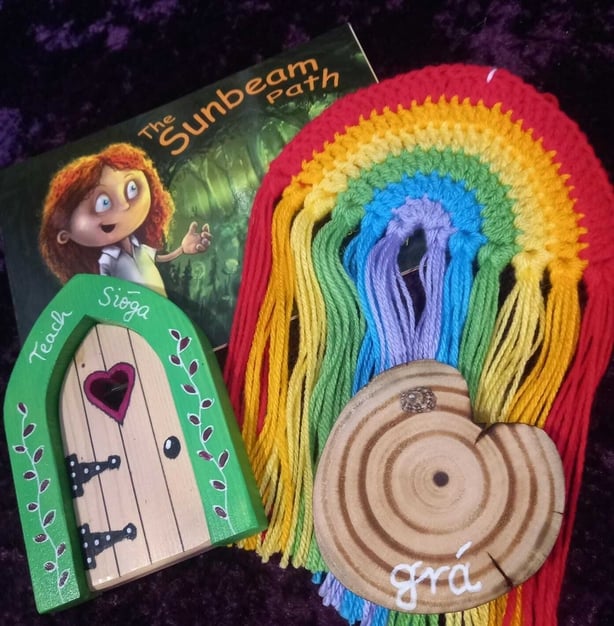 The Wonky Woolins
Based in Galway, this small soft toy business is dedicated to creating quirky and unique characters for adults and children alike. The handmade cuddly creatures were inspired by founder Chloe's grandmother's collection of very wonky knitted creatures which had been passed through her family for generations. The Mini Baa Baa costs €25.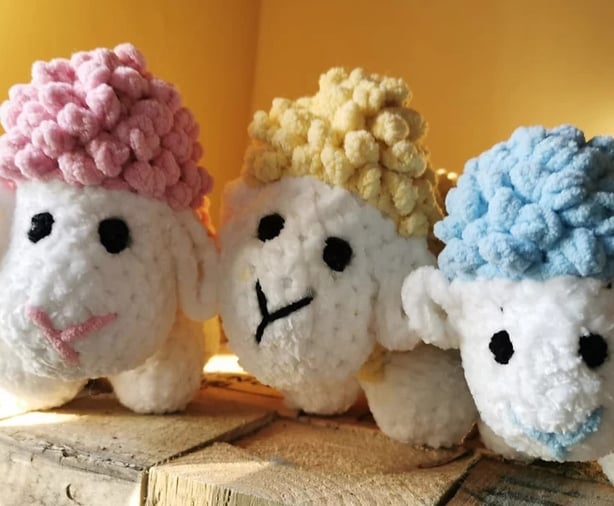 Bainisteoir
This Irish designed and locally manufactured board game was created by primary school teachers with the aim of offering young GAA followers a board game which contains all the classical elements of gameplay but with a Gaelic Games theme. Suitable for 2-4 players aged 7+, this board game costs €35.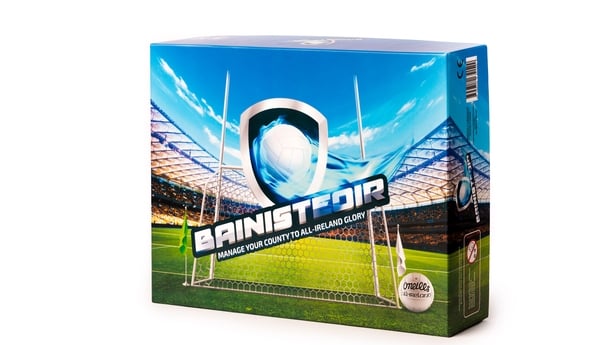 Emily and Eve
Sisters Jane (mother of Emily) and Sandra (mother of Eve) paired up during the pandemic to create a line of positive affirmation cards for children. Struggling to cope with with the stresses of every day life themselves, the two mums wanted to find away to focus on the positive and pass on healthy coping techniques to their little ones, but in a fun and magical way. Their colourful children's journal costs €16.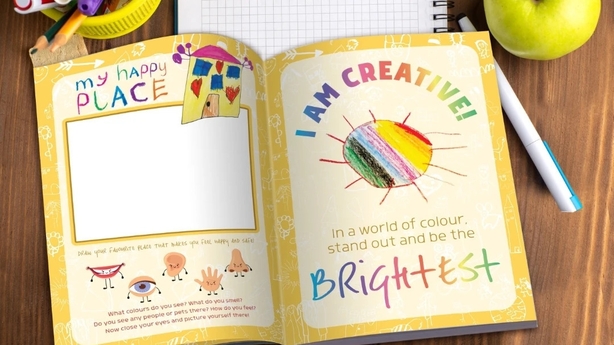 ActiVacation
Mullingar woman Ursula Kane Cafferty has devised, designed and produced an exciting family board game to be played for three to four players or teams. The aim of the game is to get to the airport for a flight home before lockdown, after an activity-based vacation to every continent in the world. The game costs €50.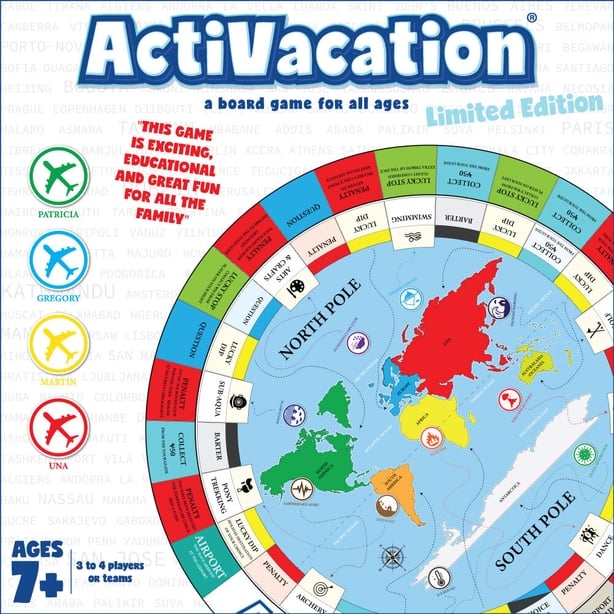 HoloToyz
Founded by Kate Scott, Declan Fahy, and Paul Cosgrave, HoloToyz is a range of children's products that come to life through augmented reality. Their books, stickers, and decals tie in with fun technology that kids can enjoy in a child-friendly environment. Their temporary tattoos and stickers cost €5.99.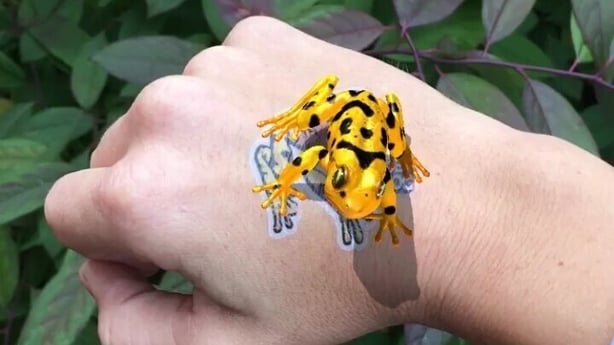 Ellie the Elephant
Having spent all of her life undergoing regular dialysis treatments for kidney failure, 5-year-old Ellie Collins was given the gift of a kidney donation thanks to her mother, Jackie, this past June. To celebrate, the Limerick girl created Ellie the Elephant. With the aim of raising €90,000 for Children's Health Foundation Temple Street, the plush toy - which is made from 100% recycled plastic - will be on Tesco shelves for €5 this Christmas.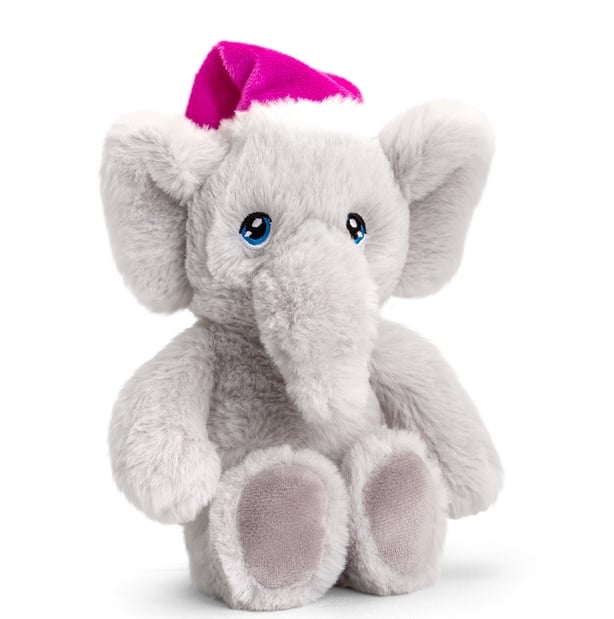 Fairy Elle
When her children were small, Therese made up a story of a fairy called Elle who had the power to help children by sprinkling positivity dust at night. Some years later, this magical creature came to life as a reassuring wellness doll. Whether she's comforting children at night or helping to take a worry away, Fairy Elle is a great companion for young kids. The doll costs €32.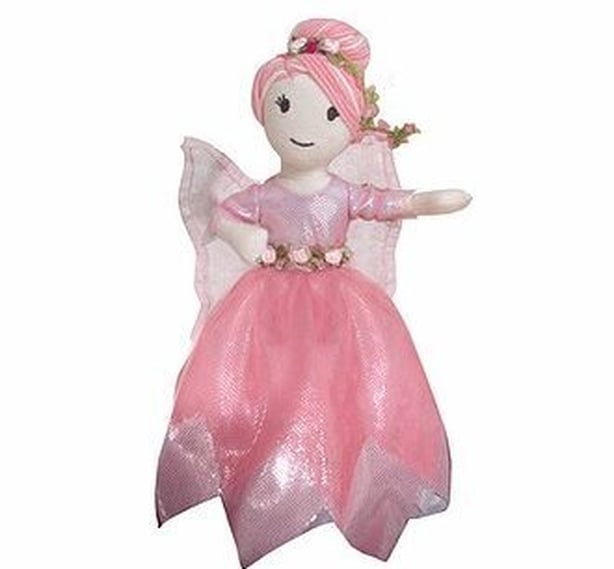 Arckit
Manufactured in Co. Wicklow, and founded by Cavan architect Damien Murtagh, Arckit is a fun way to open up the world of architecture to kids and parents alike. Forget 'cut and glue' models, this game allows you to create and explore designs with a 'click and connect' model. The Go Plus 2.0 Kids Architect Scale Model House Building kit is €59.25 (was €79).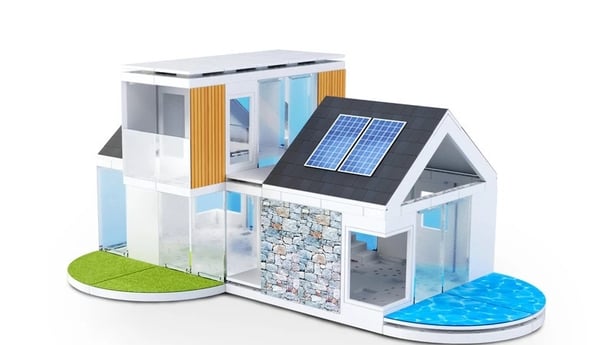 Jiminy
Ireland's biggest and best eco-specialist toy distributor, Jiminy, was started by Dublin mum Sharon Keilthy. Struggling to find eco-friendly options while shopping for her daughter, Sharon left her senior role at an American multinational in 2018 in order to set up Jiminy and give eco-minded customers more options. This set of 100%-recycled 20-piece Paw Patrol puzzles for ages 3+ costs €7.99.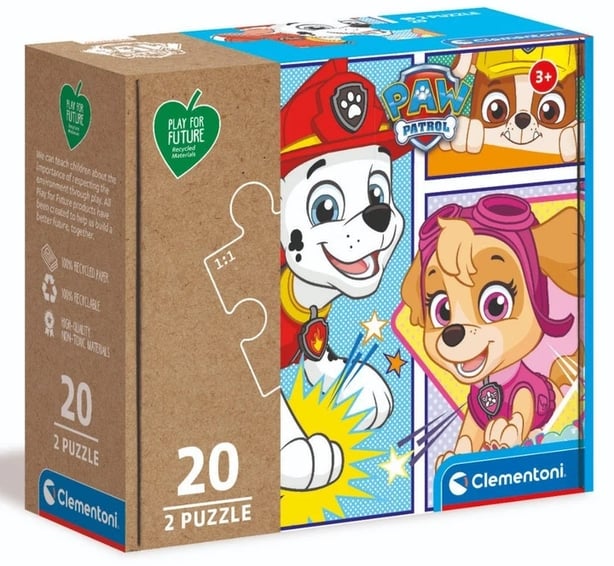 ECO-FRIENDLY
The Kind
The Kind is Ireland's newest zero waste lifestyle store, selling eco-friendly products that are both kind to you and kind to the planet. Curated by founder Sheelin Conlon, each piece on offer supports small independent businesses and makers around the country and abroad. Pick up some reusable, organic cotton gift wrap for €15.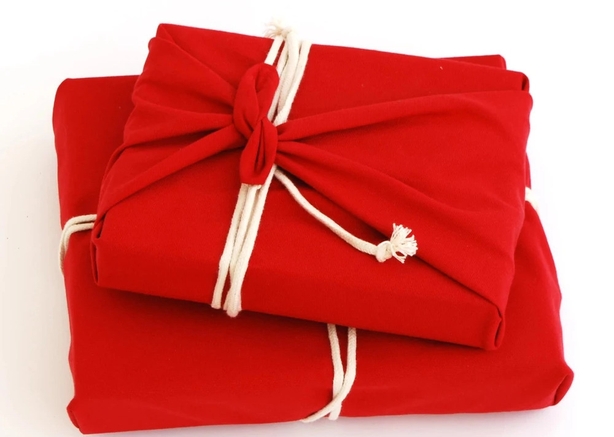 Reuzi
With a goal to be as helpful, well-priced, and minimal as possible, this Foxrock sustainable-lifestyle shop sells everything from recycled cotton yarn hanging baskets to pure wool slippers. Run by Brazilian woman Pat Kane, the website is filled with fun gift ideas. The 'Obamerama' Mother Reusable Stainless Steel Bottle costs €34.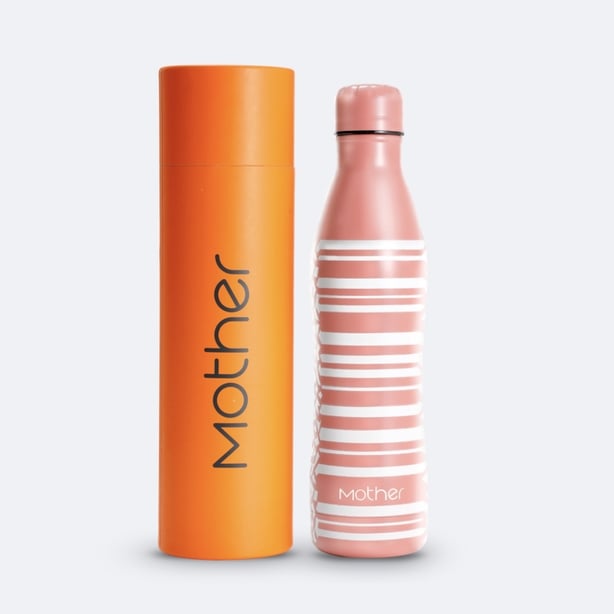 Chou's Cottage
Julie and Paul, a French couple who arrived in Ireland in October 2016, opened their eco-friendly shop in Clonmel in 2018. They support 80 small Irish designers and makers and are home to a 'zero waste corner' where they sell skincare, cutlery, household items and loose food. We particularly like this calendar which was handcrafted in Co. Clare and costs €12.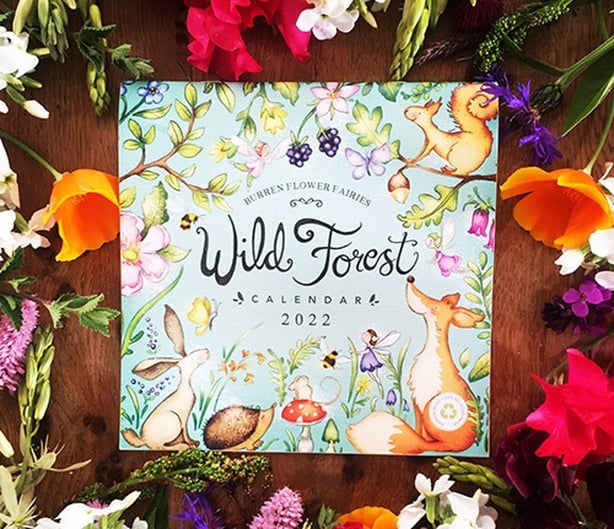 Little Green Shop
Based in Westmeath, Little Green Shop aims to provide products made from sustainable materials that are made ethically and will decompose naturally when they have reached the end of their life cycle. Working to become Ireland's one stop eco-shop, the site offers a range of products for health, beauty, kitchen and home. Their Style Selfology Self Care Package costs €38.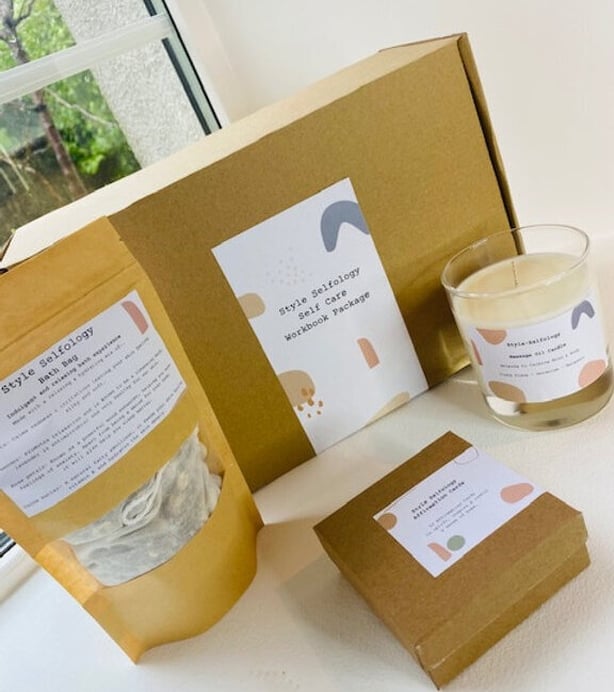 Green Outlook
Whether you're zero waste or looking to make your first plastic-free swap, Fiona Smiddy's website is sure to cater to all your eco-friendly needs. The website is home to products that are handmade in Ireland, including this Seaweed Bag sourced from the wild Atlantic waters of Connemara that costs €7.25.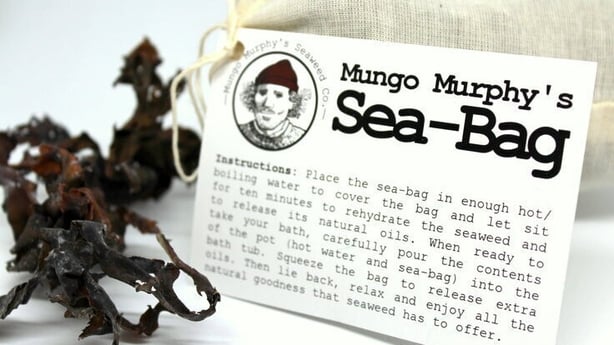 THINK OUTSIDE THE BOX
As well as buying products, it's important to keep businesses that have struggled throughout the pandemic in mind this holiday season, so try to think outside the box when it comes to gift giving this year.
Plan ahead by investing in a voucher for your favourite local restaurant or a weekend away at a nice hotel. Treat yourself in the present-buying process by booking you and your loved one in for an outdoor adventure, a night out at a comedy club or a matinee at an independent cinema.
If you're on a tight budget, there are plenty of hidden gems to be found in charity, thrift and antique shops such as Saint Vincent de Paul, Oxfam, Enable Ireland, Nine Crows and Needful Things.
If you know someone who is particularly hard to buy for, perhaps you could make a donation to a charity close to their heart or forgo presents all together and treat each other to a lunch date instead.
Whatever you do, be sure to have a very merry Christmas.