Whether you're getting ghosted on Tinder, benched on Bumble or haunted on Hinge, dating in the modern day is tricky. Your ability to bounce back from rejection may be building at a steady pace, but swiping for your one true love can be a tricky activity, especially in a pandemic, and especially if you have a familiar face.
You might think having a public platform would make life easier, but it turns out the trials and tribulations of modern dating are hard no matter who you are.
Now in its third season, and featuring a host of Irish celebs, Pulling with my Parents will see 12 unlucky-in-love singletons hand control of their dating apps in the hope that someone older and wiser can find them their perfect match.
Pulling With My Parents is back, this time with some well-known faces. Watch out for some fowl language 🐓

Celebrity #PullingWithMyParents, Wednesdays at 9.30pm 😘 | @rteplayer | @crossytweets pic.twitter.com/sJiPIE2BT9

— RTÉ2 (@RTE2) October 18, 2021
In tonight's episode, FM104 presenter Thomas 'Crossy' Crosse will be on the hunt for his future husband with the assistance of Glenroe legends Mary McEvoy and Eunice McMenamin in lieu of his parents.
As someone who would run in the opposite direction of a camera crew, Crossy's mother had no interest in being on television but, as he says, this gave the show an unexpected layer - one that many LGBTQ+ daters could relate to.
"A lot of gay people growing up, who are my age, would have had a tough coming out and probably would have had different kinds of mother and father figures. I am so lucky that I have loads of supportive people in my life, so let's show a different story."
"I'm not saying I had it bad growing up," he adds, "but I moved to Dublin at 17 without knowing who I was or what I was or anything. Over the years, when I did accept who I was, I was adopted by so many men and women that are older than me."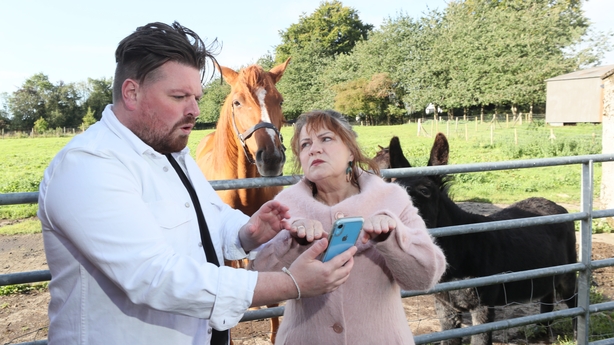 Having met the Glenroe stars Mary and Eunice previously over the years - even belonging to the same book club as Eunice at one stage - he says he was happy to hand over his dating apps to the performers, but was surprised by their individual take on things.
"The two of them are so different, it's hilarious," he laughs. "Eunice would say 'don't write that, you sound like a fool' while Mary would be like 'ah no, go on, write some poetic stuff'. They were both reserved but in totally different ways. It was just great."
Describing himself as Ireland's answer to Bridget Jones, Crossy has been unlucky in love, to say the least. From butter being smeared on his face (yes, really), to having a date get sick on him, to finding out a date already had a boyfriend, to being broken up on his 30th birthday, the presenter really could write the book on the horrors of dating.
Can't wait for you all to see me on @RTE2 next Wednesday!

Im going to be on 'Celebrity Pulling With My Parents' next Wednesday the 20th at 9.30pm 😍😭

The craic lads 😂😂😂 such a deadly summer pic.twitter.com/PoQ7PKX5at

— CROSSY (@CrossyTweets) October 12, 2021
And while he insists that Dublin's small dating pool can be an issue, he admits that he also might be part of the problem:
"My problem is that I go from nought to a million in my head in half a second," he admits.
"Just say if you're texting someone for a few weeks and you break up with them, I'm nearly running to Paris, Carrie Bradshaw emotional over it," he continues, laughing.
The one piece of advice he says he hopes to work on from the show is the ability to cut ties with the past:
"I think I need to listen to friends more and pull myself out of it. Roar, scream, cry, do what you need to do and then move on. Mary said that to me - say it's done, be sad, move on and go to the next."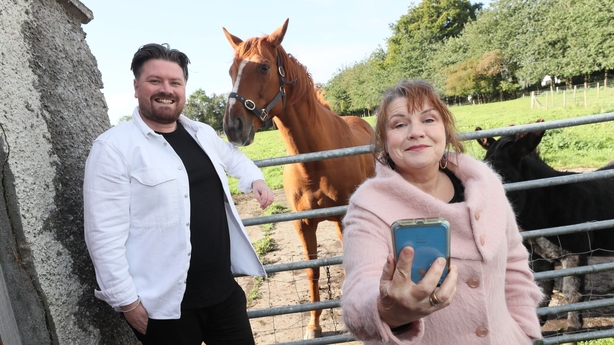 When it came to his dating apps, the presenter says he was hesitant to put himself out there - both in terms of the people he was choosing to swipe on and the information he was putting on his profile.
Under the guidance of Mary and Eunice - both of whom are enjoying long term relationships - Crossy realised he had to show his vulnerable side in order to meet the right kind of people.
"Both of them are still madly in love with the people they've been with," he says of his dating mentors. "I'm 33, I want to be with someone for the next 30 years, so they both looked at my online dating and looked at the photographs that I had and my bio, and Mary told me I had to share more about myself."
As an avid sea swimmer, Mary encouraged Crossy to share photos of himself jumping into the sea - something he would have been too self conscious to do previously.
"They both told me to get out of my comfort zone, talk to people and have a chat. And it did change, I did have different people talking to me."
Watch Pulling with my Parents on Wednesday at 9:30pm on RTÉ One.