When gymnast Simone Biles withdrew from the women's team final at the Tokyo Olympics after one vault, she spoke to the enormous pressure Olympic athletes are put under in the name of perfection, ambition and excellence.
"I just didn't want to go on", she said tearfully, with her coach citing a mental health concern as the reason. Instead, Biles said she wanted to "take a back seat and work on my mindfulness", rebuking the profoundly high expectations placed on her as the keystone of the American gymnastics team, which had been pipped for gold.
However, her decision – which has been largely praised but in some camps criticised for being selfish and cowardly – spoke not only to that exceptionally small group of exceptional athletes, but many young people around the world who are pushed to stand up to expectations and still better themselves.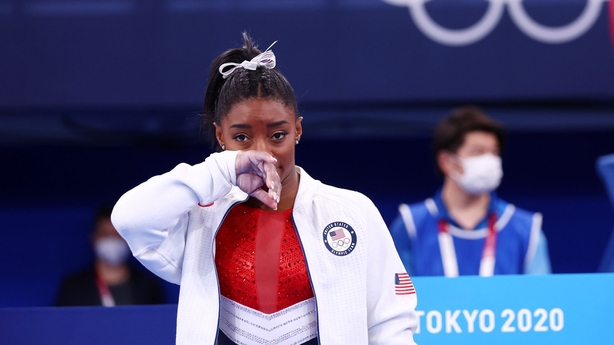 It's no wonder, then, that Biles' decision has hit so many on a gut level. By saying "no" on one of the biggest world stages, Biles has broken new ground for athletes when it comes to prioritising their mental health. As psychologist Niamh Delmar says, it "goes beyond the Olympic Games of 2021 and indicates a cultural shift among top performing athletes and sports people".
"Bravery used to be marked by holding up chins, ploughing forward, endurance and to keep pushing oneself", she adds. "There was fall-out from this. Now it is more about being true to oneself and taking care of one's well being. Asking for help is encouraged more."
From the looks of things, it seems Biles and her teammates are long overdue some help. Biles was among the gymnasts targeted by former US gymnastics team doctor Larry Nassar, who sexually abused nearly 160 young athletes. Many of their pleas for help were dismissed or ignored, they said in the trial.
Since then, the US team has said they have not gotten enough reassurance that their health and wellbeing is top priority. And it's not an unfounded concern: in the 1996 Olympics, US gymnast Kerri Strug secured the country's first-ever gold medal in women's gymnastics by performing on an injured ankle, despite certain agony.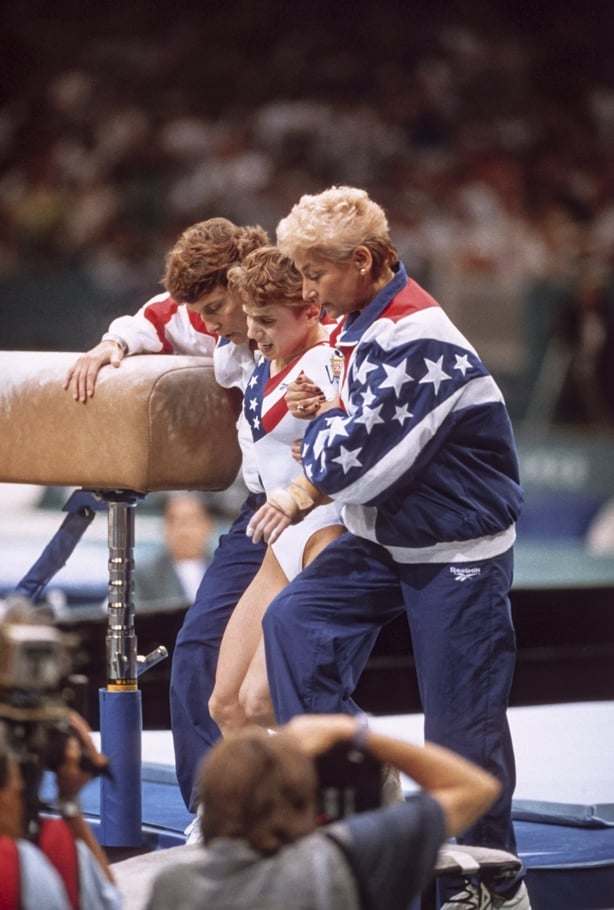 Add to this the expectations unique to Biles: a young black female athlete dominating a sport, setting new records and creating entirely new moves. She shoulders the expectations of a generation, and must uphold many standards as a role model. She went into the Tokyo Games with the expectation of besting her stunning performance at the 2016 Games, with her only true competition herself.
Biles is known as the GOAT – an acronym standing for "greatest of all time" – but as many have noted online, maybe so lofty a title becomes more of a burden than a prize.
Of course, Biles is dealing with incredibly specific and unique pressures. But strip all this away and you have many of the core experiences of being a young person today: lead by example, juggle as many balls as you can, persevere despite insecurity or suffering, shoulder the expectations of generations gone before, don't let people down, always best yourself, keep going, don't complain.
Perhaps one person's withdrawal from the Olympics is another person's firm work email saying, "no".
"Young athletes are experiencing more pressure as there is more competition and more is at stake", Delmar says. "They are developing and performing in a digital world with every movement analysed and criticised. The world is watching on a multitude of devices. More is invested in younger athletes, so expectations and standards keep getting higher. The bars are being raised at every competition."
We need your consent to load this Instagram contentWe use Instagram to manage extra content that can set cookies on your device and collect data about your activity. Please review their details and accept them to load the content.Manage Preferences
This isn't so far removed from many young people's experiences, where perfection is demanded in all areas of life, whether from within themselves or by employers, parents or social media. They have come of age in a world where more was possible, more could be achieved, so why not chase all possibilities for success?
With saying "no" comes the fear of disappointing others, never mind yourself. But, as Delmar states, "There will always be disappointment or backlash from others at times. The winners are hailed heroes but winning is not sustainable".
"Perhaps the focus on winning needs to be shifted to accommodate the person behind the trophy or medal. This starts at a young age. Bronze and silver are wins in their own right. What message is sent out when the England soccer players took off their runner up medals? Toxic competitiveness is damaging for mental health and sportsmanship."
Biles shows that younger people are getting better at setting boundaries when it comes to mental health, Delmar says. "Many younger people are focusing more on their needs, well-being and contentment. They want fulfilment and mental health is more talked about now. They have been raised on messages to talk and to seek help. They value their well-being as they witness suffering around the globe and among peers."
The camps that criticised Bile's decision focused on what they saw as failure, and her inability to push on in the face of a few stumbles. It's immediately familiar to young people who have been told, in one way or another, that they can't deal with failure, that they can't cope with being told they are not the best – the coddled generation, where everyone gets a medal just for showing up.
Biles is proof that this isn't the case. Rather than retreating for fear of failing, she recognised a need to spare herself when millions others wouldn't do the same.
the outpouring love & support I've received has made me realize I'm more than my accomplishments and gymnastics which I never truly believed before. ??

— Simone Biles (@Simone_Biles) July 29, 2021
Young people are even more inclined to stick up for themselves before people pleasing, especially after the pandemic. "The majority of young people have shown resilience, strength and solidarity during the pandemic", Delmar says. "They missed out on a prime time of their life story with curtailment of university experiences, work, travel, dating, time with peers and much more."
Now, having had time off the hamster wheel and more time to focus on themselves, young people are becoming more emphatic about protecting their mental health, and it's a smarter choice. As Biles herself noted, it was safer for her to step back than risk injury for the sake of a medal.
In her press conference after withdrawing, Biles told reporters, "I do not trust myself anymore", but her actions prove otherwise. It was a stunning display of self-trust, which Delmar says "involves self-awareness, shrinking the inner critic, not losing one's identity and being able to fall back on oneself no matter what the outcome may be".
"The message we can take form Simone Biles is not about quitting", Delmar says. "It is about prioritising mental health as much as physical. While sports can be a positive contributory factor to psychological well-being, minds have to be treated and cared for as well as bodies.
"Sporting attitudes are powerful as seen recently by Paul O'Donovan and Fintan McCarthy who have stayed very grounded. After winning the gold medal, O'Donovan said ,'we weren't really doing it so we could put medals around each other's necks.'"
If you have been affected by issues raised in this story, please visit: www.rte.ie/helplines.