Over the course of four weeks, I'm Fine – RTÉ's documentary series on men's mental health – followed along as Lorcán McMullan, Ray Connellan, Conor O'Keeffe and Hugh Mulligan as they spoke about their struggles with mental health.
In the process, they opened up a conversation about the men suffering in silence and how the discussion around it needs more attention.
Leigh Kenny, a fully accredited psychotherapist, spoke to RTÉ LifeStyle about the impact of the series and how there is still much work to be done on men's mental health.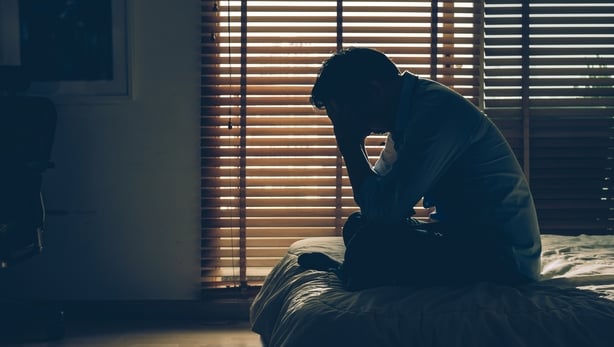 With 10 years' experience in psychotherapy counselling, as well as being qualified in clinical supervision and having a background in human resource management and business and economics, Kenny has seen the tides turn in the conversation around men's mental health.
While we've taken many steps forward, there are still some areas where we've stayed put. "There's a stigma around mental health, especially suicide and self-harm", she tells me. "I think people are getting better at it. And I think the likes of those very brave young men who came forward and showcased their journey, how they linked up with others for support, is going to help a lot of people."
The dial has moved on in how we talk about mental health at large: we have campaigns encouraging people to reach out, celebrities getting more candid about their own difficulties, countless social media accounts that try to pass on tips for seeking help and taking care of your mental health.
But the fact that a documentary like I'm Fine is still genuinely impactful and illuminating proves that there is still a lot that we're not talking about, and that there is work to be done.
As for what typically holds men back from asking for help, Kenny says it's a combination of factors. "Any research will show tell you that men feel like, 'oh, sure, I can cope with it on my own. I don't want to be a burden to anybody. I'm too embarrassed to do this. I never saw myself being in this situation. So therefore, there's something wrong with me.'"
Many men, she adds, "don't want to admit that they need support or they may fear that they are coming across as being weak".
This line of thinking can lead to avenues for support being shut down, she adds. "They may not feel like they have anybody in particular that they could share this type of emotional information with." Not having those people to turn to "really does put somebody in a in a much more riskier place", she says.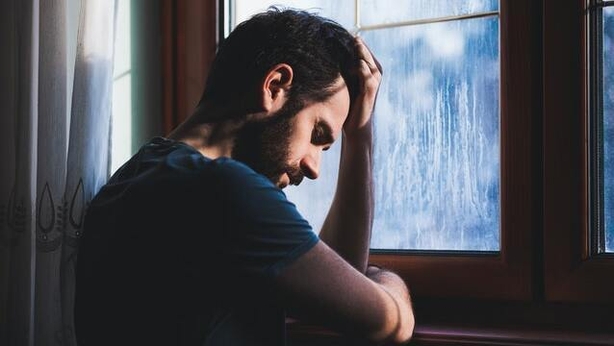 It's situations like these that very often lead to those men seeking comfort in other outlets, like alcohol or drugs, Kenny says, much like Conor O'Keeffe, who spoke about his struggles with drinking and drugs in the show.
"Once that happens, the mood altering way of coping, that brings on other complicated feelings and emotions compounded with what they're already feeling." Before you know it, a cycle emerges.
As the series showed, talking is one of the best ways out. "It is having that one person to turn to for support", Kenny says. "It doesn't always have to be a family member. It doesn't have to be a friend. It can be a service, like Pieta."
Having other male role models who are open about their mental health helps, be they fathers, uncles, brothers or friends. When Ray Connellan's father opened up about his own similar struggles on the show, it was a touching moment of connection for Ray and the viewer. "It was an absolutely huge piece of Ray's journey by way of how he coped or he would cope", Kenny says.
When coping with anxiety or depression, you can't change things over night so finding "baby steps" to take towards opening up is essential, Kenny says. "It really does depend on the personal circumstances and how safe they feel."
Of course, it might not always be possible for the person struggling to directly ask for help so Kenny says loved ones should be sensitive and watch out for changes in their behaviour.
"If somebody knows of a friend or family member who could be potentially struggling with their own thoughts around suicide or even withdrawing from family occasions or activities", she says, "just ask the person, 'Is everything okay?'"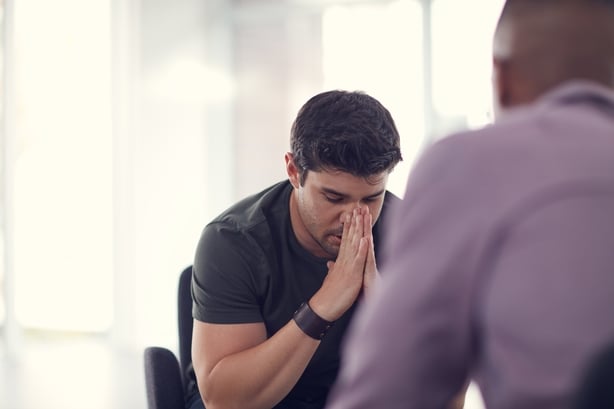 Another change to look out for is extreme changes in people's habits – alcohol and drugs aren't the only outlets that might be hiding deeper struggles. "When you see somebody going to the gym five days a week, you say 'fair play to them, they're amazing. Oh, I'd love to do that.'
"But depending on what the the the reasoning for the five days a week, how how reasonable is that? Is that overcompensating for something else?"
As time moves on, so do the obstacles to talking about mental health. The same challenges that faced the generation before aren't necessarily the ones we're facing now. Social media is usually the main difference mentioned, but a general push to be achieving more is also at play.
"There's a lot of competitiveness around now and people competing with each other and having to have them to look like they're living their best life", Kenny says. "There's this expectation that I have to feel happy, I have to be the like in the party.
"I'm not saying this is necessarily a negative, but I think it's just a flag for people to stop and question whether there's something else going on underneath all that."
I'm Fine is exclusively on RTÉ Player and is sponsored by Electric Ireland. Electric Ireland is proud to continue to shine a light on mental health through it's long-term partnership with Pieta and Darkness Into Light and now through the I'm Fine series. During the darkest of times, we're Brighter Together.
*If you are affected by any of the issues raised in this article, you can contact; The Samaritans (phone 116123), or Pieta House (1800247247) .