In the RTÉ Player's Go Outside and Play, Go-Pro guru Carl Mullan shows us the best spots in Ireland to road trip, hike, and take in the breathtaking sights.
Each week on RTÉ LifeStyle, we'll be giving you the low down on each of Carl's playgrounds including directions, fun facts, necessary equipment, and, most importantly, the snack requirements.
Forget staying in this weekend, go outside and play!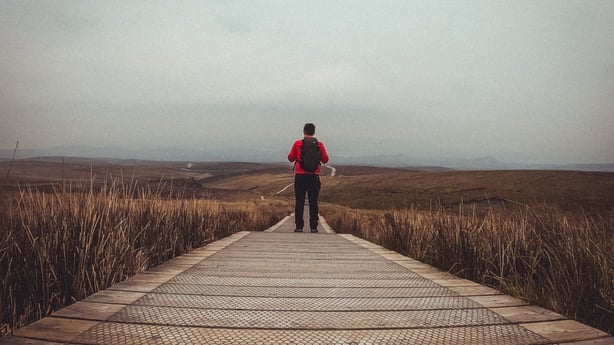 Location
Cuilcagh Boardwalk is located on an unnamed road in Enniskillen, Fermanagh (don't worry, we've got directions below).
What to see
The Cuilcagh Boardwalk, also known as the Stairway to Heaven is a route that cuts through one of the largest expanses of blanket bog in Northern Ireland. A steep climb up the wooden boardwalk brings you to a viewing platform which offers beautiful views of the surrounding lowlands.
On a good day, you'll enjoy 360-degree views of the Sligo Mountains, Upper Lough Erne, The Atlantic Ocean as well as counties Cavan, Leitrim, and Donegal.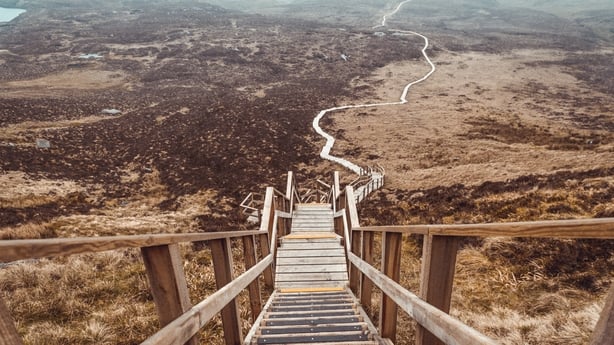 Interesting Facts
What is interesting about the Cuilcagh Boardwalk is the boardwalk itself. It was constructed in 2015 to protect the surrounding blanket bog and restoring damaged peatland but has become a social media star in its own right.
Prior to its construction, the number of walkers visiting the area was below 3,000 annually. However, that number has risen to 60,000 in 2017 since the opening of the boardwalk. The boardwalk has dramatically reduced the time it takes to reach the summit while protecting the fragile landscape at the same time.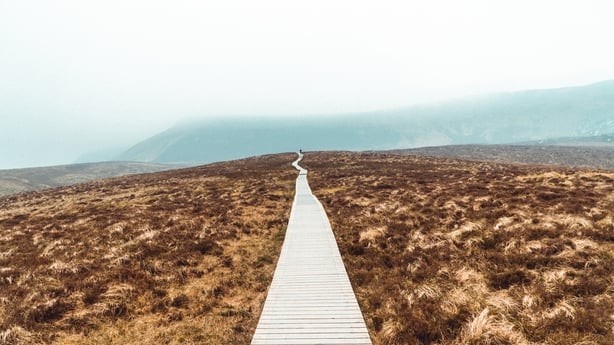 How to get there
Take the A4 Sligo Road from Enniskillen. Turn left onto the A32 Swanlinbar Road. Turn right onto the Marble Arch road. Turn left, still following the signs for the Marble Arch Visitor Centre. Along this narrow road, there will be a sign on your left hand for the Cuilcagh Mountain park. This is the first car park option, there is a second car park a further 1km up the road. It is around a 2 hr 20 min drive (162km) from Dublin.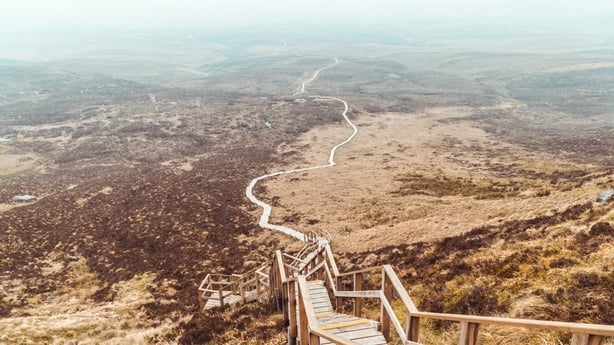 Need to know
The carpark for the Cuilcagh Boardwalk is privately owned so don't forget to bring £5/€6 in order to park. In case you park in the Marble Arch Caves Visitor centre car park, keep in mind that they close when the caves do so make sure you're back before that happens.
If you have time, be sure to check out the Marble Arch Caves, too. The area is famous for many reasons including several rare or endangered species of plants and birds. It's considered to be a great area for walkers, birdwatchers, photographers and those interested in Geology.
NB: It can get surprisingly cold so make sure you bring warm clothes.