He brings couples together in the First Dates restaurant, but what sets Mateo Saina's heart a-flutter? Claire O'Mahony caught up with him, his partner, Vjerana, and their daughter, Isabelle last year. We're sharing the interview again ahead of brand new First Dates airing on RTÉ2 on Thursday at 21:30.
If dating is a typically nerve-racking experience, looking for love on national TV surely makes it terrifying. But whatever turn romance takes for First Date Ireland romantics, they can at least be assured of the welcoming, encouraging presence of the show's charming maître d', Mateo Saina.
His is the first face the prospective daters see as they walk through those notoriously difficult-to-open doors and after five seasons, not to mention his many years at his real job in the hospitality industry, he's a pro at making anxious daters feel comfortable.
Ireland has been Mateo's home for over 14 years. He previously lived in his native Croatia, in the Netherlands and Austria, before coming to Dublin to work in the restaurant trade. His CV includes stints at some of the best-known dining establishments in the capital, including Celtic Tiger haunts, the Town Bar and Grill and Thornton's on the Green. Moving with the food industry's trends, Mateo is currently the maître d' at Glas, a recently opened restaurant on Chatham Street, that specialises in plant-based dishes.
He regards Ireland as home; and he and his partner of ten years, Vjerana Visnjic, are raising their daughter Isabelle Luna, who turns two in May. Theirs is a properly romantic love story. The couple have known each other their whole lives, grown up in the same area of Istria, a historically rich and scenic peninsula by the Adriatic near the Italian border.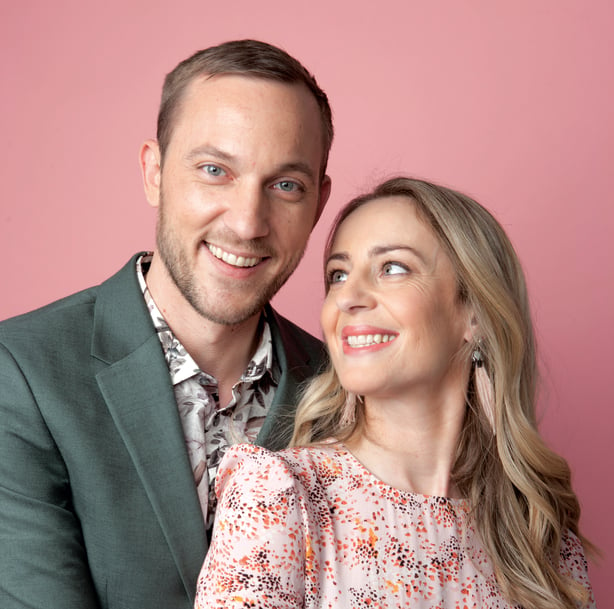 However, romance didn't blossom until later. Vjerana le Istria aged 19 and moved to Amsterdam, with the two keeping in contact on Facebook and meeting up on the holidays when they were both back in Croatia. They began to date and had a long-distance relationship for four years.
"I think it was more challenging for me than for him," says Vjerana. "I think for a boy having a girlfriend that you see once a month for three days is great. For me, it was like, I can't do this any more. I want to be with you all the time. It was kind of hard. But the three days we were together would just be amazing. But I think that's not reality."
Mateo eventually moved to be with Vjerana in Amsterdam, spending a year there. Although he loved the city, he found living there a struggle because of the language as well as work visa issues, as Croatia was not in the EU at that time. A business proposal led him to Ireland and Vjerana eventually joined him. They celebrated the fourth anniversary of the move on January 31.
Mateo proposed to Vjerana in 2016, in the very spot in Istria where they had first kissed; Vjerana describes it as the most romantic thing he's ever done.
"It was in our city with an amazing view over the sea and I turned my back and he was on his knee and I couldn't believe he would ever go down on his knee. I didn't think he was the type for that – you just see it on TV. None of my friends' boyfriends went on their knees – it was just 'Oh we're going to get married' so that was very nice," she recalls.
But life, more specifically the arrival of Isabelle Luna, halted the wedding plans and now they say while they still plan to get married, it will be a different kind of celebration to the one they'd previously intended. "No 200 people, just intimate," says Mateo. "I think it's just formalities, it's not ceremonial after you have a kid."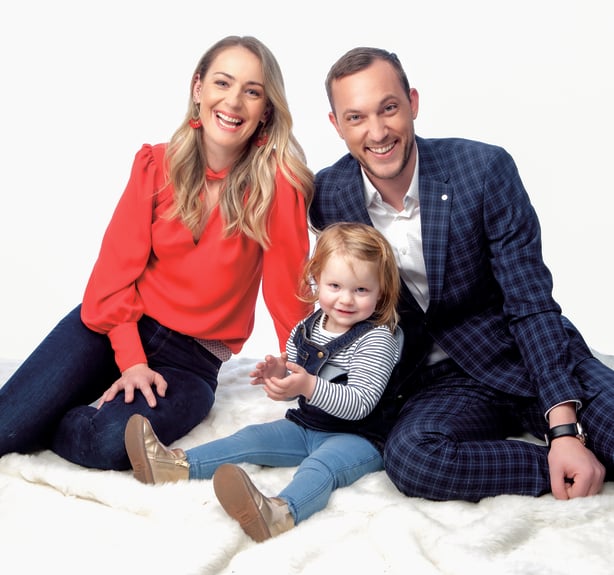 Isabelle, a delightful bundle of energetic fun, is obviously the light of both parents' lives. They concede that when you have a toddler, it's not always easy to keep romance to the forefront. But Mateo says, "It's every young family's issues that we have, just like everyone else."
Vjerana points out that it's a little bit harder for the couple because they don't have family around to help out. "I work in a hospital as a nurse, so we're almost never free together because he works five days and I work two and the nature of my job is that I work 13 hours a day so when I'm at work I'm gone at 7 and I'm back home at 9 and then we have maybe two hours in front of the TV together. en he works late as well," she says.
You might assume that Mateo has become something of a relationship guru, given his years on First Dates Ireland, but he says this is not the case. " The reality can be a little different – I can barely manage my own relationship, so how am I going to manage yours?! How would I know answers to your questions when I don't have answers to mine? "However, that perception is there because of the show, because that's what we do."
He says he isn't always able to figure out whether a date is going to be successful from the outset. "It's very hard for me to know because the first impression is always 'Oh wow, beautiful guy, beautiful girl, it must work'
and I have been proven wrong so many times," he says.
"But bear in mind, I don't hear what they say when they sit down. That's more Alice and Pete (the show's waiting staff ). They would get a better insight into what is going on, but with the facial expressions and body language, I'd be able to see when people fancy each other. It's obvious and you don't need to be an expert to see that – hair flicking, blushing and so on."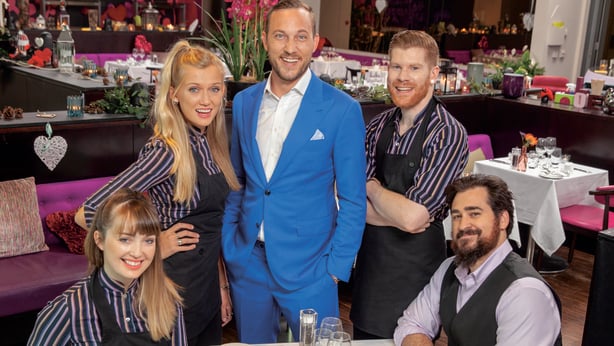 Mateo also has some pointers that he offers for wannabe First Dates hopefuls who would like to become one of the show's success stories. "Be yourself and don't pretend that you're somebody else. He or she is going to figure out that it wasn't 100% you."
He is convinced that some topics of conversation should always be off the table. "You don't talk about sex, boobs or anything else. We've had a few examples of things you shouldn't do on First Dates, because it's just unpleasant for you, for your family or whoever your date is."
Then, of course, there are basic manners. "It's about paying attention and not talking too much and letting them talk more. Asking questions more than talking about yourself," he advises. As for those really hard-to-open First Dates doors? " They're still there after five seasons. I think they add to the show, but it wasn't intentionally done like this. It does add a little bit of drama."
First Dates Ireland's fifth season delivered several nuggets of TV gold. These include the show's oldest ever dater, Michael (81), who hit it off with 75-year-old Lorraine, and 25-year-old Shane who spoke candidly about having HIV.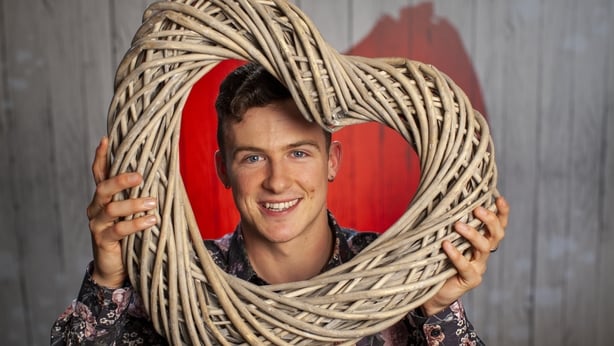 Mateo believes the show is now regarded as a proper dating service. "We've seen it from season three – there is a big shift from people appearing on the show just to be on TV." He doesn't watch Love Island and doesn't regard First Dates Ireland in a similar vein, although he concedes it is also a reality TV show. "I see it (First
Dates) as a dating tool. We're not here to embarrass the people, we're not here to show their bodies. It's up to them as to what they want to do."
Navigating the world of dating has never been trickier; Mateo suggests one of the reasons this might be the case is that our values have become skewed. "What do you drive? What do you do for a living? What are you wearing? Instead of what kind of human being are you and how are you going to treat me in a relationship," he says.
"Back in the day, my mum told me 'Listen, my son, we are coming from an era when we used to x things and you guys buy things' and that goes for relationships too. A year of drama, two years of drama and that's it, you're done. But our parents all went through their dramas too. My mum and dad had ups and downs and fights and they stayed together and I look at them now: they're like 15-year-olds, holding hands and walking
around like nothing bad ever happened. They passed the drama."
Love is, he insists, about give and take. "It's an ongoing process for everybody, as soon as you drop the ball a little bit you find yourself in the gutter," he says. So relationships can also be hard work, but he strongly believes that they are worth it.
"Let me put it this way: my daughter and my lady are the only measures of success and time. Everything else is irrelevant and blurred. I don't remember anything else, to be honest. Everything else is just what you have to do to pay the bills."