With his soulful voice, glamorous style and the all-important floofy hair, Harry Styles is the closest thing we have to a dreamboat these days.
And it seems the global pop star is fully aware of this, as he's partnered with Calm, the popular sleep and meditation app, on a Sleep Story called Dream with Me.
Styles joins the likes of Matthew McConaughey, Lucy Liu and Laura Dern who have all lent their voices to guided meditations on the app.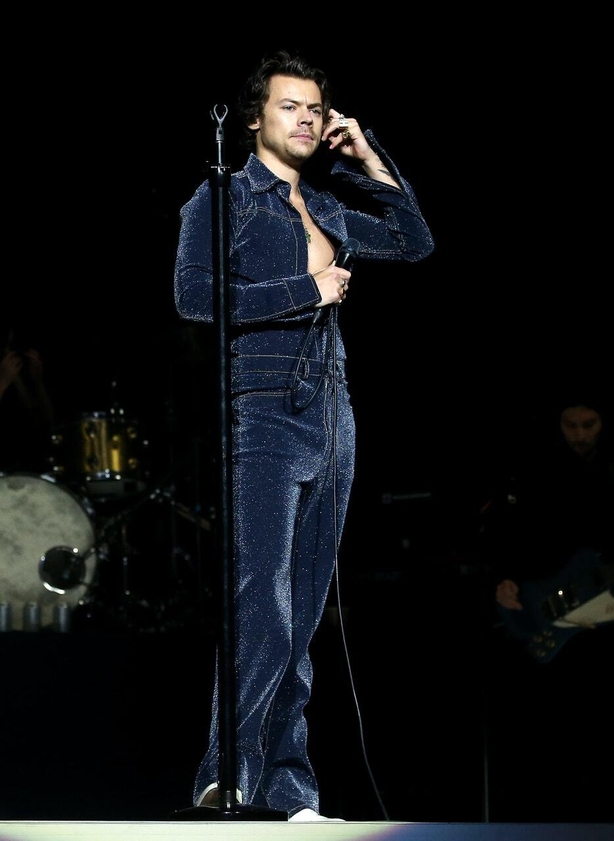 The 30-minute sleep story invites listeners to "fall asleep and fall in love with the dreamy voice of Harry Styles" - as if we needed to be told to.
One of the app's most popular features, sleep stories are short narratives designed to calm and soothe a listener, full of descriptive prose –mentions of flickering candles, frosty windows and soft furnishings abound – and a story designed to interest a listener just enough to distract them, but not keep them awake.
Essentially, you're not supposed to reach the end of the story
The company teased the drop on Twitter on Friday, in a post featuring the watermelon emoji, the Watermelon Sugar-singer's honorary symbol.
?? ?? ?? ?? ??

This Wednesday.

— Calm (@calm) July 5, 2020
"Sleep and meditation are a huge part of my routine, whether I'm at home, in the studio, or out on the road," said Styles in a statement announcing the news.
"Rest and recovery is as important as doing the work. Finding a balance has been endlessly beneficial to both my physical and mental health. It's changed my life. I'm so happy to be collaborating with Calm at a time when the world needs all the healing it can get. Treat people with kindness."
The star has been vocal about his fondness for meditation, and how combined with therapy it has helped him enormously.
Speaking to Rolling Stone, Styles opened up more about how it's helped him overcome challenges.
"I think meditation has helped with worrying about the future less, and the past less", he said. "It's not always the easiest to go in a room and say, "I made a mistake and it made me feel like this, and then I cried a bunch."'
We need your consent to load this Instagram contentWe use Instagram to manage extra content that can set cookies on your device and collect data about your activity. Please review their details and accept them to load the content.Manage Preferences
"But that moment where you really let yourself be in that zone of being vulnerable, you reach this feeling of openness."
It's still a large part of his day, as he told Zane Lowe on Beats 1: "I meditate. So I'll meditate in the morning, and then have a coffee and do some reading to kind of just try to wake up a little bit."
"Harry's voice usually electrifies audiences around the world, but his unique Sleep Story will help millions of people drift off to dreamland every night," said Michael Acton Smith, Calm co-founder and co-CEO. "His mellifluous voice is the perfect tonic to calm a racing mind."