As a new season of The Great House Revival begins, Janice Butler chats to its presenter, the architect Hugh Wallace about his own latest renovation, his St Valentine's anniversary with his partner Martin and why they could be living in a caravan soon
I've had the pleasure of meeting architect Hugh Wallace a few times and he is always engaging, passionate and enthusiastic, especially when it comes to talking about houses. The last time we met, it was in his red-brick parlour home, nestled on a quiet street in Dublin 8.
He's since sold that house and is now beginning his own house revival just as the new season of The Great House Revival returns to our screens this week. The fascinating series follows six homeowners who have taken on the epic task of transforming derelict properties into comfortable modern homes.
Filmed over two years, the series documents every aspect of these projects and you can guarantee there will be plenty of drama and tears. "It's quite arduous and a very emotional journey," says Hugh of the rebuilds undertaken by these homeowners.
"They all say we'll be in by Christmas and it's never the case. However, if you asked them all would they do it again, they'd all say they would."
"When you take on a restoration project, it's not about adventure, it's about budget and working with the building. When you buy one of these houses, you don't know what's behind the plasterwork. There may be an architectural gem – you never know what you're going to get."
Hugh reveals that the work on some of these houses is so extensive that it takes a toll on people's relationships. A 110-room mansion in Mayo that featured on the last series is now up for sale at €2 million and the Australian owners' relationship broke under the huge strain of the renovation of the former agricultural college, parts of which date from the 1820s.
"That's a really sad story, "says Hugh. "The owner, Bede Tannock, could only stay for 28 days with his visa, having saved a part of our architectural heritage. It's terrible."
We need your consent to load this Instagram contentWe use Instagram to manage extra content that can set cookies on your device and collect data about your activity. Please review their details and accept them to load the content.Manage Preferences
Hugh and his partner Martin have been together 32 years, after meeting on St Valentine's Day in Dublin's oldest gay bar, The George. They lived in their previous house for 17 years.
"It was a wreck when we bought it. An 18-month project in total," says Hugh. Since selling it last year they've been renting, waiting to find the perfect property to restore and call home. Hugh reveals they think they've now found it and he's in the process of closing the sale on an 1820s home in Churchtown, south Dublin.
"We're all excited about it," he says enthusiastically. I'm not sure whether he's serious or not when Hugh announces that they'll be living in a caravan in a garden while the house is being renovated.
"Martin, who loves everything with a label, is very excited about moving into a mobile home," he says roaring laughing. "Our anniversary is on St Valentine's Day so I'm going to buy him paint stripper and all the other equipment he needs to strip the walls," he adds.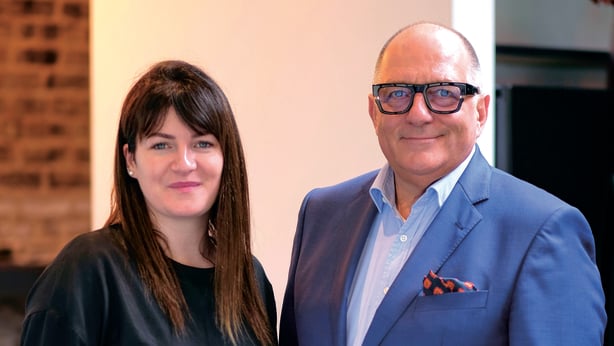 Read more: Before and After: Georgian townhouse transformed into modern home
In fact, he plans on doing a lot of the work on the house himself, after being inspired by what he has witnessed on The Great House Revival. "From being involved with the TV show, I've seen that you can take a house, if you're willing to roll up your sleeves and do donkey work, and transform it, on a much smaller budget than hiring someone to do that work.
"It's worth doing it for two reasons; one is, it's a real sense of pride, but also it's very important that our Irish architecture doesn't continue to disappear which it sadly is."
Now 63, he says he has no problem doing the heavy lifting, but he does plan on getting someone else to do the architectural work, revealing he'd rather step away from that side of it when it's his own home. "When you're doing your own home, it's a bit complicated, so I'll hire an architect for it –you need to a step away from the project – but I'll be on-site every day."
Would he be tempted to film the renovation for a TV show, like that other TV architect, Dermot Bannon, did recently? "I might; we'll have to see," he remarks. "Martin would be up for that; we can have the camera crew coming into us in the caravan at 7am," he laughs again.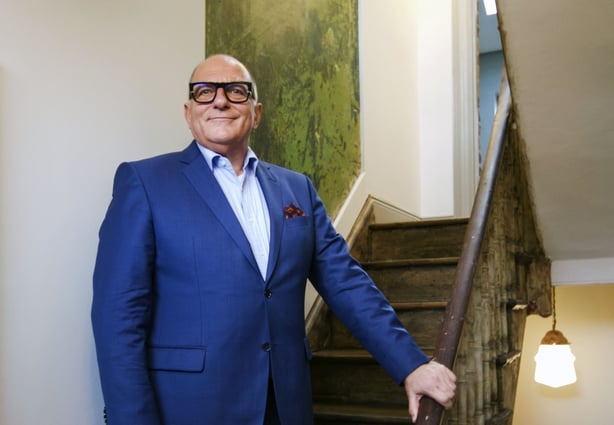 This is the fourth move for the couple. For most people, the thought of moving house instills enormous dread, but Hugh relishes the chance for a change. "We loved our last house; it had an amazing location, but we've moved a lot since we've been together. We'll move into the new house and we'll have no furniture. For me, it's the excitement of starting again and also your taste changes and what's important to you is different as you get older. We'll have a garden in this house which excites me. I'll be able to grow food."
What I remember of Hugh's last house was the wonderful collection of art and sculpture scattered around the rooms. These, he says, will definitely be coming to the new house. "Those items are the history of Martin and my relationship or things my parents had. They're all mementos that change a place from being an airb'n'b to being a home and that's so important."
Having always known that he wanted to be an architect, Hugh studied the subject in Bolton Street. In college, he met Alan Douglas and they set up Douglas Wallace, which has been at the forefront of Irish architecture for nearly 40 years.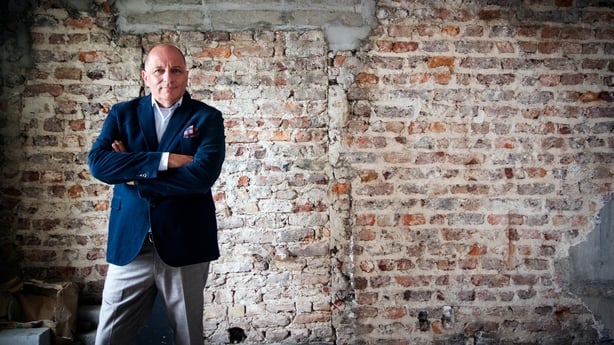 They struggled through a very difficult time during the recession, but fought back and are now one of the leading architects in the country. They've recently designed the hotly anticipated Hard Rock Hotel, due to open in Dublin city centre this year. "It's completely different from their other hotels. It's amazing, quirky and really out there," he says of the property.
Hugh will also be on our screens in the coming weeks with a new season of Home of the Year, "an hour and a half of me a week," he laughs. A surprise hit, Home of the Year goes beyond the hall door in some of the country's most wonderful homes, many with innovative architecture, but others ordinary designs made unique by their owners' creativity.
The celebrity edition is always fascinating: who doesn't love a snoop into the homes of well-known faces? Has he got a favourite from the show? "I have to say David Norris's Georginan townhouse because it's mad and wonderful and an extension of his eccentricity," he answers.
"But the real reason I love it is because he really used the whole house; there wasn't a floor in that house that wasn't used and that's how it should be."
The Great House Revival continues at 9:30pm on RTÉ One on Sunday night.