The Rotunda, the beloved docu-series following the ecstatic highs and devastating lows of the world's longest running maternity hospital, is always an emotional watch.
But tonight's episode is sure to be extra touching, as it takes on the complex subject of postnatal depression.
According to the HSE, postnatal depression is a kind of depression that some women experience in the first year after having a baby. Symptoms can start with "baby blues" that don't lift, and they can include feeling anxious, guilty, irritable and not being able to enjoy being with people or even the baby.
It usually starts about six weeks after birth. Sometimes (in roughly one third of cases) it can start far earlier, during pregnancy.
Between 10% to 15% of women experience postnatal depression within the first year of giving birth. With 61,000 women giving birth in 2018, that can amount to as many as 6,100 women experiencing postnatal depression.
Tonight's episode...
The Rotunda will mark World Mental Health Day (10th October) by introducing PJ and Ciara Murray, a couple who are expecting their second child. We hear their moving story as they share Ciara's experience of postnatal depression after the birth of their first child, Fiadh, and how they are preparing for their new baby.
Just nine months after welcoming Fiadh into the world, Ciara was pregnant again, saying that she felt what she calls a "mixed bag" of emotions.
"We were still smack-bang in the middle of postnatal depression and here we were, pregnant again."
Explaining what postnatal depression was like for her, Ciara says she battled intrusive and often unmanageable anxious thoughts.
"The anxiety was sort of taking flight, taking on flight of its own", Ciara says. "Thought that were coming into my head were starting at 'Oh, what if the person driving her hasn't strapped her into the car seat properly?' which would spiral into 'They're definitely going to crash. I can nearly see them crashing in my head.'"
"I wouldn't be able to verbalise any of this to PJ, I'd just be getting more and more wound up and upset and all I could do was cry or snap at [him]."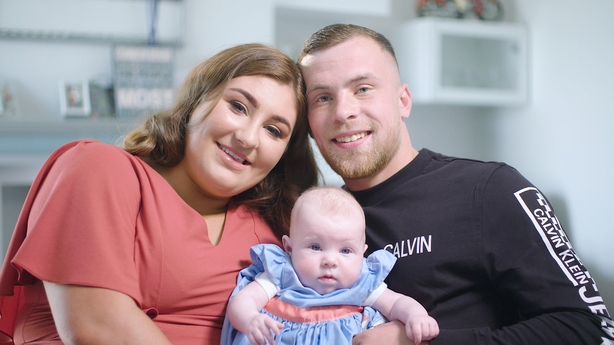 Elsewhere in the episode, we meet young couple Sophie and Daryl, who don't know the sex of their unborn child but their choice of names proves confusing for midwife Veronica. On the other end of the spectrum, mother-of-two Daniela is wondering if childbirth will be any easier this time around, 13 years after she had her last child.
Finally, opera singer Ioana is hoping the time spent at breastfeeding classes will be a help once her first baby is born.
The Rotunda continues Thursday at 9.30pm on RTÉ2.