Disability activist turned presenter Paddy Smyth fronts RTÉ's exciting new show, The Fitting Room, a makeover series out to prove that fashion can be fun and accessible from everyone. Here Paddy talks to Jess O'Sullivan about owning his disability and turning what we think we know about identity on its head.
This is your first presenting gig, are you excited?
If you think back to two years ago when I was on First Dates Ireland, who would have thought that I would be presenting my own show from that one episode? I don't remember but apparently when I was a kid I used to say, "I'm going to be famous". They used to ask me how, and I said, "I don't know how yet. I'll figure something out." Before First Dates, I had a bit of a profile, I was doing a lot of disability activism, but I think First Dates put me on the map. I didn't realise how much my story could help someone or touch somebody. I realised, "Wow, this could be something."
What is your role on the show?
I present it, I don't style. Myself and the three stylists and designers have a fun dynamic. I don't like some of the outfits and I'm very open about that. We do a before chat and go through the outfits of the day and there were a few times where I said, "You could have done better for me". Or "Everyone looks good but they could have looked better". But that's because I'm very protective of the participants.
What do you think makes The Fitting Room special?
It's people who the fashion wouldn't normally shine a light on because they're not considered pretty or a certain body type or way. So it's turning that on its head and saying fashion is for everyone, everyone is beautiful, but also telling compelling stories about the people in the show. It's fashion for all. There are people on the show that aren't disabled. But I really think it will change people's opinion with how they look at disability. It is also just a fun show.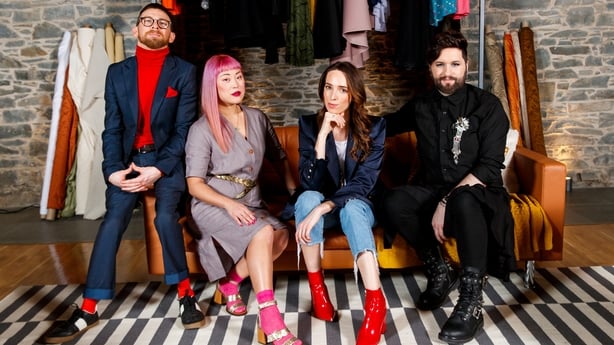 Do you think, because of your cerebral palsy, that you can relate to the participants?
I understand them, what they've gone through. I don't feel sorry for them. I feel these people are warriors and should be heard. The show is about making you feel like they're amazing, so let's applaud them. When I was growing up I never saw someone on TV with a disability, we were put into a box. You couldn't do anything with your life if there was something that society didn't deem as normal. I can really relate to the participants on that level - the struggles and the barriers that we have to overcome in all ways of life, in a job, in education, as friends, as lovers and obviously in clothes, as well.
What do you hope the audience will take from it?
My big hope is that if someone has faced something - any adversity in life - they can say: "Well, if he can do it, I can do it." If someone is sitting at home with a disabled child or thinks their child is a bit different, I hope this show gives them comfort, hope, and excitement.
Tell us about some of the participants who really stood out.
All of them are different in different ways. I think we've hit every marginal group. There was Jenna Fitzgerald from Sligo, who is 31 and a wheelchair user. Four years ago she jumped into a pool at a friend's wedding and cracked her neck, so she is paralysed from the waist down. She has really had to reevaluate her life and that is so hard to do. I am disabled so I know no different. But imagine if you woke up tomorrow and you had to walk on crutches or be in a wheelchair for the rest of your life?
There are also people who don't have a disability on the show. Adrianne Elson, who is a 47-year-old transgender woman from Belfast. I wanted her to be her authentic self, because Ireland is not allowing her to be that.
Another participant, Lisa Crowe, is a cancer survivor from Dublin. My Dad just passed away from cancer and he was in the final stages when I was filming the show. Lisa did her hair in a rainbow colour which was stunning, and I really resonated with her outlook on life and her positivity.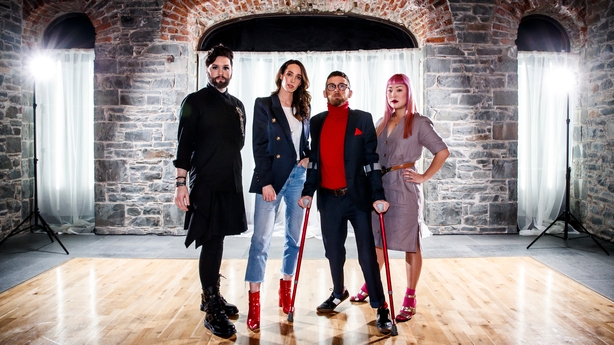 Tell us about your own journey to self-acceptance
I always loved fashion. I always felt it was so expressive and to show people who I am through clothes was always quite natural for me. But when I was a teenager I used to try and fit in. I ran away from my vulnerability rather than accepting it because I was told that being disabled was bad and that people feel sorry for you. So I never wore shorts, skinny jeans or anything that would make my legs seem 'not normal'. Now I love wearing them. It's a mental mindset of doing what you want to do.
Do you experience much negativity online?
I've had people tell me that I'm actually not disabled because I go out and party and go to events. I live my life how they would see a normal person live it, so I'm not really disabled to them. That's their own ignorance and, hopefully, this show will educate people that just because we're disabled doesn't mean we don't have personalities or want to do the same things as everybody else.
What's your style like now?
It's quite chaotic. It depends on my mood. But I'm mad into block colours - an orange t-shirt with pink pants. Fashion is supposed to be opinionated, so if you don't like what I'm wearing, someone else will. If you don't like it, tell me why - troll me, go on. My fashion journey is like the evolution of myself. My friend even said my personality has changed. But hopefully for the better, and he wasn't secretly saying I'm a bi**h!