Dublin's impressive and imposing Convention Centre is somewhere not normally associated with wearing top to toe workout gear. So, it felt a little strange heading in there last weekend to attend Thrive Festival donning the lycra, but as soon as you walked in the door it felt like you had entered a different reality.
There is a somewhat futuristic feeling to the building that seemed to suit the event and the strategically placed decorative plants around chill-out areas and everyone walking around in lycra gave it a sci-fi vibe, in the best possible way.
The wellness festival seems to have arrived at the right time in Ireland, with recent ESRI study showing work related stress doubled between 2010 and 2015. People are looking for ways to live more fulfilled, healthier and happier lives.
Well in time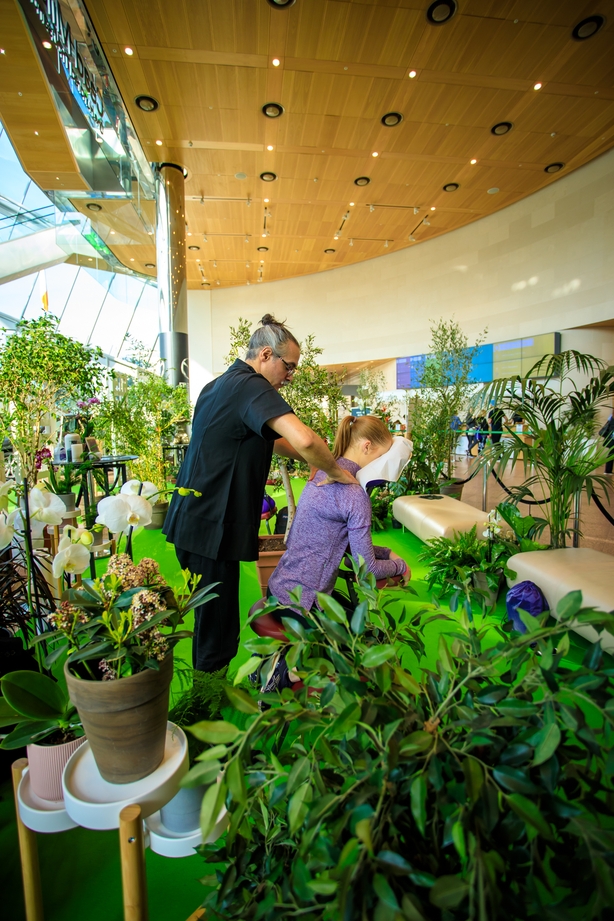 So, it's no surprise there has been an emergence of very impressive wellness events on our shores attracting big names from the UK to come and speak about all things wellness. The highlight speakers were Gemma Atkinson, Dr Hazel Wallace, Jasmine Hemsley and The Gut Stuff, but the line-up was as wide and varied as the topics.
Wellness filled the Convention Centre, with over 230 classes over the weekend and 5,000 attendees looking to get a wellness hit. In the Marketplace, where there were over 50 stalls, you could sample and meet some exciting Irish brands, some very new, such as Edamame, Indeora, Clarkes of Dublin, and some which are now more familiar like Cully & Sully, Chia Bia and Gym + Coffee. There was a cookery demo stage in the same hall and a stage for larger talks too, in addition to the main stage on the third floor.
Having navigated the incredibly long schedule and timetable, we selected the classes and talks we wanted to register for. With such a huge array of choice, it was difficult to do everything, so while there was a sense of missing out on some fab talks, it only highlights what a great line-up they had in store.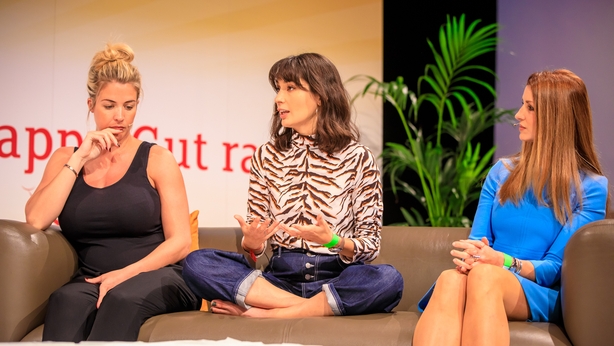 First up, we attended RTÉ's Hourglass event with the warm and fabulously energetic Taragh Loughrey-Grant. A diverse panel including Gemma Atkinson, Jasmine Hemsley and Gina London discussed how to be healthy, balanced and present while living mindfully - definitely worth checking out the podcast once it goes live to pick up on the great advice shared.
Body
Nicely buoyed up from the Hourglass event, we were set for the day. The atmosphere at times felt heaving, but not bustling with people. Although there were so many people roaming around, they seemed cocooned in their bubbles of wellness, busy with talks and classes.
Walking down a corridor, or passing a door to a hall or meeting room, different sounds momentarily escaped: instructors shouting instructions, people huffing and pushing themselves to the limits. Kobox Boxing workouts charged on in a pumped-up, darkened room, alongside MC Sport spinning classes, Platinum Pilates classes, yoga and Zumba, to name some of the physically active classes.
Mind
We are more aware than ever of the importance of looking after our minds and this was nicely reflected in the line-ups on the Thrive Life stage, an Inner Wellness stage, a Grow stage and an Energy Vibes and Healing Stage.
Talk topics included "Embracing Stress" with Mark O'Reilly, "Sleep" with Tom Coleman and an important and practical talk on "Unplug – Switching Off & Re-charging in an Always Connected World" with Aidan Healy. With all the advice on offer from esteemed experts, you could definitely pick up enough small elements to apply to your own life to have a positive impact.
Lululemon offered a Vision and Goals Workshop, which was a great approach to honing what it is you want to achieve. It was also devoted to cutting through the "wellness" white noise, bringing it back to you and helping you establish what self-improvement you want to achieve and when.
Talk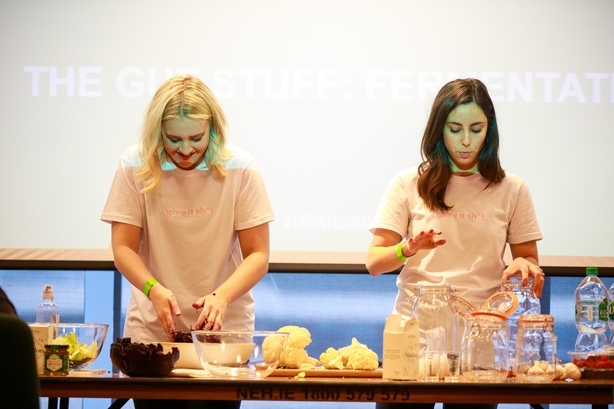 If you haven't heard of The Gut Stuff, then you may have heard of the DJing twin sisters, The Mac Twins, who started their initiative to promote good gut health. They felt the wellness scene was a little too niche when it shouldn't be, that we should empower everyone, not just Instagram influencers, to have healthier diets. Their focus is on making gut health uncomplicated. For example, their talk on fermentation was accessible and down to earth.
Meanwhile, Jasmine Hemsley gave a talk on living an Ayurvedic life, drawing from the traditional Hindu system of medicine, and how to approach it in easy ways. This is the basis of her book, East by West, and is a fascinating area worth spending a little time exploring further.
And the impressive Indy Power of Little Green Spoon did a cookery demo on plant-based, quick and easy meals for mid-week. This is such an appealing topic, not just to vegetarians but anyone trying to reduce their meat intake and looking for some tasty inspiration, and doing all of this while living a hectic, busy life
#Thriving?
Overall, you could have attended the day and not broken a sweat and still felt positively buzzing, or you could have tried a workout that you'd otherwise never do, or pick up a class of your favourite activity.
As festivals go, it felt like an unlikely venue before we went, and you didn't necessarily get a full view of everything that was there or the amount of people attending compared with an outdoor venue, but it somehow worked.
You - and the organisers - didn't need to stress about weather impacting the event, there was a futuristic feel to being there, a sense that this was part of something new and vital. All in all, a very positive day to start your future-proof plan and explore wellness a little deeper.