Each week on How to be Good with Money, Eoin McGee helps a household to manage their money and reach a goal they thought they'd never achieve. We caught up with the financial planner ahead of tonight's episode.
Last week, we learned that the Irish have saved "just under a €100-billion" but, according to Eoin, 70% of that money is in the wrong place. According to the Certified Financial Planner, bank accounts should only be used for short term saving goals.
If you're not sure what to do with your long-term savings, a CFP is a great person to speak to. However, if you gather the right tools, Eoin insists we are all capable of handling our own finances.
"You can do this stuff yourself. People often get scared, thinking that they need loads of money, but a lot of these savings policies you can do for €100 a month and you can invest in long-term vehicles."
Where should we be investing our money?
"The 'no-brainer portfolio', as I like to call it, is where you put 60% into the world's best companies. You just buy the 'World Stock Market' as a whole and 60% of your money goes in there and 40% goes into something like bonds - that's just other stuff.
"Walk into any bank and they'll sell you one of them and at €100 a month you're not going to go that far wrong - providing you do it right."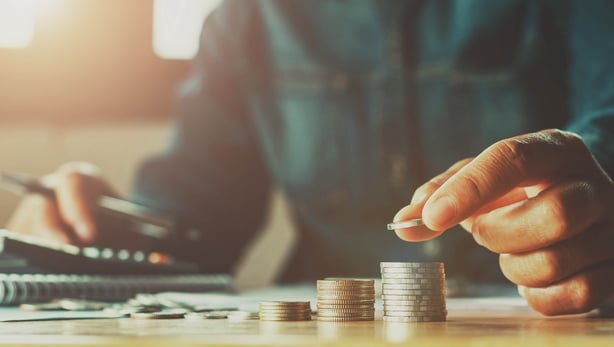 What does it mean to do it right?
"You set it up and you forget about it. This is really important: invest and forget. One of the worst things that the long-term investor ever got given was online access. They look at the things going up and down and start panicking when, actually, it doesn't make a difference."
When should you have a peek?
"The day you buy it and the day you sell it."
More is less
"There's was a really good study done by one of the big investment houses in the U.S. who have hundreds of thousands of direct customers - customers who don't have a financial advisor or CFP.
"They chose their best 100 direct customers, not in monetary terms but in percentage - the people who got the most growth in the last ten years.
"They then contacted those top 100 people and found that 80 of them had a common theme - they were dead or they had forgotten about the account. In other words, they had done nothing over the last ten years and had performed better than all the people trying to time the market, read the news and guess what was happening next."
Tonight's episode
In the third episode of this new series, Eoin McGee offers his assistance to a young couple who are about to welcome their second baby, with one spender and one saver.
Already parents to 19-month-old Leah, the couple are expecting baby number two and mum Mary Anne is keen to spend more than her allocated six months maternity leave at home with the new baby – but the couple can't figure out how they can afford it.
After assessing their finances, Eoin identifies just where they are going wrong, and comes up with a plan as to how they can get on the right foot and achieve their goal.
Keep their savings or pay off the loan? How will Mary Anne and Mustafa achieve their goal of affording extra maternity leave? How to be Good with Money, tonight, RTE One, 20:30 #HTBGWM pic.twitter.com/VeElUs9Xds

— indiepics (@indiepicsIE) January 24, 2019
He helps them figure out how to stucture their savings, looks into how much they could save if they switched mortgage – and possibly most importantly for the couple – how to manage financially so that Mary Anne can take time off with the new baby.
And a hugely important factor for many working parents – is it even worth returning to work after having a baby – and how can this be calculated?
Watch How to be Good with Money, tonight at 8:30pm on RTÉ One.