The countdown is on for the country's favourite - and most festive - TV event of the year. On Friday, 30th of November 2018, Ryan Tubridy will dig out his dodgiest Christmas jumper and host The Late Late Toy Show for his tenth year. Here's everything you need to know ahead of the show.
Where & when can I tune in?
The Late Late Toy Show airs on Friday, November 30th on RTÉ One at 9.35pm.
Living abroad? No worries! The show will be available to watch worldwide live on the RTÉ Player on both the desktop and the app.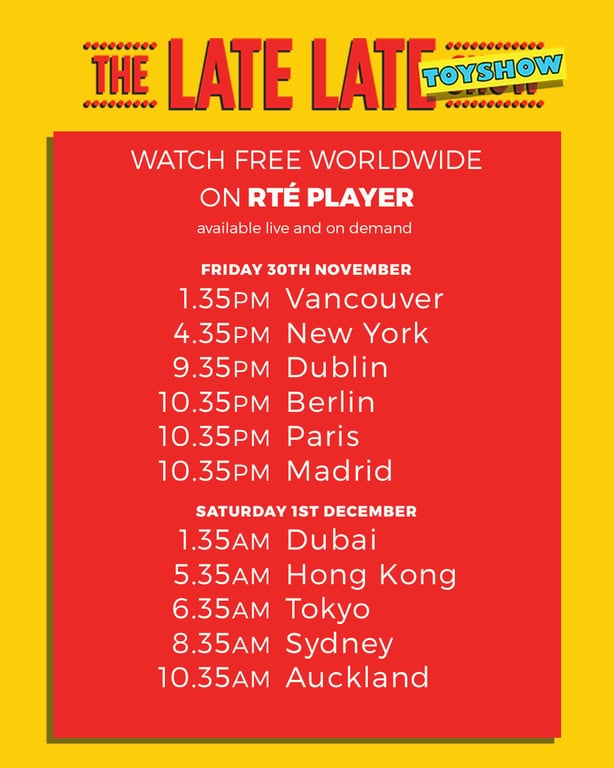 According to Tubridy, being able to watch the show while abroad means that "Irish emigrants get a chance to connect with their home in a way that is absolutely unique to us as a people. Nobody else would understand what this bonkers show is about!"
In saying that, rather than watching from abroad, our host is encouraging viewers to make it home for Christmas - by any means possible. Check out the teaser below.
Who will be there?
Famous faces are an essential ingredient to the magic of the Toy Show. There is no better feeling than watching a child's face light up at the sight of Dermot Bannon.
Ed Sheeran was a decent surprise too.
Along with Tubs and the celeb guests, the show will feature a host of performers, entertainers and toy testers who went through extensive auditions across Limerick, Tullamore and Dublin.
The Toy Show team saw hundreds of hopefuls from all around the country who were chosen from the thousands of applications received since September.
What's the theme?
As always, the Late Late Toy Show's theme will remain RTÉ's best-kept secret right up until the day of broadcast. Of course, that doesn't mean we can't at least try to get a hint here and there.
We caught up with Tubs to scrounge a tiny tidbit of information from him.
"Well, I can say that it is not anything that you've seen before on the Toy Show. It's like no other theme that has gone before - that's a definite. That's the most definite vagueness I can give you," he said.
Tubridy's previous themes have included The Little Mermaid, The Jungle Book and Beauty and the Beast so fans are predicting a step away from the Disney hits to deliver a Muppets theme for this year's show.
Tubs is a fan of Kermit after all...
Tubridy's top moments?
In the week of his 10th Toy Show, fans will get the chance to take a look back at some of Ryan's standout moments in a three-part documentary series, The Late Late Toy Show Unwrapped.
The series kicks off tonight, Wednesday, November 28th and continues on Thursday, November 29th and Friday, November 30th on RTÉ One at 7pm.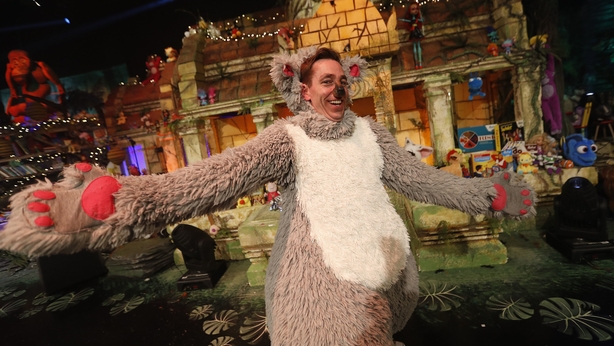 When did it all begin?
The Late Late Toy Show began in 1975 as a half-hour slot at the end of The Late Late Show as a way to give parents across Ireland some Christmas gift ideas while their children were sleeping.
Quickly, it grew into a one-night show in its own right, complete with children toy-testers and performers.
First presented by Gay Byrne, the mantle was handed to Pat Kenny in 1999 and remained in that position for ten years. The current presenter is Ryan Tubridy who took over in 2009.
Learn more about the origins of the show and look back at some of the most memorable moments on the RTÉ Archives.
Who's tuning in?
Last year's Little Mermaid themed Late Late Toy Show had a consolidated audience of 1.2 million people across 110 countries.
In fact, nine out of ten children watching television on the night were tuned into Tubridy and his toys while the Saturday repeat was watched by an average audience of 134,300 viewers.
According to a survey published by Jurys Inn, 40 per cent of Irish millennials listed watching the Toy Show as their fondest throwback to their youth.
What we're saying is, the Toy Show is the perfect show for just about everyone.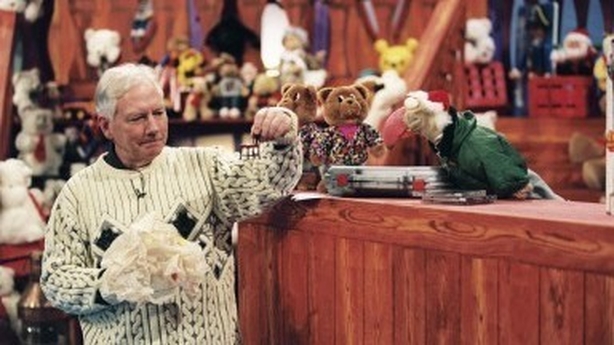 The Late Late Toy Show airs on Friday, November 30th on RTÉ One at 9.35pm.