Nothing says summer quite like Cian McCormack on his bike. The Morning Ireland reporter is back on the saddle, travelling the high roads and by-roads, exploring lesser heard places and meeting the people who are unlocking the potential of rural Ireland.
Listen to Cian's first day of Ireland by Bike above.
Cian told us: "This [series] is about bringing listeners to places they don't usually hear from". Ireland by Bike, is about "telling the stories of real people as they enjoy the summer sunshine.
"There is something unique about this series. It takes a snapshot of Ireland as I cycle through it. It meets people when they least expect it. That's how storytelling sometimes works best."
Cian spoke to RTÉ.ie/Lifestyle ahead of his trip which he has been undertaking annually since 2014. Read what he had to say here.
This year's journey started in Newcastle West where Cian visited the Great Southern Trail Greenway, a 40km trail spanning from Rathkeale to the Kerry border.
'Ireland by bike' starts tomorrow on @morningireland @rtenews @RTENewsNow @RTERadio1 @rte & also check out @LifeStyleRTE for photos, videos and other content. pic.twitter.com/4WMdKpkidq

— cian mccormack (@cian_mccormack) July 22, 2018
Jim Barrett of Pedal Pursuits Bike Hire, who is also the chairman of West Limerick tourism group, joined Cian for some of the Greenway. The two cycled to the Barna tunnel where they met two local farmers who shared their thoughts on the Greenway development.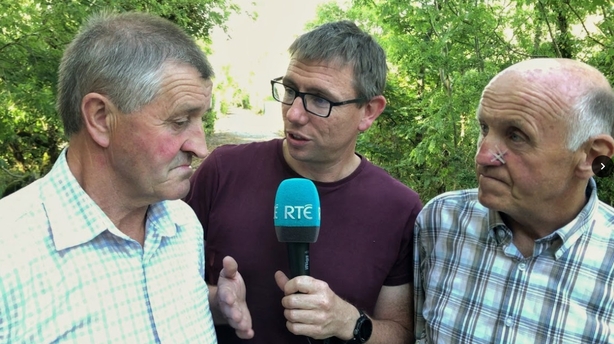 Cian then headed for Tarbert where he boarded the ferry to Kilimer. On board, he meets English couple John and Pearl Paige Green who are travelling around Ireland for six weeks in their campervan. They share their fondness for Ireland and their personal reasons for travelling to the Shannon region.
Listen to a chat (below) with John and Pearl Paige Green who Cian met on the ferry from Tarbert to Kilimer.
A pit-stop in Ennis provides a taster of the excitement and buzz of the Munster Fleadh. Cian talks to chairman Joe Arkin and meets some of the young talented musicians on the streets of the Clare town.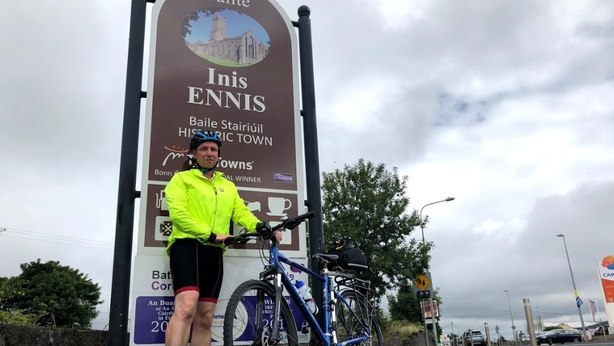 Amazing talent at the Munster Fleadh @FleadhNaMumhan in Ennis today. Here's the talented Hannon family. pic.twitter.com/G7ihm0NYKi

— cian mccormack (@cian_mccormack) July 22, 2018
Scattery Island is a repertoire of Irish history as local historian Rita McCarthy tells Cian ahead of his visit to the island. Recent years have seen a surge in tourism traffic to the area with a regular ferry service from Kilrush to the island. Cian joins the 30 tourists in an OPW guided tour of the island.
'Ireland by bike' continues after 8:30 on @morningireland @rtenews @RTERadio1 @RTENewsNow @rte with a report from Scattery Island & Kilrush in Clare. Also, if you missed the first part from Newcastle West & Tarbert at 7:40 this morning you can catch up later on @LifeStyleRTE pic.twitter.com/PchgNuT6sx

— cian mccormack (@cian_mccormack) July 23, 2018
The increased development of the island has greatly benefited Kilrush. Caroline Wilson recently opened Amici Restaurant and guest accommodation after moving back from England. Despite the increase in tourism brought by nearby Scattery Island she says "the winter will prove if that is successful or not."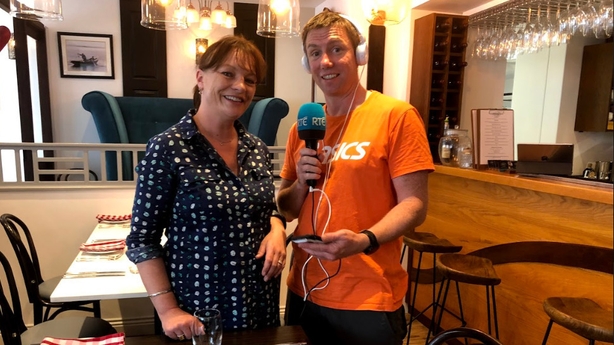 Miriam Kennedy, Fáilte Ireland's Head of the Wild Atlantic Way agrees that winter is the challenge facing tourism.
Diarmuid Whelan of Scattery Island Heritage Group says that while the island is important to Kilrush, the town needs industry because "with that will come jobs."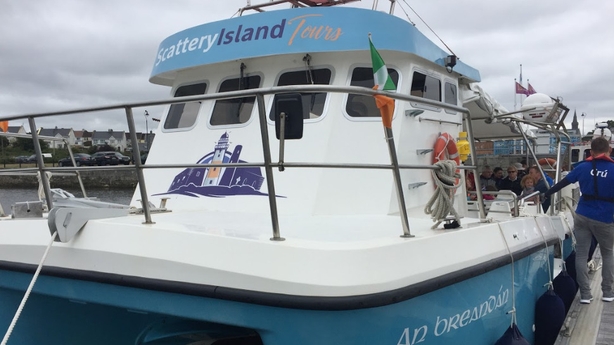 Cian will be back up on his bike tomorrow. His route will take in Scariff, Portumna, Banagher, Birr, Tullamore and Edenderry throughout the week.
You can hear his adventures on Morning Ireland on RTÉ Radio One or catch the highlights here at RTÉ.ie/Lifestyle.
Catch up on Day One of the week-long excursion on Morning Ireland above.
Ireland by bike will run daily on Morning Ireland from Monday July 23rd - Friday July 27th, 2018.