Miriam O'Callaghan has confirmed she has nothing to do with a beauty line that is using her name to advertise their products.
She confirmed to RTE's Liveline that she has nothing to do with the product. She insisted it is a scam and said she has engaged her lawyers to try to have the ads taken down.
Speaking to Joe Duffy, caller Vicki McNulty explained that she was doing some research for a French client when she stumbled upon an article claiming that the RTÉ presenter was taking some time away from RTÉ to launch a new anti-ageing face cream, TryVix.
After signing up for a free sample, Vicky realised it was a scam. The website URL aimed to mislead readers into thinking they were reading a well-known entertainment news website. The article was a fake.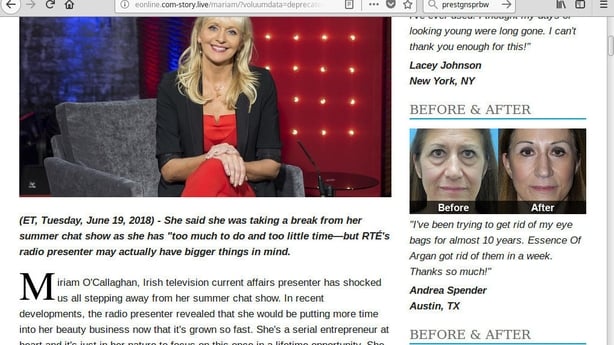 Vicki came on Liveline to tell Joe how she uncovered the 'scam'.
"It showed pictures of Miriam with other colleagues from RTÉ, well-known colleagues. There were testimonials," she told Joe.
Intrigued by the idea of a free sample and figuring it was low-commitment, Vicki paid a small handling fee for the sample.
"At the bottom of the page, they said that they were sending out free samples of the product. So I said, 'Well, why not?'. All you had to pay for was the packaging."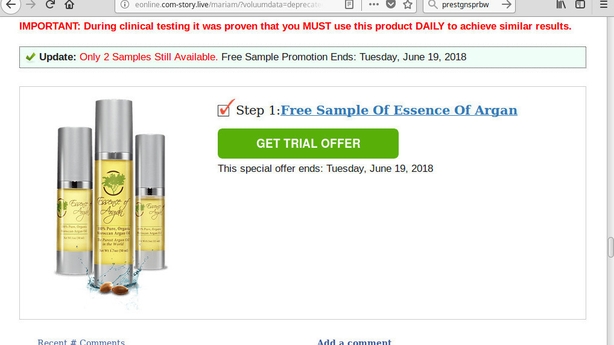 She received the product two weeks later and has been using it since, saying "it doesn't get rid of any wrinkles". But last week, she got a distressing call.
"Last week, I got a letter from my bank, from the Financial Crime Unit…they wanted to discuss some transactions with me."
The same account that had charged Vicki €5 for the cream's packaging had made a number of larger charges to her account. The bank blocked the account from making further charges and have returned Vicki's money but Vicki is eager to warn listeners to be vigilant about scams like this.
"I just thought because they were using a very well-known TV presenter, Miriam O'Callaghan, that other people might fall for this."
Listen back to the whole discussion on Liveline above.