Claire Throssell joined Ryan Tubridy on RTÉ Radio 1 to share her profoundly moving story of tragedy and loss when her abusive ex-husband killed her two boys, Jack (12) and Paul (9).
When Claire, who is from Yorkshire in the UK, first met her husband, she says he was charming and prone to romantic gestures, but only when they were in a relationship did things began to deteriorate.
"It starts very slowly. It kind of drips into the relationship. I think it was after Jack was born and I used to get about 40 phone calls a day from him asking where I was, what I was doing.

"I was stalked within the marriage basically and he was jealous of the boys, put me down and that really was the turning point."
Claire eventually decided she couldn't stay in the marriage anymore, for the sake of herself and for her sons.
She left and her ex-husband was granted 5 hours custody a week, something Claire fought hard, but in vain, to prevent.
"I told them he was dangerous. I told Cafcass and I told social services.

"I warned the courts that he was capable of actually harming them and killing them…I was pushing really hard for him not to have any access to the children."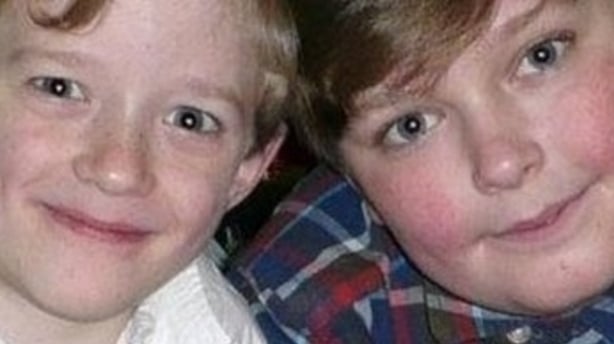 One Wednesday afternoon, horror struck.
"The heartbreaking thing is that particular Wednesday I dropped them off at school in the morning and just as normal I'd say to them 'Love you,' and every morning they'd say back, 'To infinity and beyond!' and that particular morning when I dropped my oldest off at school, he'd always take that extra look back to make sure I was still there and that day he took an extra look back for some reason and walked into school."
"I dropped my youngest off and he was completely different, running off down into the playground just throwing the words behind him but they were the last words that we ever spoke to each other."
Claire's ex-husband lured the boys up to the attic with new parts for a train set, barricaded the house to prevent anyone getting in or out and set 14 separate fires in the home.

Big brother Jack tried hard to save Paul's life, but ultimately the injuries were so severe that both boys passed away.
"As he lay there on the floor and the firemen cradled him so gently, Jack used his courage and he said to the fireman, 'My dad did this and he did this on purpose,' and they took those words as my son's dying testimony."
Since the boys' tragic deaths, Claire says she has been kept going by the strong support of her Yorkshire community and by her efforts to change laws in family courts to offer increased protection to children in similarly vulnerable positions.
"I want to raise awareness of emotional control and coercive control… Our Prime Minister said for too many years and too many governments, it's been put to one side, it's been brushed under the carpet."
"It's no discriminator of society, rank.

"It happens everywhere and if people talk about it and admit that there are problems, then maybe, just maybe a child won't have to go through what Jack went through and no child will have to say to an emergency service person that my dad or my mum did this and they did it on purpose."
If you've been affected by Claire's story and wish to get in touch with Women's Aid Ireland, you can call the 24hr National Freephone Helpline 1800 341 900
Click the video above to listen to the full interview on The Ryan Tubridy Show.