The 2017 Women of the Year Awards took place at Dublin's Burlington Hotel. The event was a moving celebration of women across the country excelling in their industries.
Over 500 people walked the purple carpet in support of Domestic Abuse Awareness month, a month close to organiser Norah Casey's heart. Norah chose to donate proceeds from the event went to Women's Aid following the domestic abuse she suffered in her first marriage.
You can listen to our podcast interview with Norah on The LifeStyle Show here.
Our roving reporter for the evening was none other than Celeb OT leader, James Patrice.
He spoke with Margaret Martin, Director of Women's Aid about the event and the work that Women's Aid is doing in Ireland. You can watch the video above. 
Norah's Work with Women's Aid
Margaret said: "I'm absolutely thrilled and I think it has been really important that Norah has come out and spoken about this.
"I think it has changed things very significantly so there's a whole move now about women talking about what's happening to themselves.
"It's an issue that's been covered in shame and stigma so that's a really, really, a big step forward and I think so much will come from that."
Preventing Domestic Abuse
"One of the things that we're looking forward to working with Norah on is looking at prevention for younger women. A lot of the women that come to us... we would try to encourage women to come to us as soon as possible when they realise there's abuse in the relationship or even if they're just worried.
"We were running a campaign for younger women just so they could do a check-up on how healthy their relationship was, what sort of behaviours were there, if there were things that they were worried about because an awful lot of women think you have to have a bruise to be abused, you have to have a broken bone, you can't be ringing Women's Aid unless you have that and that's not the case at all.
"We would get calls very often from women, say on the Monday morning, saying 'I'm just not sure what's happened over the weekend but it's upset me and I need to be able to talk about that' and then sometimes as they start to talk about that, they'll add to it and add to it and you'll see that there's actually a whole pattern of abuse."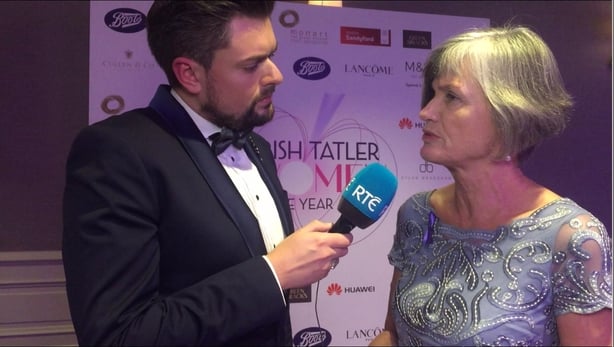 Worried about a friend?
"Equally, we would have contact from friends and family and people who work with people who would be worried about somebody and maybe just want to be able to support them and are not sure how to do that.
"We have a free phone helpline, it's available 24/7, we actually have a facility as well where we can connect to a 170 languages so given that now we have so many more people living in the country that English is not their first language, if you're talking about a very difficult subject obviously its more difficult to talk about it in another language that you can't even, kind of, express yourself and we can do that very quickly in about less than a minute so that makes a very big difference and makes the helpline very accessible."
If you, or anyone you know, is experiencing domestic abuse you can call Women Aid's 24hr National Freephone Helpline on 1800341900